Games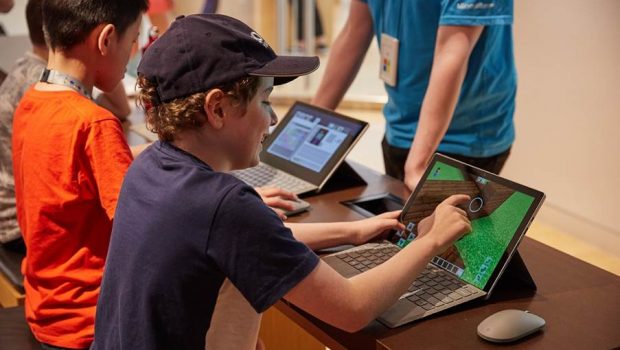 Published on November 7th, 2019 | by James Wright
Microsoft Store Sydney partners with Autism Spectrum Australia to launch free autism friendly Minecraft workshops
Flagship Microsoft Store Sydney in partnership with Autism Spectrum Australia (Aspect), today announced a series of free autism friendly Minecraft workshops at Microsoft Store for children aged 8 -14 years.
Running from October 2019, the workshops will offer an accessible experience for children on the autism spectrum to explore, build, create and foster social skills through the magic of Minecraft.
The workshops follow a two-month pilot program at Microsoft Store Sydney. Driven by an inquiry from a customer, who was looking for an inclusive space for their autistic son to socialise in, the Microsoft community team created a regular, dedicated event for children on the spectrum to meet and game together. The demand for these weekly sessions moved Microsoft Store to approach Aspect, Australia's largest national service provider for people on the autism spectrum, to develop an approved workshop format to cater specifically to this audience.
Autism can affect the way a person communicates and interacts with other people and their environment. This can mean children on the spectrum may have social communication difficulties, sensory sensitivities and repetitive behaviour, making it sometimes challenging for them to engage and interact in group workshops and events.
Marianne is 11 years old and loves art and craft, rollerblading, gymnastics, swimming and playing the piano.  She was also diagnosed as being on the autism spectrum at two years of age. Marianne recently attended one of the autism friendly Microsoft Minecraft workshops, after watching her brother play the game at home.
"We tried to attend a non-autism inclusive Minecraft workshop in the past, but the loud noises and large groups of people were too distressing and distracting for Marianne. At the autism friendly workshop, the smaller group, dimmer lights and awareness of some of the issues that the individual kids in the group faced made it easier for Marianne to concentrate and made me feel more relaxed", commented Marianne's mum Meliana.
Microsoft Store Sydney worked closely with Aspect to develop an approved format for the new workshops and to create an inclusive environment within the Store during these times. Changes to the format included dimmed lighting, reduced noise and training of Microsoft Store staff to better understand the needs of kids on the autism spectrum.
The new workshops allow children on the autism spectrum to immerse themselves in Minecraft, meet and have fun with other builders in the area, and stretch their skills with timed challenges.
Matthew Oastler, Aspect Practice Consultant said "Social situations can sometimes be difficult for kids on the autism spectrum due to a range of sensory, social and communication barriers.  Engaging in a game like Minecraft breaks down some of those barriers and provides a great opportunity for kids on the autism spectrum to be creative and have fun in a safe environment, while developing skills in planning, communication and collaboration. We're really excited to be working with the Microsoft Store Sydney, who are committed to developing and delivering a meaningful program of workshops tailored specifically to kids on the autism spectrum."
Jessica Erhart, Community Development Specialist at the flagship Microsoft Store Sydney, commented on the workshops saying, "An estimated 1 in 70 Australians are on the autism spectrum. These individuals are a part of our community and we want to provide them with every opportunity that we can.
"Microsoft Store is committed to creating an innovative learning environment where every child feels included, comfortable, supported and empowered. With the training and support from Aspect, Microsoft Store Sydney has developed its autism friendly Minecraft workshops to address the growing need for more inclusive, autism friendly spaces, serving part of its Sydney community.
The first publicly available workshop will take place at Microsoft Store Sydney on Sunday 17 November 2019.