Games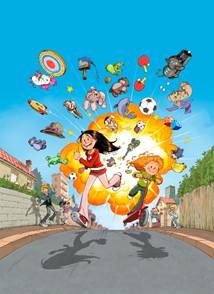 Published on February 21st, 2021 | by Adrian Gunning
Microids unveils a new party-game called The Sisters: Party of the Year!
Wendy and Marine, the famous characters from the comic book The Sisters, are planning a once in a lifetime party set to take place on consoles and PC. Check out the teaser!
Inspired by the comic book created by William & Christophe Cazenove and developed by Balio Studio, this adventure/party game will invite players on a journey into a colorful universe sprinkled with fun filled mini games perfect for family and friends head to head competitions!
Wendy, the grumpy teenager, wants to throw a memorable end-of-the-year house party but before she can ask her parents for their approval, her impich little sister steals her idea and runs with it. Problem: the parents will only allow one party to happen! To decide who's going to organize the fiesta, the sisters will throw themselves into a series of crazy challenges!
In addition to the adventure mode featuring a vast open world filled with activities catering to single players, the game will also offer a multiplayer mode where up to 4 contestants can join the fray after choosing their favorite character out of 16 from the comic book. The Sisters: Party of the Year will be the perfect game for family and friends gaming evenings!
"The Sisters is such a magical series. A rare success story in a publisher's career. It all started 12 years ago when William decided to share on his blog the daily life of his own daughters with their arguments, their fits of laughter and genuine affection for each other.   A decade later, with more than 5 million albums sold, 30 novels, a cartoon series, a dedicated magazine and a movie in the works, the success is undeniable!   It seems that nothing can stop these cheecky sisters!   Seeing them coming to life through various mediums in such a faithful way to the original series is delightful.   With this new video game I'm pretty sure the Sisters will have a blast!" declares Olivier Sulpice, Bamboo Édition director and founder.
Games modes:
Adventure mode (single player)

Experience a magnificent adventure in a colorful open world that will see you conquer with Marine or Wendy the 24 challenges, 35 quests and find all the collectibles.
Multiplayer modes (1 to 4 players)

Challenges: play the mini-games you want with your friends!
Tournament: try to win the tournament by being the best at each round!
All or Nothing: play all the mini-games in a raw!
Around the world: take turns choosing your favorite mini-game!
The Sisters: Party of the year will be released on June 16th 2021 on PlayStation 4, Xbox One, Nintendo Switch and PC. The game will be backward compatible on PlayStation 5 and Xbox Series S/X.
Game information:
Title: The Sisters: Party of the year
Genre: Adventure/Party-Game
Platforms: PS4, Xbox One, Nintendo Switch and PC. Backward compatible on PS5 and Xbox Series S/X
Release date: June 16th 2021
Developer: Balio Studio
Publisher: Microids
Language (audio): English and French
Language (text): English, French, Italian, German and Spanish