Interviews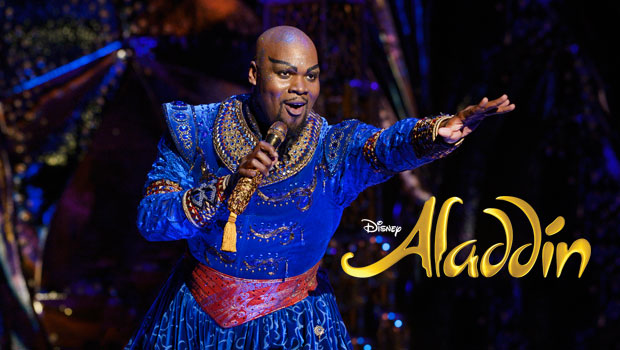 Published on March 14th, 2017 | by admin
Michael James Scott Interview (The Genie from Aladdin the Musical)
So tell us how you became involved in Aladdin?
Our director/choreographer Casey asked me to do a reading of the show and I came in and learned the Genie in two days so that the team could hear the new changes for the show.
As a performer, what's been your biggest challenge in bringing Robin Williams' Genie to the 'real-world'?
I think the biggest challenge has been to not overdue it… the material is so fantastic that there's a fine line on overdoing it and giving it just enough. I also think people may come with a preconceived expectation of what the Genie is because of Robin William's iconic portrayal but what's been so wonderful is that the foundation of what people know and love about the Genie is all there, it's just now new take on it and people have embraced it so beautifully.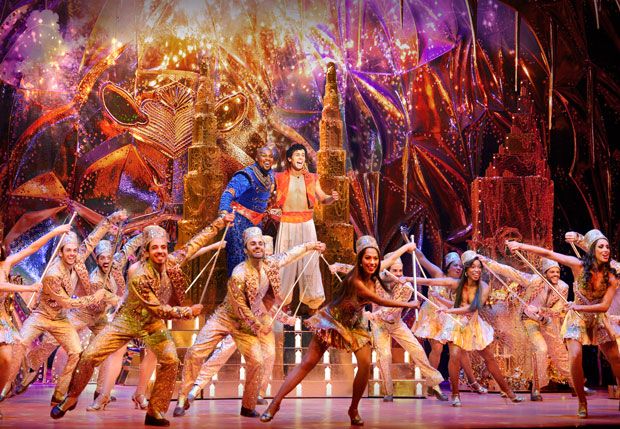 Biggest reward?
The biggest reward is seeing someone smile in the audience, even the boyfriends, husbands and dads who come and maybe aren't quite sure what they're in for and leave with the biggest smile on their face!
What's your favourite song in Aladdin and why?
Friend Like Me and A Whole New World. The melodies of both these songs are so incredible and really amazing to sing!!
You've been in some amazing theatre productions Michael and besides Aladdin, what's been your favourite?
I've been very blessed with some awesome shows, I've enjoyed a lot of them… I loved doing Fosse… it was an incredibly challenging and such an honor to get to do that material. I also loved doing Something Rotten because I got to open a Broadway show with my own number, such a dream… and of course I LOVED doing Book of Mormon as it just became a show that exploded and being apart of such an irreverent show was just mind blowing.
Could you take us through the make-up process for becoming the Genie?
Well I have to say it's a pretty incredible process… I have an amazing team (my GGS, I call them The Genie Glam Squad)… I start off with a neutral look at the top of the show in which my make up artists extraordinaire Kellie Ritchie does and then after the opening number she does my full Genie look which takes about 20-30 minutes depending and then through out the show she does 4 different touch ups and applies more glitter throughout!!! You can never have enough glitter!!!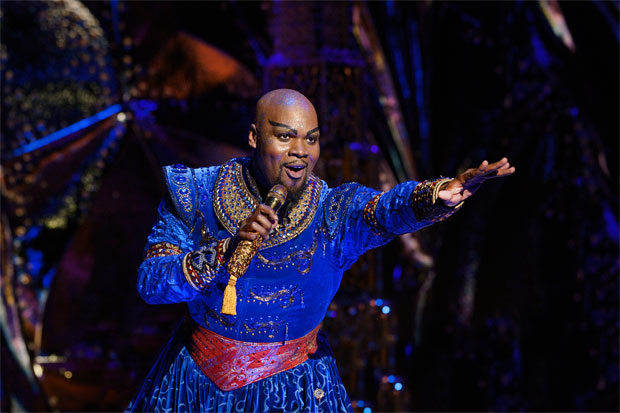 So growing up and watching the original Aladdin, did you want to be Aladdin or the Genie?
Absolutely the Genie!!!!
Lastly, what are you most looking forward to in bringing Aladdin the Musical to Melbourne Australia?
I'm really looking forward to bringing this show to Melbourne because I've heard so much about the culture of the city and I'm really looking forward to bringing this Broadway show to the gorgeous Her Majesty's Theatre… it's a more intimate theatre which is what I'm used to and to have this amazing production in that space is just gonna be insanely Magical!!!
Ticket Information
Sydney
Booking to 26 March 2017
Capitol Theatre
13 Campbell Street, Haymarket
Book tickets through Ticketmaster 1300 558 878 | ticketmaster.com.au
Melbourne
Booking from 15 April 2017
Her Majesty's Theatre
219 Exhibition Street, Melbourne
Book tickets through Ticketek 13 28 49 | ticketek.com.au
AladdinTheMusical.com.au
#AladdinInAus @AladdinInAus
About Michael James Scott
Michael James Scott is best known for originating the role of Dr. Gotswana in The Book of Mormon. Most recently, he originated the role of "The Minstrel" in the new Broadway hit Something Rotten and was seen playing "The Blue Guy" as the original standby for "The Genie" in Aladdin on Broadway. Michael began his theater career as the standby for his mentor, Ben Vereen, in the international tour of Fosse and eventually taking over the role in Paris, France at The Théâtre du Châtelet. On London's West End he was associate choreographer and cast member for the revival of Hair. Additional Broadway credits include: Mamma Mia!, All Shook Up, The Pirate Queen, Tarzan, Hair and Elf. Off-Broadway, he was featured in Here's to Joe opposite Donna McKechnie, and also part of the concert cast of Jerry Springer: The Opera at Carnegie Hall. He's a member of the critically acclaimed singing group The Broadway Boys and renown Broadway Inspirational Voices and can be heard on numerous original Broadway Cast Albums and The Broadway Boys debut Album Lullaby of Broadway. Outside New York, Michael has appeared in the original Las Vegas cast of Jersey Boys as well as the re-conceived production of Shrek as the Donkey at The St. Louis Muny and regionally in Aida, Ragtime, South Pacific and Cinderella. His numerous television and film appearances include The Carrie Diaries (The WB), The View (ABC), The Tonight Show with Jimmy Fallon (NBC), The Late Show with Conan O'Brien (NBC), Good Morning America (ABC), The Today Show (NBC) The Macy's Thanksgiving Day Parade (CBS) and The TONY Awards (CBS). Tweetergram: @iamMJScott