Events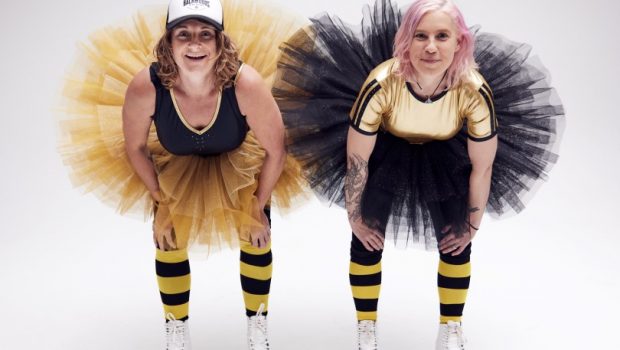 Published on April 4th, 2023 | by Tim Chuma
MICF 2023: Tuck Shop Ladies In Real Life Review
Summary: Seems to be everyone's favourite already. Unfortunately this has finished now but look out for them around the place.
Sam Lohs and Rosie Burgess are the Tuck Shop Ladies who I have heard of but not actually seen. It seems like they have a big following from their festival appearances and playing around the place.
Having to rush into this show just before it started as I had to run out of the end of A Rational Fear and sit in the front row. I was surprised to hear people singing along from around the second song onwards, it felt like when I used to go see GIT and everyone would come to see them regularly. For people who do not go to church on Sundays going to a residency was the closest to a religious experience they would get. Nancy in the front row sure did say "Oh God!" And "Jesus!" a lot.
It turns out there was someone I knew in the audience up the back but as they were not wearing their hat I didn't see them. If you know this person they have a very distinctive hat.
Even though I don't remember seeing them before I felt comfortable straight away even without my camera. They are very personable and get on well with the audience. The show's run had sold out and I think several people may have seen them more than once during it.
There was a good variety of songs about various topics but they are actually great musicians. It did remind me of the Cartridge Family where half the set is jokes as Rusty ex Scared Weird Little Guys is in the band. The Junes are even funnier due to Sarah, Suzannah and Gleny but they hardly play these days.
Unfortunately the night I saw them on was their last show, they even gave their tech a present to thank them. I am sure they will have plenty of shows coming up and hopefully will return to the festival next year.
Well worth checking this band out if you see them come up at a festival as they should get a big crowd and follow them on their socials to see where they are playing next.
Show details:
Wed 29 Mar – Sun 2 Apr: 7pm;
Tue 28 Mar: 7pm
The Butterfly Club Downstairs, 5 Carson Pl, Melbourne
55 Minutes
Link:
https://www.facebook.com/tuckshopladies