Events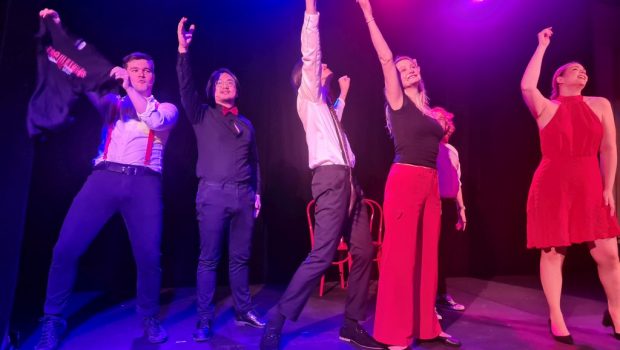 Published on April 3rd, 2023 | by Tim Chuma
MICF 2023: Impromptunes The Completely Improvised Band Musical Review
Summary: One of the rare shows that is suitable for people who like musicals and comedy and also a lot of different ages without having to worry about it being too rude. Worth a second visit to see what they do next time.
I had meant to go something else but it didn't work out and I had not seen this show for ages, I think the last time was when they did the puppet musical which I went to see two times just so I could see it again with Isabella Valette on the cast.
As with the other times they put on this show the show is based on an audience suggestion but this time it also has a full three piece band who also improvises the score. The theme for the night was "I fell in love with ChatGPT" which had its first and last show that night.
I was impressed that they were able to get the story together so quickly and basically have a plot revolving around a family on the spot. There did seem to be a lot of people needing to go to the toilet for some reason. I liked that they kept going if they flubbed a line and incorporated it into the show.
The music was quite good and I go to a lot of gigs during the year. Can't say I am huge into improvised music usually apart from seeing Xani do similar 30 weeks in a row over Twitch streaming in 2020. The music suited the performance would be the best I could say for it. They did tend to fade into the background a bit when people were singing but you would notice if they got something wrong but they seemed to be a well-oiled machine.
How much you get out of this one will depend on how much you like improvisational comedy, musicals and also improvised music. That is quite some Venn diagram right there. This is one of the shows I would not have any trouble recommending to go as a family to as there was hardly anything bad or even that rude in this one. One to take some of your older family members to that don't quite like the more-racy stuff but want to go see something in the festival.
Show details:
Adult:
Mon $37.00
Thu $37.00
Fri & Sat $39.00
Sun $37.00
Concession:
Mon $35.00
Thu $35.00
Sun $35.00
Group (4+):
Mon $33.00
Thu $33.00
Fri & Sat $35.00
Sun $33.00
Preview: All Tix $33.00
Tightarse Tuesday: $33.00
Thu 30 Mar – Sat 1 Apr: 7.30pm;
Sun 2 Apr: 6.30pm;
Mon 3 Apr & Tue 4 Apr: 7.30pm;
Thu 6 Apr – Sat 8 Apr: 7.30pm;
Sun 9 Apr: 6.30pm;
Mon 10 Apr & Tue 11 Apr: 7.30pm;
Thu 13 Apr – Sat 15 Apr: 7.30pm;
Sun 16 Apr: 6.30pm;
Mon 17 Apr & Tue 18 Apr: 7.30pm;
Thu 20 Apr – Sat 22 Apr: 7.30pm;
Sun 23 Apr: 6.30pm
Trades Hall – ETU Ballroom, 54 Victoria St, Carlton
60 Minutes