Events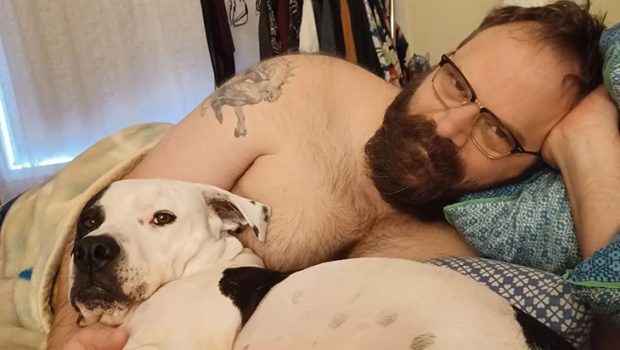 Published on April 1st, 2023 | by Tim Chuma
MICF 2023: Greg Larsen Slurp's Up!! (Preview) @gregmlarsen @micomfestival #MICF
"HELLO I'M FUK – WELCOME TO CUM" – "Shit! That wasn't meant to play yet" – Greg Larsen
This was the preview show so this will just be some of my thoughts on it rather than a proper review. Despite the audio visual element working incorrectly sometimes it proved to be the perfect introduction to the show overall. It wasn't really an "issues" show as Greg Larsen already had one of those last year when he got a Moosehead Award nomination.
After a hiatus due to mental health issues Greg said he just wanted to do some funny bits that didn't really fit a theme and then mix some of his experience with his treatment into it. Also there are audio visual elements that were more Dada-esque and seemed to exist as their own bit, it was heled in the Australian Centre for the Moving Image after all.
I did like the fake ads and Greg even managed to get the audience to yell out the pitch through sheer force of him saying it for so long that it became its own joke.
There was a reasonably-sized audience for a preview show but that would have been helped with him recently being on TV I know a lot of other acts are not doing great in ticket sales and it is still early in the festival.
While not as unhinged as last year's show in places it does seem to be going towards something that will come together as the show progresses. Greg has committed to writing new jokes for the show each night and will drop them in at random. He also had a touch pad to drop in sound effects which he was enjoying using still and not sick of yet. This show has a lot of moving parts and different things can go wrong so it might even be worth going to see more than once to see if works out differently.
Show details:
60 Minutes
ACMI – Swinburne Studio, Fed Square, Melbourne
Thu 30 Mar – Sat 1 Apr: 9pm;
Sun 2 Apr: 8pm;
Wed 5 Apr – Sat 8 Apr: 9pm;
Sun 9 Apr: 8pm;
Tue 11 Apr – Sat 15 Apr: 9pm;
Sun 16 Apr: 8pm;
Tue 18 Apr – Sat 22 Apr: 9pm;
Sun 23 Apr: 8pm
Adult: Wed & Thu $29.00, Fri & Sat, $34.00 Sun $29.00
Concession: Wed & Thu $27.00, Sun $27.00
Group (6+): Wed & Thu $27.00, Sun $27.00
Preview: All Tix $27.00
Tightarse Tuesday: $27.00
Triple R Subscribers: Wed & Thu $27.00 / Sun $27.00