Events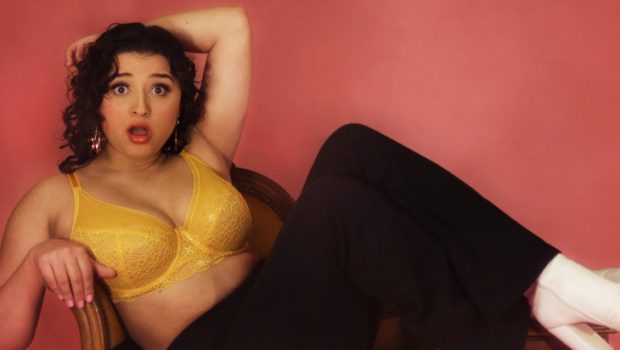 Published on April 3rd, 2023 | by Tim Chuma
MICF 2023: Gemma Caruana Underwire Review
Summary: As long as you know there will be some serious issues covered and are prepared for them you will have a lot of fun with this show. It is quite a swing for someone's first show.
The story of one woman's breast reduction surgery and lifetime of body image issues is told through a feminist cabaret with "close but not quite" showtunes with the lyrics changed enough to dodge copyright.
I have had a run-in with feminist cabaret in the past and this is being put on in the Queen Victoria Women's Centre so you should know what sort of show this is going to be. If you are not prepared to take the message along with the fun bits like the songs and the performance then maybe give this one a miss.
I have just finished listening to Kaz Cooke's book "You're doing it wrong" so a lot of the message was familiar to me. In this case it is about Gemma's experience in developing early and having to deal with other people's reactions to her and being treated differently for something she could not do anything about.
Gemma Caruana is very young to be doing this type of show but she has support with her partner providing piano accompaniment and also her family (some of whom were at the show) and her nan making one of the costumes (I won't say which one that will spoil the fun). Is a bunch of discarded bras in piles on the stage which fits with the theme of Gemma not being able to find any that fit her.
To save you from asking, yes she does get her breasts out at one point in the show. There is a special section dedicated to her left nipple at one point.
Gemma is very earnest but that is a good thing for people have seen a lot of shows and think everything is the same after so long going to the comedy festival, it is not bad to be earnest and believe in what you are doing.
It would be to easy to call her "brave" and has been done before. What I would say most that she reminded me of another burlesque performer from Melbourne who also has their partner that supports them as their photographer and I told them about the show.
This is a show you want to tell people about after you see it so hopefully more people will do that during the run of this show and get more people in to see her.
While this show may be a bit of a challenge to some people I would recommend it if you want to see more of a story-based show and something different from the usual stand up.
Show details:
Adult: All Tix $28.00
Concession: All Tix $24.00
Group (5+): All Tix $24.00
Preview: All Tix $22.00
Tightarse Tuesday: $22.00
First Nations: All Tix $20.00
8.45pm, 5.45pm
Wed 29 Mar – Fri 31 Mar: 8.45pm;
Sat 1 Apr: 5.45pm,8.45pm;
Tue 18 Apr – Sat 22 Apr: 8.45pm
Queen Victoria Women's Centre – Wayi Djerring, 210 Lonsdale St, Melbourne
55 Minutes
Strictly for audiences 15+
This show contains: Audience participation, Occasional coarse language, Nudity, References to sexual assault or abuse