Events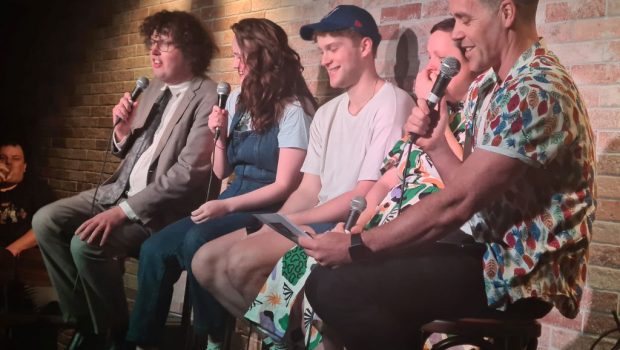 Published on April 17th, 2023 | by Tim Chuma
MICF 2023: Don't You Know Who I Am? – Ray O'Leary, Grace Jarvis, Leo Reich, Josie Long, Josh Earl
Summary: Was a good one this week, not sure what I am doing after the show next week or even if I will go to anything else.
Morris House, Saturday 15th April 2023
For some reason the show was downstairs in the basement today, seems like more work is being done upstairs as I could hear them going at it from outside. Downstairs does seem like it is a bit bigger any way.
Did not get to see Josh before the show but there was nothing I wouldn't have already said to him over Instagram DM any way.
Was hanging out to see who else was on this panel as often the guests are not confirmed until the next week and we only knew Josie Long would be on this week.
Seemed like a much more responsive crowd this week and it was a fun show. Was happy to see Grace Jarvis this week after enjoying her show. Had to restrain myself yelling out her answers for the social media round since I follow her Twitter, maybe a bit too much. The story about someone passing out in one of her shows was funny.
I had seen Ray O'Leary a few times on Have You Been Paying Attention and he seemed pretty much the same as on the show. I liked the bird story with his mum.
Josie Long is one of the big internationals for the festival, quite a coup to get her on the panel. This was more of a fun thing for her it seems as I saw her down the road after doing a reading from her novel and it was a lot more serious. Seemed to get a lot of engagement from the audience.
Leo Reich was not really someone I had heard of, he went alright I suppose. This show is always good at introducing you to knew people at least.
Doesn't seem like much will need to be cut out of the show this week. Will be up in the next couple of days for Patreon subscribers. Not sure what I am doing next week for the last show. Will probably go next door for a drink since I was thinking of seeing Dum Dum Club but I have never actually listened to it.
Links:
https://www.comedyfestival.com.au/2023/shows/everything-funny-all-the-time-always
https://www.comedyfestival.com.au/2023/shows/grace-jarvis
https://www.comedyfestival.com.au/2023/shows/literally-who-cares
https://www.comedyfestival.com.au/2023/shows/josie-long