Events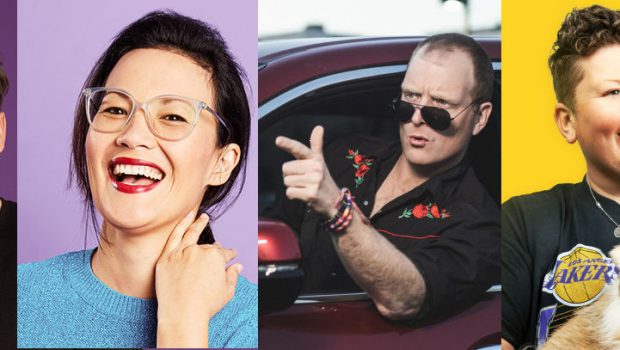 Published on April 3rd, 2023 | by Tim Chuma
MICF 2023: Don't You Know Who I Am? – Nick Cody, Lizzy Hoo, John Hastings, Kirsty Werbeck Review
Summary: A good show if you want to do something early in the arvo then come back later or just go through and start a bit earlier in the day for the comedy festival.
with MC Josh Earl
Morris House, Saturday 1st April 2023
I only got to see one of these shows last year and for good or ill decided to pull the trigger early and commit to an entire month's worth of shows this year during the festival.
As with last year it is the game show podcast that used to be Josh Earl's main podcast but has now been retired and now only goes out live or if you are on his Patreon so you can hear it on the website. This also means they guests can go more over the top with their stories and not get in trouble.
Seeing it for the entire month also gives me more of a chance to see people who are taking part in their own shows but I will see how I go with that.
Guests for today were Nick Cody, Lizzy Hoo, John Hastings and Kirsty Werbeck who all have their own shows during the festival and a bunch of shows left in their run to do.
Due to the trams stuffing up with the Grand Prix I ended up walking from Flinders St and having dodge a cooker protest also. Maybe next time I get the tram around to Parliament station as it is on the other side of the CBD.
It is pretty much the same format as when I saw it last time but I was able to pick some of the questions more due to following Kirsty Werbeck and knowing the things that happened.
I had not really heard of Nick Cody or John Hastings but they went OK I guess. The ones that came out of the show making me want to see their show more were Kirsty Werbeck and Lizzy Hoo which makes them the real winners of the day.
The Dum Dum Club podcast records straight after in the same room so I had to leave straight after, but it was a fun start to the Saturday and I was glad I did not try and come in even earlier than I had planned to go see a band at Fed Square as that day would have been too long.
Overall I would recommend this show if you want to go to something in the afternoon and then retire to the pub for a couple of hours or home and then go out later.
Links:
https://www.thejohnhastings.com/