Events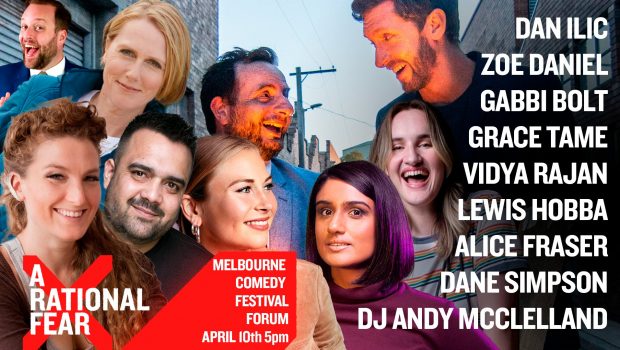 Published on April 12th, 2022 | by Tim Chuma
MICF 2022: A Rational Fear – Live Review
Summary: Better than last year's show and that is saying a lot as I have watched or listened to all the podcasts since then. Well worth listening to when the podcast comes out or going to see at the Sydney Opera House in the upcoming show.
Forum Theatre Melbourne, Sunday 10th April 2022
Guests: Lewis Hobba (Triple J), Dan Ilic (A Rational Fear), Alice Fraser (The Bugle), Gabbi Bolt (The Chaser), Dane Simpson (HYBPA), Grace Tame (Australian of the Year), Vidya Rajan (The Feed), DJ Andrew McClelland (Finishing School), PLUS Special Interview guest: Zoe Daniel (Independent for Goldstein)
Before I start I have to disclose I am a Patreon subscriber for A Rational Fear and do try to watch the live recording of their show every Thursday when it is on and listen to it every week. There are some podcasts I never even get to do this with that I am also giving money to also.
There was quite a lead-in to this and with the surge in case numbers for COVID it looked like it wasn't going to go ahead at one point. While I did buy tickets for Gabbi Bolt's show first I made sure I got tickets for this show as soon as they were made available.
The basic format for the show is the same as the podcast with each guest getting up and doing their bit as they go through the panel. Special mention must go to Vidya Rajan's parts as the "advertiser" OilCares giving some more theatricality to the event since it was in in a big theatre this time.
I was happy for Andrew McClelland to get the DJ gig for the show and he had to repeatedly remind people he was not the show as people started cheering him when he started dancing around in the pre-show as he is wont to do.
Dan and Lewis explained a bit about the show and that it was being recorded before it started. Not sure if they really needed to do this but it covered people who had been dragged along and did not know about the podcast.
There was funny Zoom call skit at the start with all the female guests getting together and they all end up taking notes from Grace Tame by the end of the call.
The overall theme of the podcast is climate change but there are other issues raised each week depending what is going on in the news. The federal election being called that day did not really affect the content that much as everything was already finalised with the show before the weekend.
For Dan's part of the show he did a recap for the climate billboards campaign for the people who had not been following it throughout. Much amusement from the rest of the panellists when he forgot to put in one of the photos in the slide show.
Gabbi Bolt got to do two songs including one with Alice Fraser that they had only written earlier that day which turned out pretty well considering. I did not get to get a selfie with Gabbi this year as everyone went backstage and I left straight away to get dinner. I am going to see her next weekend.
Alice Fraser did her part on social media and the algorithm and how it affects your life in ways you don't even understand. I hope more people get to see her show, it seems a lot of people are having trouble with ticket sales for a festival that was billed as a big chance for recovery.
Dane Simpson gave the audience permission to laugh for his part on the painful history of Australia Day dating back to 1938. He had to leave early to go to his own show but it looks like his show would be fun as his bit in the show was enjoyable even if it covered some heavy stuff.
The Star of the day was 2021 Australian of the Year Grace Tame. I first saw her million-watt smile from the wings and she seemed very excited to be there but nervous too. She did try and do something a bit different with her bit, but is seems people are there to see the HULK and are not happy unless she gets angry and upset. She can't do that all the time, performative anguish is as bad for the people watching as it is for the person doing it. Let her rest and stop bagging her out for being what she is.
Lewis Hobba got the short straw to follow Grace Tame as he seems to do a lot in the show. I didn't notice Gabbi Bolt laughing as much during his bit this year. I don't actually remember his bit that much but I did remember enjoying it at the time.
The show did go over time a bit and Zoe Daniel was the last guest fresh from her campaign launch that morning. They did get to play "hang on a sec" with the footage from Sky News advocating against too many women in politics. Thanks as always for getting everyone to watch Sky News, I really did not enjoy that.
I would say this one was better than last year and in comparison to all the ones I watched online you can feel like they have gotten a momentum going after 10 years. At the moment there is a specific podcast related to the election while Dan has a rest from this show. The next big live show will be at the Sydney Opera House later in the year. Not sure if I will go interstate for it but there was at least one Patreon supporter who came over from Tasmania for the show.
Walking out of the show I bumped into Fiona Patten who had to remind someone she is only in state politics and I did see a comedian from a TV show outside the theatre so while the show did not totally sell out it was attended by some influential people who are sure to get the message out.
Link:
https://arationalfear.substack.com/