Blu-ray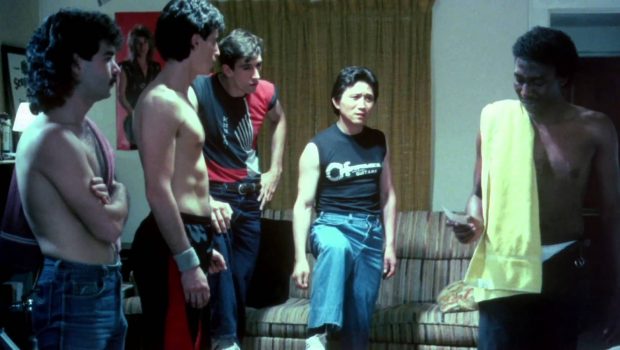 Published on June 20th, 2022 | by Tim Chuma
Miami Connection – Collector's Edition (CD Soundtrack + A3 Poster + T-shirt) (1987) (Blu-Ray) Review
Summary: Against the ninja! The bells and whistles version for those lucky enough to get the preorder. The normal version with the soundtrack is still available and is just as good if you just want the movie
This movie has already been reviewed plenty and if you are reading this you have already either seen it or made up your mind about it one way or another. It is a one of a kind movie from someone who made a movie for a specific purpose to promote their Taekwondo schools but then basically lost their shirt over it and put it away for 25 years not wanting to think about. Famously resurrected by someone from Drafthouse Pictures who found a print on eBay and they rang Y.K. Kim asking if they could screen it, he thought someone was playing a prank at first but it has taken off since then.
This is similar what happened with the movie ROAR that has Tippi Hedren and her family with 150 lions that was previously only being sold on VHS and burnt copies of the DVD by one of the actors.
The movie is about a group of friend in the band Dragon Sound who are hassled by the local gang and their "stupid cocaine", eventually leading to the attention of the Miami Ninja as the gangs are so bad they band can beat them up every time. For the most part it is fun and not so serious, but they switch in the last scenes where the heroes flat out kill the ninja.
Just describing it does not really live up to the experience, you really need to watch it with a group of friends probably after listening the soundtrack several times in full like I did and then yelling out all the best lines.
The box set is great and overall the price is still less than what I paid for the original Blu-ray that I imported of the Drafthouse release. Yes, I own two copies of this movie. That release did not come with the Dragon Sound t-shirt, poster and soundtrack though. Unfortunately the box set is sold out as it was only available in limited copies, but the soundtrack and Blu-ray combo are still available.
I had originally planned to give the t-shirt away as I was not sure of the sizing, as it turns out it is made of stretch fabric so it does fit me. I would not have the confidence to wear it out just my outer garment but I will wear it at home.
The soundtrack is most likely what I will be listening to more than actually watching the movie. It is easy to put on in the background and just listen to on repeat and it makes it more fun when you watch the movie as you are looking forward to the musical numbers in the movie and can sing along. There was a performance of the original band at Fantastic Fest that they have included on the soundtrack.
The poster is double-sided and comes up well if you like that sort of stuff. I don't really put up posters these days but do appreciate having the artwork in large scale.
Overall this is an excellent release. Don't feel sad if you were not one of the lucky people to get the box set when it was first put on presale, you can still get the Blu-ray and soundtrack and find another source of the t-shirt. Umbrella Entertainment is doing more of these box sets but whether I would put down the money for them is reliant on how much I like the actual movie. For this one I did at least and was happy to do so.
Trailer
Movie details:
Directors: Woo-sang Park, Y.K. Kim
Writers: Woo-sang Park, Y.K. Kim
Starring: Y.K. Kim, Vincent Hirsch, Joseph Diamand, Maurice Smith, Angelo Janotti, Kathy Collier, William Ergle, Si Y Jo, Woo-sang Park
Soundtrack featuring: Lloyd C. Sharpe,  Rick Hartzog, Angelo Janotti, Kathy Collier
Genre: Comedy/Action
Country: USA
Language: English
Features:
No. of discs: 2
Running time: 87
Audio format: 2.0 Dolby Digital
Region: ALL
Format: 1080P
Colour: COLOUR
Languages: English
Aspect ratio: 16:9
Subtitles: English HOH
Year of Production: 1987
Release Date: 08/06/2022
Extras:
EXCLUSIVE! Includes a full CD Soundtrack!
EXCLUSIVE! Introduction by Grandmaster Y. K. Kim
NEW! RiffTrax audio commentary with Mystery Science Theater 3000 comedians Mike Nelson, Kevin Murphy, and Bill Corbett
Audio commentary with Producer/Star Y.K. Kim and Joe Diamond
Friends for Eternity: The Making of Miami Connection
Alternate Ending
Deleted Scenes
Dragon Sound Reunion Concert from Fantastic Film Festival 2021
Who is Y.K. Kim?
The New American Dream
2012 theatrical trailer
Miami Connection Film Soundtrack
Track listing:
Escape from Miami
Friends
Against the Ninja
Tough Guys
Trainyard
I Love You
Tae Kwon Do Family
Fantastic Fest (Live)
Friends (Instrumental)
Against the Ninja (Instrumental)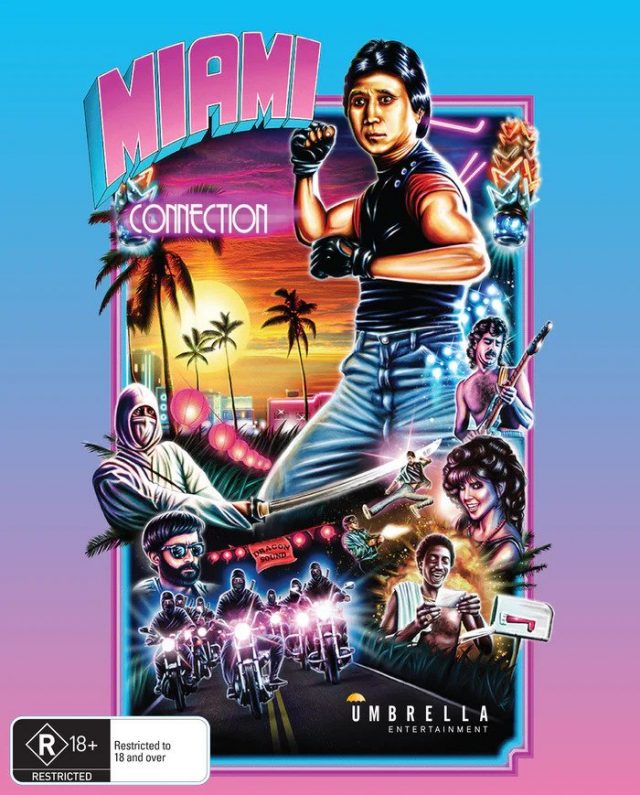 Bonus gallery