Games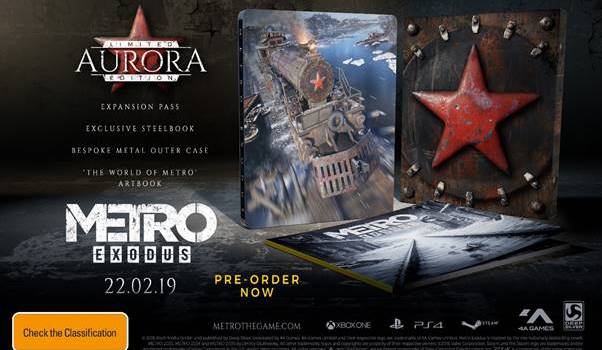 Published on August 16th, 2018 | by Admin
Metro Exodus "Aurora Limited Edition" and physical pre-order bonuses revealed
Deep Silver and 4A Games announced today that Metro Exodus is finally available to pre-order at Australian retailers.
Two versions are available:
The Aurora Limited Edition contains a copy of the game in an exclusive Steelbook®, a beautiful 32-page Art Book, and the Metro Exodus Expansion Pass, all contained within a bespoke metal outer case inspired by The Aurora – the steam locomotive that Artyom and his companions use to journey across post-apocalyptic Russia.
The Aurora Limited Edition represents fantastic value, and fans should note it will be in limited supply
Meanwhile, the Standard Edition contains the game disc in a standard box and will be widely available.
Pre-order any edition of Metro Exodus to earn the following additional bonuses, depending on the platform:
All physical Xbox One pre-orders include a copy of Metro 2033 Redux – the first game in the Metro saga, remastered for the Xbox One
All physical PlayStation 4 pre-orders include a stunning Dynamic Theme based on the Metro Exodus 'Winter' artwork
All physical PC pre-orders include a digital art book and the Metro Exodus OST
Watch the Metro Exodus Pre-order Announce Trailer here, or download with the Aurora Limited Edition beauty shot and Standard Edition packshotse.
Regardless of where or how you buy, no in-game content has been reserved for pre-order – fans can order safe in the knowledge that however, wherever or whenever they buy Metro Exodus, they are getting the full experience as 4A Games intended it.
Metro Exodus will be released on 22nd February 2019 on Xbox One, PlayStation 4 and PC – pre-order now from www.metrothegame.com/preorder
While the exact contents of the Expansion Pass have yet to be determined, 4A Games intend to commence work on additional single-player content as soon as the game has gone 'Gold' and will continue to support the title with updates and free DLC. More news to follow closer to release!
Be the first to learn more about Metro Exodus by registering for updates at MetroTheGame.com, and follow us on Twitter and Instagram @MetroVideoGame or on Facebook at Facebook.com/MetroVideoGame.