Comics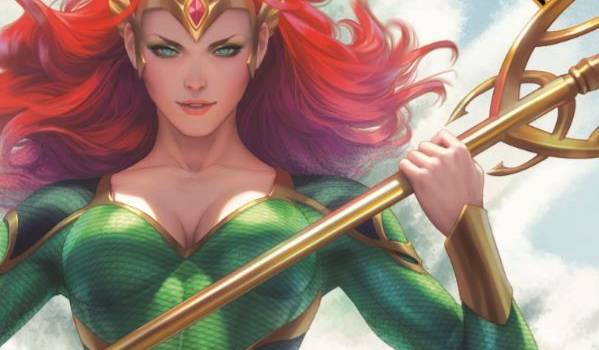 Published on March 3rd, 2018 | by Andrew Bistak
Mera Queen of Atlantis # Review
Summary: Mera Queen of Atlantis is an enjoyable read that everyone can pick-up as we're introduced to the broken Queen of Atlantis.
Mera Queen of Atlantis is the much needed spin-off title of one of Aquaman's best supporting character Mera. The story starts with Orm recounting a tale to the son Erin, his partyner with this storyteller being the half-brother of Aquaman. With Orm trying to live a 'normal' life away from Atlantis, he is suddenly distracted when he hears a story about Mera on the news, including troubling reports from his home under the sea.
However the real story starts six hours early in Amnesty Bay with Mera, a queen in 'exile' taking on the Eel, a surface born criminal who has similar powers to our heroine. The fight between Mera and the Eel also gives the reader a recap of this hero from Atlantis, including her powers, love and motivation. So while it serves as an origin issue in certain parts, it provides a great introduction into this awesome character. Needless to say, Mera does defeat the Eel, much to the love and cheers of the people in Amnesty Bay.
We also get a cameo from Justice Leaguer members Superman and Wonder Woman who question Mera why the Eel attacked her, including report on the new King of Atlantis, Rath who turned Atlantis against Aquaman. Although the Justice League offers to support Aquaman in reclaiming Atlantis, Mera sternly informs them that this civil war must be fought by Atlanteans only. We also discover why Mera has imposed exile on herself as she was injured by Rath who used magic against her and as a result, her powers are weakened and she cannot breath underwater anymore.
Mera also meets with the Madam Secretary as the Queen attempts to keep peace between the United States and Atlantis, however if the war in the ocean spills into this territory, the US will be forced to act. The issue ends with Orm pondering the devastating events on Atlantis and whether he should reclaim the mantle of Ocean Master again. Writer Dan Abnett created a compelling issue with a very interesting Mera that we can all relate too. Lan Medina also draws the perfect rendition of this Queen and although some panels feel a little rushed, the majority of the comic is quite stunning.
All in all, a great start to Mera Queen of Atlantis!
Gallery