Films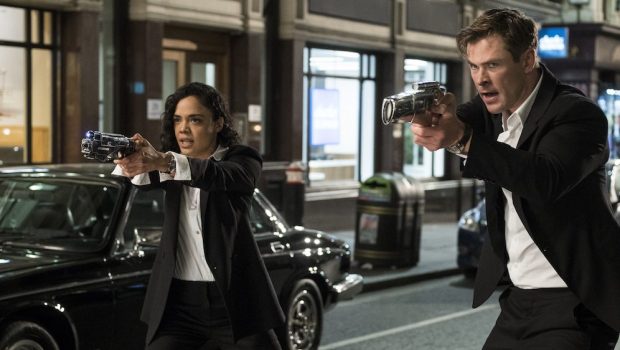 Published on June 18th, 2019 | by Curtis Mayfield
Men in Black: International – Film Review
Reviewed by Curtis Mayfield M-H on the 17th of June 2019
Sony Pictures presents a film by F. Gary Gray
Written by Art Marcum and Matt Holloway
Produced by Walter F. Parkes and Laurie MacDonald
Starring: Tessa Thompson, Chris Hemsworth, Kumail Nanjiani, Rafe Spall, Liam Neeson and Emma Thompson
Music by Danny Elfman and Chris Bacon
Cinematography: Stuart Dryburgh
Edited by Christian Wagner
Running Time: 115 minutes
Rating: M
Release Date: the 13th of June 2019
With the line-up of American summer movies available, one could be forgiven for thinking we were still living in the 1990s. The Uncle Sam version Godzilla is back smashing buildings, and Toy Story and The Lion King are set to return with a sequel and a remake, respectively. Why not recruit the Men in Black to tire us over during blockbuster season then? That's right, your favourite galaxy defenders are back with diminishing returns. Will Smith and Tommy Lee Jones are nowhere to be seen. Instead, we have a new cast of suit-wearing agents.
Men in Black: International attempts to expand the series' universe by transporting us from New York City to Europe. It has taken the franchise a couple decades and several movies to shift locations to across the pond. It is strange that this series has not ventured to space yet. Tessa Thompson and Chris Hemsworth are reunited just a few years after their supreme chemistry ran rampant through Thor: Ragnarok (2017). Sadly, the chemistry and charm of both actors fails to break the surface this time.
Tessa Thompson plays Agent M, a nerdy alien enthusiast who tracks down the secretive agency and worms her way into enrolment. After convincing the gruff Agent O (Emma Thompson), the head of the New York agency, M is sent to the London branch to learn the ropes of fighting alien crime. Enter Agent H (Hemsworth), who plans to show the dotting M how extra-terrestrial investigations work. Some new alien weaponry is floating around Earth's streets and Agent High‑T (Liam Neeson) wants answers. As Agent O, Emma Thompson is the only actor who returns from the original trilogy.
Reuniting Hemsworth and Thompson should have made this memorable. Yet these two titans cannot keep the ship from sinking. Director F. Gary Gray (Straight Outta Compton and The Fate of the Furious) takes a note from filmmaker Taika Waititi's book by letting the actors improvise jokes to see if the same sparks will fly. They do not. Each actor brings something to the table but it's too insubstantial to writing home about. The website The Hollywood Reporter outlines the film's dysfunctional production, which saw Hemsworth and Thompson hire their own dialogue writers.
Jokes about Agent H having godly good looks with M blushing alongside him quickly run out of steam. The same can be said about gags borrowed from the prequels. Even with 2019 updates, the whole aliens-disguised-as-aliens joke is tired. Childish Gambino is from another planet? Ha ha. The studio has taken no creative chances by giving us another middle‑of‑the‑road MIB movie. If you're going to expand this cinematic universe its better leaning into that manoeuvre instead of playing it safe.
We have already seen the mind erasing neuralyzer devices, cars with hyper speed, and aliens living secretly as humans. Sony should have given audiences more than just fan favourite moments with a little extra on top. The best and funniest scenes belong to Hemsworth riffing jokes with his work rival, Agent C (Rafe Spall). The two actors work well together and provide enough laughs to save this movie from being a complete failure. Agent H as the boyish and dim office superstar works well with C's sensible uniform ways.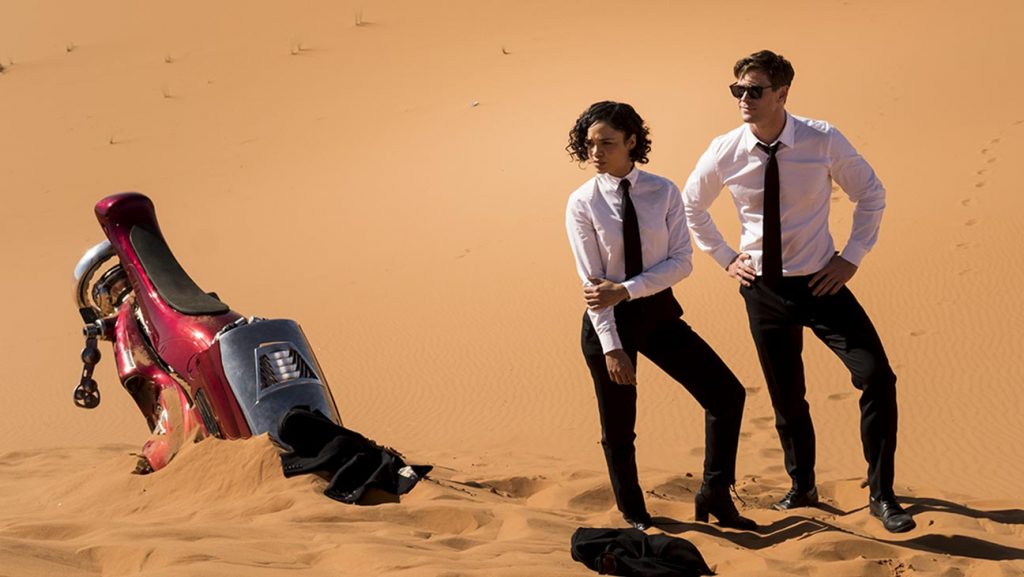 This movie is not worthy of Tessa Thompson's acting abilities. Her character is criminally underwritten. We know she's a massive space geek but little else. The shiny gem hidden amongst this mess is actor Kumail Nanjiani (The Big Sick, 2017). He voices the cutest and most loyal little critter named Pawny, a real‑life chess piece who cannot find an off switch to expressing every thought. Thankfully, that's a positive since he is one of the more noteworthy characters. Perhaps the only impressive scene involves Hemsworth throwing a hammer at an alien baddie with less than stellar results.
Gary Gray is normally a vibrant and colourful director who paints his characters and storylines with cool and outstanding qualities. This time we're given an action‑comedy that doesn't nail either genre. Similarly, the characters are given interesting backstories but not enough meat on the bones for the talented actors to chew on. The CGI action would be impressive if we hadn't seen it all before. The characters go through journeys of self-discovery but the story wasn't strong enough to make me care. The film consists of scenes mashed together as opposed to an interesting and exciting plot. There's nothing overly bad about MIB: International but nothing comes close to being out of this world.
Summary: There's nothing overly bad about MIB: International but nothing comes close to being out of this world.