Films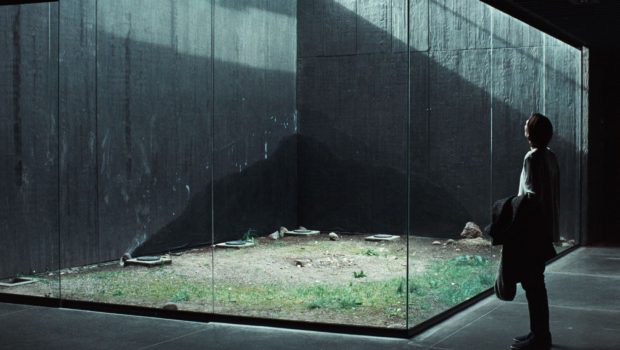 Published on April 3rd, 2022 | by Damien Straker
Memoria – Film Review
Reviewed by Damien Straker on the 3rd of April 2022
Madman presents a film by Apichatpong Weerasethakul
Written by Apichatpong Weerasethakul
Produced by Apichatpong Weerasethakul, Diana Bustamante, Simon Fields, Keith Griffiths, Charles de Meaux, Michael Weber, and Julio Chavezmontes
Starring Tilda Swinton, Elkin Díaz, Jeanne Balibar, Juan Pablo Urrego, and Daniel Giménez Cacho
Cinematography Sayombhu Mukdeeprom
Edited by Lee Chatametikool
Running Time: 136 minutes
Rating: PG
Release Date: the 7th of April 2022
Tilda Swinton's subtle performance elevates the mysterious, opaque drama Memoria. For decades, the 61‑year-old English actress has possessed a gift for transforming into highly bizarre, oddball characters. Consequently, she has emerged as a popular cult figure among indie film viewers. Michael Clayton (2007), Snowpiercer (2013), Only Lovers Left Alive (2013), and various Wes Anderson films have showcased the depths of her talents. Arguably, her most complete role was in the troubling drama We Need to Talk about Kevin (2011). Swinton played a mother haunted by the actions of her murderous teenage son. Yet one could argue the chameleon has somehow never made a film stranger than Memoria. Her minimalist acting style and gaunt features are perfectly attuned to this highly abstract depiction of time and loneliness.
Memoria substitutes deft plotting for a collection of intense and lengthy sequences. The story is set in Medellín, Columbia, and opens inside the bedroom of a botanist named Jessica (Swinton). When she awakens beneath the darkened shadows of the morning, she hears an enormous thumping sound. The film's major dramatic question lingers: was the noise heard from outside the room or inside Jessica's head? When she has dinner with her sister, Karen (Agnes Brekke), and her brother-in-law, she is rattled by being the only person to hear the thumping noise again. Jessica visits a sound engineer to help recreate the noise on his computer. His efforts do little to resolve the mystery. Jessica's trip away from the busy portions of the city and into the tranquillity of the country is her only hope to unearth the source of the noise. The findings are bizarre and unexpected.
Indie Thai filmmaker Apichatpong Weerasethakul (Uncle Boonmee Who Can Recall His Past Lives, 2010) enhances this slow burning film with unique audio-visual choices. To express Jessica's loneliness, he shoots the opening scene in near darkness, leaving her face buried in deep shadows. The same feeling of isolation continues as she awakens in bed. The camera lens remains still for an age as though the extended shot duration infers our spectatorship to Jessica's lonely search for closure and reason. Many scenes, including the recording booth and museums, are filmed in narrow, contained spaces, which suggests the claustrophobia and pressure Jessica feels to solve the mystery. Additionally, Memoria dramatises modernity's infringement on the natural world. The desaturated colour grading is imbued through concrete, metal, and glass architecture. These elements create a noticeable visual binary. The hard, muted images are juxtaposed with greener, naturalistic visuals in the laconic final quarter. The expression of loneliness and the changing environment suggests a shifting passage of time. It is as though the booming sound is Earth's creation followed by the cold human imprint of modernity on the natural world.
The story's thematic content invites several interpretations. Without spoiling a belated twist, Weerasethakul leans heavily towards science fiction elements. The choice is fitting as this is a narrative about time itself. Many scenes are set in museums or labs where scientists examine remains and the dialogue touches on discussions about life and death. For example, over dinner Jessica and Karen disagree about someone they know being alive or not. In another scene, she attempts to find the sound engineer who has disappeared. She asks his colleagues about him but to no avail. Memoria could also be viewed as a deep examination of psychology. The noises in Jessica's head could be examples of personal trauma and the claustrophobic imposition created by other people. Weerasethakul reinforces this personal conflict through the film's unique sound design. He shoots scenes in long silences to stress loneliness but then amplifies the diegetic soundtrack, bringing the intrusive nature of people's conversations to the fore. The dramatic emphasis again reflects the problematic marriage of nature and modernity.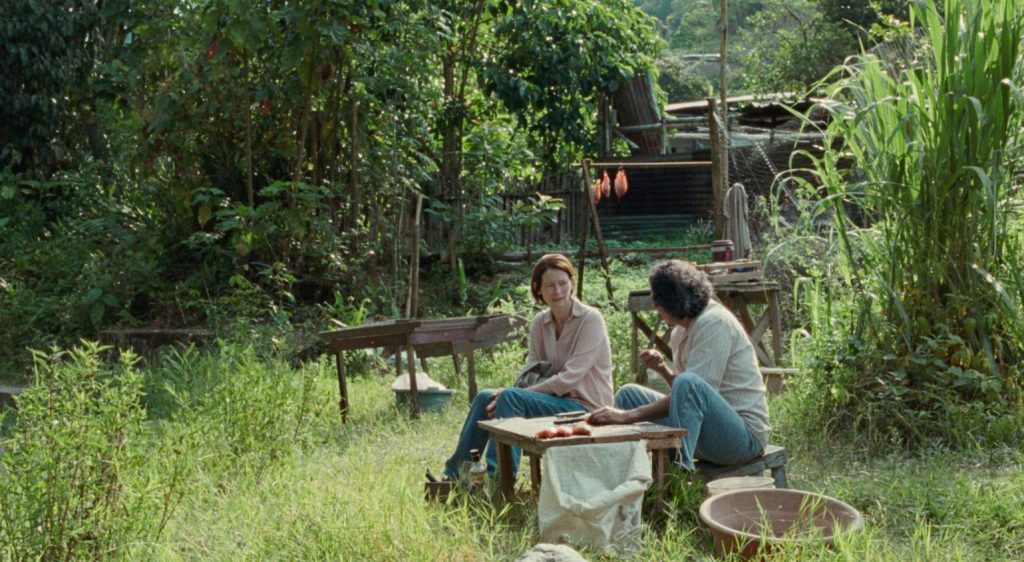 Memoria is a highly original creation but also a challenging experience. It is an achingly slow, measured film that requires several viewings to interpret. It will undoubtedly test viewers' patience. However, its daringness is a virtue when much of modern cinema is geared towards box office formulas. The aspects most people will resent are what makes it fascinating. There are undeniable shortcomings though. The technical sophistication, particularly the audio-vision, takes precedents over strong character building and backstory. Jessica is the only major figure in this solo act, which proves to be a shortcoming in the glacial final quarter. Fortunately, Tilda Swinton's audacity to undertake this role and her embodiment of loneliness carries this complex, difficult experiment a long way.
Summary: Tilda Swinton's audacity to undertake this role and her embodiment of loneliness carries this complex, difficult experiment a long way.