Interviews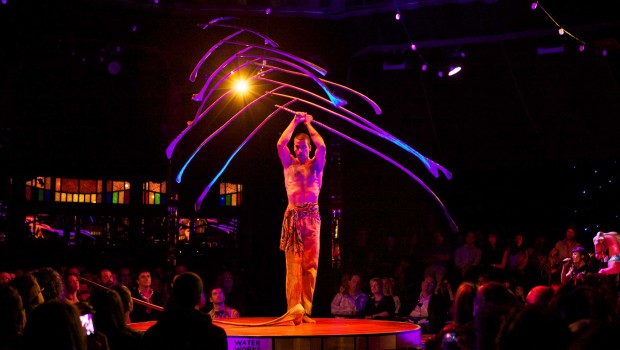 Published on October 18th, 2013 | by admin
Memet Bilgin (Rigolo) Interview – The Empire of Balancing
Welcome to Impulse Gamer Memet, I've heard that this is your first time in Australia and that you've been camper vanning (driving) around our country, what have you seen and what are you looking forward to see?
So far, I've been up to Cairns and Port Douglas (and the reef, of course), on and around the Great Ocean highway in Victoria, and most recently up in the Simpson Desert on the Birdsville track. That outback experience was by far my greatest. I saw brumbies, wild camels, giant kangaroos boxing in the middle of the road, you name it… I also got stuck on a dry lake bed in the middle of the desert and had to dig myself out for 8 hours. Best. Trip. Ever.
Tell us what made you become a circus performance? 
It's hard to explain, but I've had the urge to physically express myself for as long as I can remember. This is quite interesting because I wasn't at all involved in performing arts until very late in my life (only after my early 20's). But the same urge I feel now was there back then, just latent.
Is the Australian audience a little different than from other audiences you performed to across the globe? 
Every audience has their flavour. Australia is no different. At times, Australians can be timid, but when they enjoy themselves, you can really tell: they won't be shy about expressing it.
Empire has become such a hit in Australia, why do you think Australians have embraced this production?  
Without patting our collective selves on the back, I'd say Empire is a hit because it's simply a really good show. It's really hard to go wrong when you have this kind of talent under one tent.
What does EMPIRE by Spiegelword mean to you?  
Empire is my current job, but being on tour, this really means that for its duration, it is my entire life.
I've heard that EMPIRE has been referenced as the naughty version of Cirque du Soleil, would you agree to this comment? 
Sure. We certainly don't try to please everyone and we're not afraid of being naughty.
Tell us how you were approached to be part of Empire?  
A fateful phone call, one November day… (that was in autumn, for us northerners).
Who came up with the name "Stick Guy"?  
Stick guy just came out of the ether of the show: at one point or another, everyone has gotten a diminutive shorthand name associated with them, and this was the one that stuck with me.
We saw your performance in Empire last time you were in Melbourne. We were gobsmacked at your sheer strength and concentration it took to balance those long sticks, how do you get your mind and body into that shape to perform something so physically draining and impossible for us mere mortals to achieve?  
This act really solicits many disciplines I've done elsewhere in my life and career. From mime and dance training, to my personal hobby that is freediving, to the strength I got as an ex-aerialist. Ultimately, it is years of being on stage and knowing one's body and mind.
Where did the stick balancing idea originate from?  
The branch balance (or Sanddorn Balance as it's originally called) came out of a Swiss circus company called Rigolo. Rigolo has been doing these kinds of shows for over three decades, and this was just one of the many original ideas that came from their endless creative process… As with all art, it came about accidentally, and funny enough, this number was originally almost cut from the final show it was in. But thank goodness it wasn't, and instead was taken to its full potential to what you can see today.
How many hours a day or week do you practice and what does your training involve?  
In life, I train in one discipline or another at a very minimum of one hour every day. This is my strict minimum. When we are in creation or rehearsals, it is like a full time job (or even more), with 8 to 12 hour days. Being on tour is a special kind of regimen, and usually involves an hour or so of warmup and/or rehearsal 6 days a week (plus the 2~4 hour "high alert" state you have to remain in throughout the duration of the show). In my younger years when I was doing aerial work, my minimum daily training was more like 2 hours.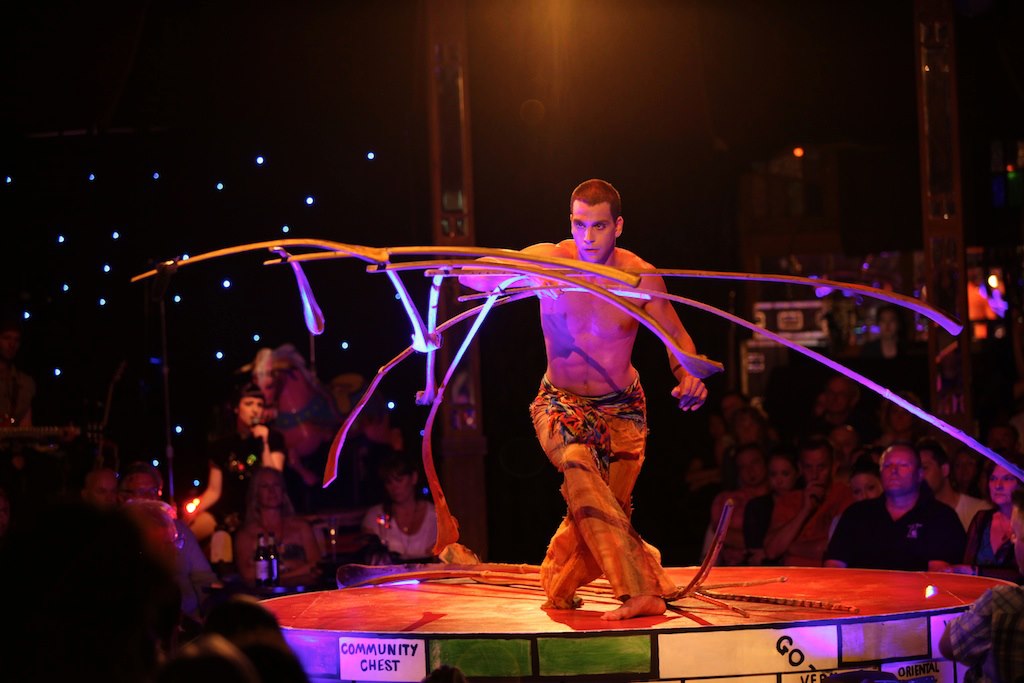 Everyone has a bad day, however as a professional how do you ensure that your performance is as flawless as possible? 
This is an interesting question and is really, in my opinion, one of the most important aspects of being a good performer.
I would say 99% of the effort and energy I put into my performance is in reducing risk and making sure things work properly. From the moment I get up in the morning to after the bows at the end of the show, I'm always aware that there is a performance to be done, and that I am depended upon. On stage, all of that sweat, all of the concentration is entirely dedicated to making sure nothing goes wrong. Sure, sometimes things can go wrong, but it is my job to make sure it's as close to never as possible. For instance, in over ten years of performing, I have never missed a show, never called in sick (knock on wood). Come rain come shine, Freddy Mercury said it best: show must go on.
What about the sticks? Are they made from any special tree or do they have to be a certain weight?  
The branches are dried palm fronds with very minimal treatment. I treat the tips of the branches so that they don't fray or crack from wear and tear. Otherwise though, they're just plain old sticks. They are, of course, carefully selected for their weight, but aren't otherwise special.
What is your favourite part of Empire?  
I've always had a soft spot for the wheel number. I love that number both artistically, and for its performance value.
Has anything funny ever happened on stage that only the performers have noticed? (e.g. a mishap or wardrobe malfunction?)
The other night, the MC's pants came loose. We noticed back stage because he started holding the side of his pant and was walking all bow-legged. And this was during a very dynamic number where he had to run all over the place and dance on stage. I was rolling on the floor laughing, along with a few of the other crew members.
Is there an end to Empire or will it continue touring the world for several more years? 
Hopefully, it will keep on keepin' on for at least a few more years.
What's next for you?  
I'm an avid sailor and I am in the early planning stages of a round the world trip. I'm also working on creating a full length show to perform. These two endeavours are pretty much mutually exclusive, so I will play it by ear and see which path the universe will want me to take.
Lastly, could you tell our readers why they should see Spiegelword presents Empire?  
I've rarely seen any other show that has managed to assemble such a good cast. Combine this with the fact that the audience is literally sitting 2 meters away from these performers and I think it's a no-brainer. You will be hard pressed to experience this kind of performance anywhere else.
Thanks for your time and good luck on your next tour.
For more information on Empire, please visit – http://www.empireaustralia.com/
EMPIRE is currently in Canberra until November 3. It then moves on to Newcastle (opening November 14), Sydney (opening January 7) before opening in Melbourne on March 11 2014.