Events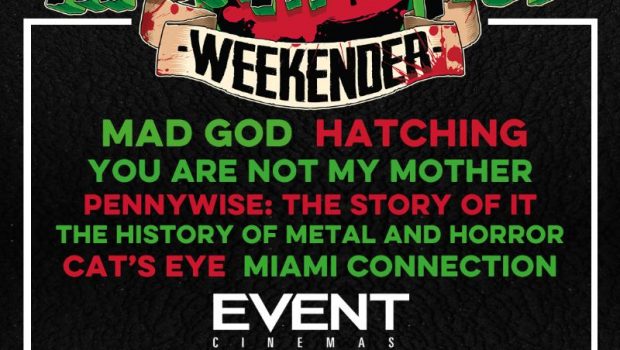 Published on April 29th, 2022 | by Andrew Bistak
Melbourne MONSTER FEST WEEKENDER Program Revealed
MONSTER FEST in association with festival partners Event Cinemas returns to Adelaide, Brisbane, Perth & Sydney for a mid-year three-day mini-festival, MONSTER FEST WEEKENDER from Friday 13th – Sunday 15th May, featuring the latest transformative and transgressive genre cinema from across the planet along with stunning restorations of some pop-culture classics.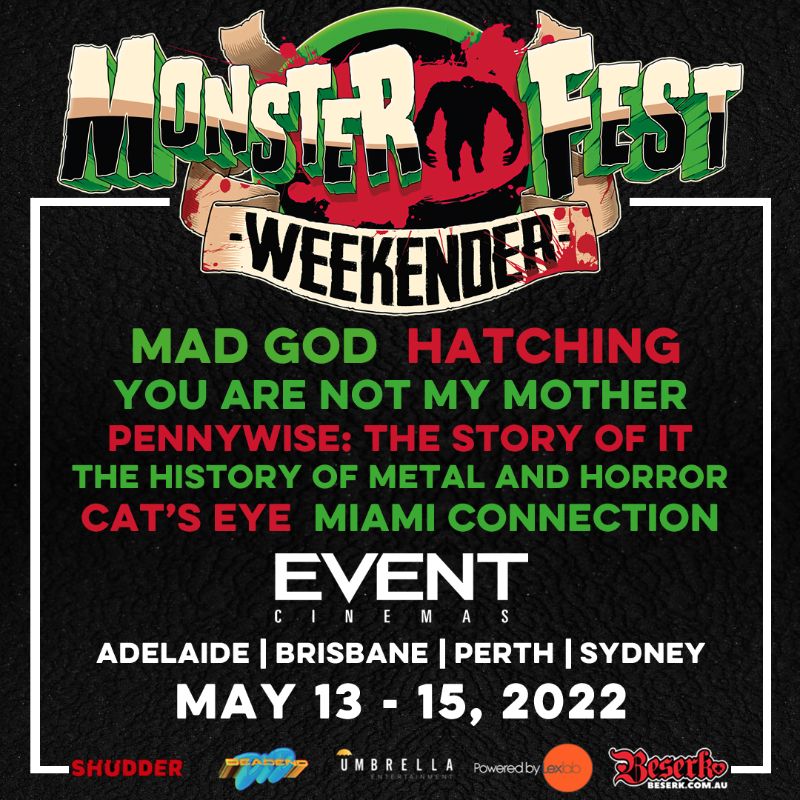 MAD GOD | DIR. PHIL TIPPETT
UNITED STATES 2021 | NSW/QLD/SA/WA PREMIERE
From Oscar-winning visual effects artist and filmmaker Phil Tippett, comes his highly anticipated masterwork MAD GOD, an experimental stop-motion extravaganza set in a Milton-esque world of monsters, mad scientists, and war pigs.
HATCHING | DIR. HANNA BERGHOLM
FINLAND/SWEDEN 2022 | NSW/QLD/SA/WA PREMIERE
Fresh from its world premiere at Sundance, filmmaker Hanna Bergholm's HATCHING is a satirical and transformative body horror come creature feature that sees a girl on the cusp of adolescences nurse an abandoned egg to a nightmarish juvenility.
YOU ARE NOT MY MOTHER | DIR. KATE DOLAN
IRELAND 2021 | NSW/QLD/SA/WA PREMIERE
Writer/director Kate Dolan makes her feature-film debut with YOU ARE NOT MY MOTHER, an unnerving and dread-fuelled tale of a teenager attempting to uncover the puzzling disappearance of her mother and her far more mysterious and sinister return.
PENNYWISE: THE STORY OF IT
DIR. JOHN CAMPOPIANO & CHRIS GRIFFITHS
UNITED KINGDOM 2022 | NSW/QLD/SA/WA PREMIERE
PENNYWISE: THE STORY OF IT is 'the' definitive documentary on the history and enduring legacy of Tommy Lee Wallace's adaptation of Stephen King's IT, lovingly crafted by longtime fan and Monster Fest alumni John Campopiano and fellow documentarian Chris Griffiths, this is the final word on the 1990 mini-series that launched a thousand nightmares and for some lifelong coulrophobia.
THE HISTORY OF METAL AND HORROR
DIR. MIKE SCHIFF | UNITED STATES 2022
NSW/QLD/SA/WA PREMIERE
Metal and horror have long shared a close association and filmmaker Mike Schiff's THE HISTORY OF METAL AND HORROR examines how these perceivably dark and undeniably transgressive arts originated and their evolution through time via interviews with some of the most influential musicians and filmmakers of both mediums.
CAT'S EYE – 4K RESTORATION | DIR. LEWIS TEAGUE
UNITED STATES 1985 | NSW/QLD/SA/WA PREMIERE
Monster Fest is proud to present the 4K Restoration of CAT'S EYE, directed by Lewis Teague (CUJO, ALLIGATOR) and with a screenplay by Stephen King, this benchmark anthology horror is comprised of three tales, two of which are adapted from King's own NIGHT SHIFT collection and a third written directly for the screen.
MIAMI CONNECTION | DIR. Y.K. KIM & WOO-SANG PARK
UNITED STATES 1987 | 35TH ANNIVERSARY SCREENING
Y.K. Kim & Woo-sang Park's MIAMI CONNECTION is a martial arts and music extravaganza that despite poor box office and harsh critical reception upon release has gone on to become a beloved cult classic and there's no better time to discover (or rediscover) it for yourself than at our 35th Anniversary Screening, held in conjunction with Umbrella Entertainment.
WHERE:
NSW
Event Cinemas George St
505/525 George St
Sydney NSW
QLD
Event Cinema Myer Centre
Level 3, The Myer Centre, 91 Queen St
Brisbane City QLD
SA
Event Cinemas Marion
Level 3, Westfield, 297 Diagonal Rd
Oaklands Park SA
WA
Event Cinemas Innaloo
57 Liege St
Innaloo WA
WHEN:
Friday 13th – Sunday 15th May
WEBSITE:
https://www.monsterfest.com.au/weekender/
TICKETS:
VIP Pass – $119
Valid for all 7 sessions from Friday 13th May through
Sunday 15th May 2022. It cannot be used for multiple
tickets to the same session.
Individual Tickets
Adult – $21
Concession – $17