Games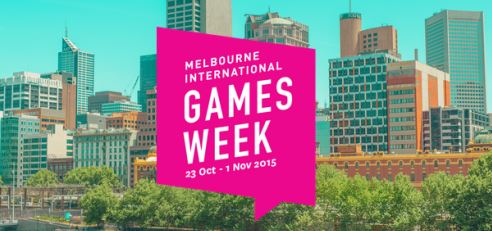 Published on September 28th, 2015 | by admin
Melbourne International Games Week to connect games, business, play and culture
Keynote speakers, performers and industry leaders announced for inaugural event
MELBOURNE, Australia – September 28th, 2015: The inaugural Melbourne International Games Week from 23rd October – 1st November will be the first to consolidate cross-industry communication and networking events for games development, business and enthusiasts this October.
During the Melbourne International Games Week the Australian Games industry will be the centre of attention as Melbourne fills to the brim with industry-centric events, international guests, hundreds of speakers and tens of thousands of convention attendees and enthusiasts.
Melbourne is an important location for Australian Games Development, it is home to a large percentage of Australian development talent and creates a hub for both national and international developers. The city contains a diverse and dense games infrastructure with game developers, publishers, investors and creatives, as well as a flourishing startup scene.
Highlights of the event include the three largest games conferences in Australia: Unite, GCAP and PAX AUS with further details about Unite Melbourne 2015 revealed today, including opening performances and keynote speakers.
Unity representatives today confirmed the keynote for Unite Melbourne 2015 is Adam Brennecke, lead programmer and executive producer on Pillars of Eternity by Obsidian Entertainment. Brennecke will share insights from over a decade of experience creating expansive RPGs at Obsidian, including Fallout: New Vegas, Neverwinter Nights 2, and Star Wars: Knights of the Old Republic II.
Unite Melbourne 2015 will also be opened by Deakin Motion.Lab, creators of acclaimed performance, VOX Lumen shown earlier this year at White Night. Unite will play host to the world premiere of two performances including an excerpt from Pinoke featuring robots, live motion capture and live interactive performances made with Unity.
GCAP 2015 will be opened by keynote speaker Brie Code, who until recently has worked with Ubisoft Montreal to lead programming teams on Child of Light, Assassin's Creed III, Assassin's Creed: Brotherhood, and Assassin's Creed II. Code's previous experience also includes AI development Pandemic Australia, as well as AI development, gameplay, and UI at Relic Entertainment for titles including Company of Heroes and Warhammer 40k: Dawn of War. Code is also part of the advisory committee for YES Montreal's Advancing Women in STEM through Mentorship Project.
Other GCAP 2015 international guests and speakers include Chris Avellone, recently announced as a writer for Divinity 2: Original Sin. Prior to his work at Obsidian as Lead Designer on Star Wars Knights of the Old Republic II: The Sith Lords, Avellone's roles have included Lead Designer on Planescape: Torment, Fallout 2, the Icewind Dale series, and Baldur's Gate: Dark Alliance.
Early bird ticket sales are ending soon, and ticket bundles for Unite, GCAP and PAX are still available via the GCAP ticket sales or Unite ticket sales pages.
To learn more about Unite Melbourne 2015, please visit https://unity3d.com/unite/melbourne.
To learn more about Games Connect Asia Pacific 2015, please visit http://gcap.com.au/.