Events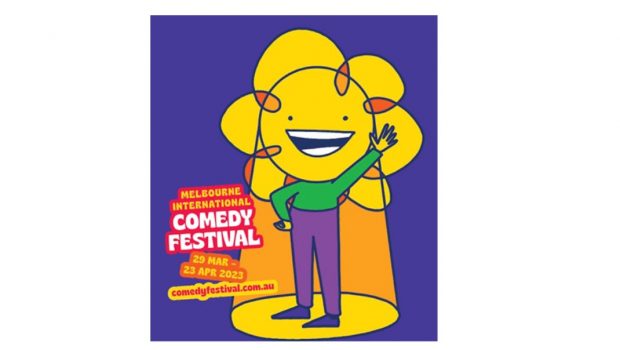 Published on March 28th, 2023 | by Adrian Gunning
MELBOURNE INTERNATIONAL COMEDY FESTIVAL HAS LAUNCHED
Melbourne International Comedy Festival today launched its 37th Festival – heralding the start of the funniest three and a bit weeks of the year – when comedians descend on Melbourne and queues to laugh curl around city blocks.
This year the Festival boasts more than 600 shows including over 100 international artists with more than 7000 individual performances of award-winning stand-up, cabaret, sketch, circus and more. There are also late-night shows, family friendly events, and free performances so that everyone can get involved.
A huge line-up of local big names – Anne Edmonds, Alice Fraser, Cal Wilson, Claire Hooper, Chris Ryan, Dane Simpson, Dave Thornton, David Quirk, Dilruk Jayasinha, Gabbi Bolt, Garry Starr, Geraldine Hickey, Kitty Flanagan, Ivan Aristeguieta (Aus/Ven), Lano & Woodley, Luke Heggie, Lizzy Hoo, Mel Buttle, Michael Hing, Michelle Brasier, Nath Valvo, Reuben Kaye, Rhys Nicholson, Sam Campbell, Wil Anderson and more! The Festival also provides the opportunity to support the rising stars of Australian comedy – don't miss your chance to see Prue Blake, Dan Crowley, He Huang, Alexandra Hudson (performing as part of Comedy Zone), Bron Lewis, Fergus Neal, Sashi Perera, Dahn Rozario and many more – before they become the next big name.
International performers set to take our stages include past Melbourne International Comedy Festival People's Choice Award winners Urzila Carlson (Sth Africa/NZ) and Daniel Sloss (SCO); joining Stephen K Amos (UK), Danny Bhoy (SCO), Anirban Dasgupta (India), Larry Dean (SCO), Carl Donnelly (UK), Paul Foot (UK), Ari Eldjárn (Iceland), Fakkah Fuzz (Singapore), Patti Harrison (USA), Rosie Jones (UK), Tim Key (UK), Kyle Kinane (USA), Daniel Kitson (UK), Douglas Lim (Malaysia), Josie Long (UK), Joanne McNally (UK), Sakdiyah Ma'Ruf (Indonesia), David O'Doherty (Ireland), Ray O'Leary (NZ), Sara Schaefer (USA), Shalewa Sharpe (USA), DeAnne Smith (CAN/USA), Sonali Thakker (India), Sheng Wang (USA), Mark Watson (UK), Tim Key (UK) and The Lucas Bros (USA).
We're thrilled to welcome some of the most exciting breakthrough names on the international circuit today, including Edinburgh Fringe Best Comedy nominee Jordan Gray (UK), Edinburgh Fringe Best Newcomer nominee Leo Reich (UK); and the 2022 Edinburgh Fringe Best Newcomer winner, and recipient of the 2021 Funny Women Award, Lara Ricote (Mexico) – plus our selection of the best up-and-comers from the UK in New Order – Rob Auton, Huge Davies and Chloe Petts.
The whole family can laugh together, as Melbourne International Comedy Festival presents its mega kids and family program. With a new hub at Melbourne Museum, shows will run across the special Spiegel Zelt tent on the Museum Plaza and the Museum Theatre. With an absolutely bonkers line-up of clowns, mimes, magic, dance, sketch, stand-up, circus and musical comedy – with extra sessions across the Easter school holidays. Highlights include; The (Very) Big Laugh Out – the FREE family-friendly event will run right through the school holidays – on the Fed Square Main Stage and also at Melbourne Museum, jam-packed with Festival favourites and the best stand-up, physical and musical comedy performers in town; Comedy Club for Kids presents supersized entertainment for some of our littlest friends, aged six-12; plus, Sean Choolburra's super-special addition to the school hols program Didj & Dance, which blends traditional dance, music, storytelling and humour, skillfully captivating the young and curious.
The Festival development programs, which run throughout the year with the aim of nurturing a new generation of diverse, up and coming comedy voices, all come to a conclusion at the Festival. This year's RAW Comedy, Deadly Funny and Class Clowns heats have taken place around Australia, and now the hottest new talents and crowd-favourites will perform at the National Grand Finals throughout the Festival. Always a Festival highlight, our special events – The 33rd Annual Great Debate will see two hand-picked teams go head-to-head, toe-to-toe and gag-to-gag, and in its 26th year Upfront delivers whip-smart laughs with boldness and charm from the best female and non-binary artists, hosted by Jude Perl with her band and featuring Michelle Brasier, He Huang, Laura Davis, Janty Blair, Rosie Jones (UK), Sara Schaefer (USA), Cal Wilson, Alex Ward, Lizzy Hoo, Georgie Carroll and many more!
And if it's hard to get into town, the Melbourne International Comedy Festival's Neighbourhood Sessions will bring a hand-picked line-up to the suburbs. Each weekend, the 'best of the best' will visit one of Melbourne's local stages in Werribee, Essendon, Moorabbin, Narre Warren, Dandenong, Williamstown, Rosebud and Caroline Springs, continuing the Festival's efforts to expand beyond its traditional CBD footprint. Neighbourhood Sessions shows in Melbourne's west are supported by Creative Victoria through the Go West fund.
Melbourne International Comedy Festival Director Susan Provan AO, said, "It's so great to see a big, wide, world of comedy back on Melbourne stages. The city is alive and there are comedy treats ready for everyone. All our Australian and visiting faves are ready with new shows and there are loads of exciting new faces too. It's the very best time and place to support and enjoy live comedy!"
Minister for Creative Industries Steve Dimopoulos, said 'Melbourne International Comedy Festival is one of the most iconic events in Victoria – its impact on our state is serious business. We back this festival because it creates thousands of job opportunities, packs a big economic punch and brings us together for one of the greatest joys in life – to laugh."
"No other event brightens, and brings as much joy, people and laughter to the City of Melbourne as the Melbourne International Comedy Festival," said Lord Mayor Sally Capp. "Weekend nights of the festival consistently result in the highest spend for both retail and hospitality in our city. And if record attendance at other Melbourne events is anything to go by, this is set to be our biggest festival in years."
For more information about the Melbourne International Comedy Festival visit comedyfestival.com.au