Events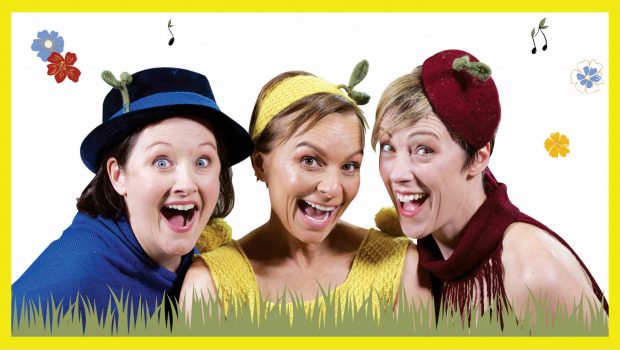 Published on August 9th, 2019 | by Admin
Melbourne based children's theatre group Musical Sprouts to present 'A Day in the life of You' at Melbourne Fringe, September 27-29
As part of Melbourne Fringe 2019, Melbourne based children's theatre group, Musical Sprouts, will present their delightfully fun and interactive show, 'A Day in the Life of You', from Friday September 27- Sunday September 29 within the stunning Wonderland Spiegeltent at The Paddock, Federation Square. Featuring original songs, live instruments, dancing and lots of audience participation, this clever and creative 50 minute show written specifically for children ages two to six tackles all the big issues in a little person's daily life and ensures a love of music will blossom in every mini audience member.
Tickets are $20 for adults and $20 for children. Concession tickets are $18 and tickets for groups (4+) are $18.50.
'A Day in the Life of You' features 3 'Sprouts'- Yella, Blueno and Reddy, each of whom have their own unique and charming personalities. During this playful and educational show which centres around the challenges of the youngest character Yella, the 'Sprouts' address the daily challenges of growing up, such as eating a healthy breakfast and learning to brush teeth, getting dressed, cleaning up and going to the toilet. By the end of the show Yella learns all about independence, self-care and social emotional skills whilst little audiences come away with a renewed sense of confidence and musicality.
The Musical Sprouts performers Bridget a'Beckett, Sharni Page and Julia Davis have all enjoyed successful professional theatre careers. After they became mothers, instinctively they began looking for a new way to express themselves creatively within their changed lives. This unique collaboration of Musical Sprouts came from a shared belief that a love of music can shape a life. Musical Sprouts have recently secured funding through the VicHealth Gender Equity program for 2020 to develop a new musical for children exploring emotional literacy in small children.
'A Day in the Life of You' was first presented in October 2018 with successful seasons taking place at a variety of venues. In March 2019, short seasons took place at both Chapel off Chapel in Prahran and the Clocktower Centre in Moonee Ponds.
From September 12-29, Melbourne Fringe transforms the city into a platform for every kind of artform imaginable, supporting over 3,000 artists to present more than 450 works in over 170 venues to more than 360,000 people. The open access festival champions cultural democracy – art for anyone. It celebrates freedom of artistic expression, taking voices from the margins and amplifying them across the city. By pushing boundaries and illuminating new thoughts and ideas, Melbourne Fringe transforms not only Melbourne's places but its people too.
Writer/performer Bridget a'Beckett who performs as Yella, says of the upcoming Fringe Festival performances, "We are so thrilled to be performing at Melbourne Fringe 2019. We can't wait to share our show with Fringe audiences in the magical Spiegeltent. It feels like the perfect home for us!"
Prior to the Melbourne Fringe season, 'A Day in the Life of You' will be presented as part of Sydney Fringe 2019 at Actors Centre Australia in Leichhardt from September 21-22 2019.
'A Day in the Life of You' is a delightful and enchanting show for children and adults alike and is not to be missed during Melbourne Fringe 2019.
"an absolute gift of a show that allows children to be immersed in song, dance, music and storytelling, whilst learning valuable lessons, cleverly expressed by three wonderful performers with such passion for children's development!' Verity Hunt-Ballard (Performer, Mary Poppins, Australia)
Written by: Bridget a'Beckett, Julia Davis
Performer/s: Bridget a'Beckett, Julia Davis, Sharni Page
Creative team:
Writers/Performers – Bridget a'Beckett, Julia Davis, Sharni Page 
Choreographer – Jessica Enes 
Costume Designer – Kim Simon
Duration: 50 minutes
Performance Details:
Melbourne Fringe 2019,
September 27-29 2019, 11:00am
Wonderland Spiegeltent,The Paddock, Federation Square
Age recommendation: 2-6 years of age
Ticket Price: $20 adults/ $20 children/ $18 concession / $18.50 Group (4+)
*Melbourne Fringe 2019 runs September 12-29 2019