Interviews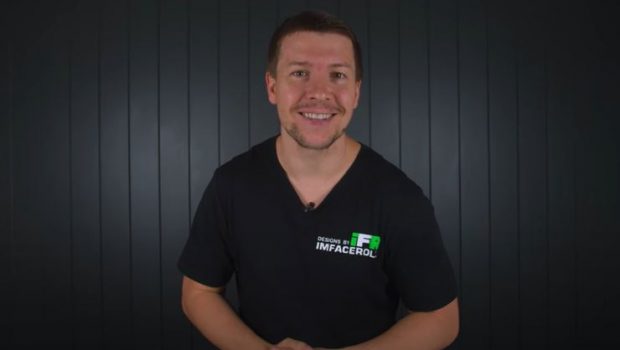 Published on August 20th, 2022 | by Byliner
Meet a Modder: DesignsbyIFR (Corey Gregory Interview) @IntelANZ #Modding
In a few short years, PC modding has become nothing short of an artform.
Modding can be any custom modification to hardware or software, like creating a unique PC case, increasing the speed of a CPU through overclocking, altering cooling systems to increase power, or revising software.
In the first profile of this series looking to some of the biggest modders in Australia, we speak to Corey from DesignsByIFR. DesignsbyIFR has found incredible success in PC modding, amassing 580,000 YouTube subscribers. Intel sits down with the creator and host of the channel, Corey Gregory, who shares insights into his journey in the industry and takes us behind the scenes of the modding process.
Tell us a little bit about yourself.
My name is Corey Gregory. I'm 28 years old and I come from Sydney, Australia – but recently moved to the Newcastle area.
Tell us about DesignsbyIFR – When did you start your channel, what was the process like, how has it grown, what have been some highlights?
I started DesignsbyIFR back in 2014. It was never intended to be a full-time gig, I used to upload some gameplay videos for fun such as Battlefield or World of Warcraft for my own enjoyment.
Around then I also started tinkering with custom PCs and enjoyed the process so just like my gameplay videos, I wanted to film the process and document it for myself on social media. Things started taking off when I began to make custom PC builds. I was able to create these amazing one-of-a-kind art pieces that really brought me joy, and companies started noticing! From that point on companies made it possible to do these builds more frequently and things started gaining traction on my social media channels. I noticed that I could do what I love to make a living, which is very exciting.
Since then, we've hit a bunch of amazing milestones. We've been invited to have our builds displayed around the world at trade shows such as PAX, Computex and CES, and invited to compete in competitions – my favourite so far was the Thermaltake Casemod Invitational where I was able to make a TIE Fighter Advanced with a water-cooled PC built into it without using any special machines, only hand tools.
What is your background with PCs, PC gaming and PC building like?
I honestly don't have much of a background in PC gaming! I played games like most teens/kids, but prior to 2014 I had zero knowledge of PC building. I was so mesmerised by some of the other Custom PCs people had been creating that I researched for a week straight to learn everything that I could before building my very first custom PC, hah!
What was your first PC building experience?
I saw a custom Desk PC on Facebook and I was so mesmerised by it that I wanted to create my own. I had no PC building experience, but I was always pretty handy, and I could learn things quickly, especially if I enjoyed it.
After a week's worth of studying, I ordered the parts to start building my new desk PC. I got a bunch of wood and used my dad's tools to create the desk. It turned out fantastic, people online loved it and so did companies. We enjoyed the process and continued building more (although my Mum was not happy with me spending so much money on PC parts, haha!)
Is there such a thing as a typical mod? How does the modding process usually progress?
There is no such thing as a typical mod – each piece is unique and requires different techniques to achieve the final result. Each modder works differently – some like to create 3D renders or sketches of their build before starting, whereas I visualise in my head what I want and modify it to make the parts fit and bring the whole concept together.
I like to have parts in hand to test fit things so I can create 3D files to the correct size for laser cutting/CNC machining/vinyl plotting and so on. I usually have a few inspiration images I find on Google images too – For example the TIE Fighter Advanced case was scaled from images on Google and I made it big enough to fit all parts inside.
Has the modding process gotten easier over time?
A lot of people would say yes because machines like 3D printers/laser cutters/CNC machines are becoming a lot cheaper and available. I would say that with the prevalence of these machines, you need to train yourself to create 3D objects and use various design programs. which take a lot of time/effort and skill to perfect.
How's that for an answer? Hah!
How has modding changed since you started doing it professionally?
For me, with modding becoming our full-time job and hobby, we rely on YouTube, Adsense and projects with companies to pay the bills. This means we need to be a little more consistent with our builds and we can't just take 3 months to build a TIE Fighter PC like we use to be able to do. But we've been able to refine our process over time as we learn new techniques and get more machinery in which helps us to get more done in a smaller time frame compared with when we first started.
What are your top 3 favourite mods? Why are these your favourites?
My favourite mod would be the TIE Fighter Advanced. I spent three months on the build, and it was our biggest project to date. Another would be the custom Desk PC which is what really started our love for modding – it was our very first. Finally, I would say our PUBG diorama PC because I got to work with a really close friend on the build who unfortunately is no longer modding due to health reasons, but we had some really great fun working on it together and teaching each other and others the whole process from start to finish over livestream.
Modding seems to be equal parts image and performance. What are you looking for in a CPU when building a case mod to reach those performance highs?
When I am case modding it really depends on who the project is for. Usually, the majority of people are after a PC themed towards their favourite game, like Fortnite Shotgun PC. For a gaming PC we want fast single core performance and I always want to provide them with a CPU with enough cores in case they would also like to stream their games. The 12th gen Intel Core i7-12900k and 12th gen Intel Core i9-12700k are usually my two go to CPUs for clients, depending on their budget.
Guest Writer: By-lined to Intel