Games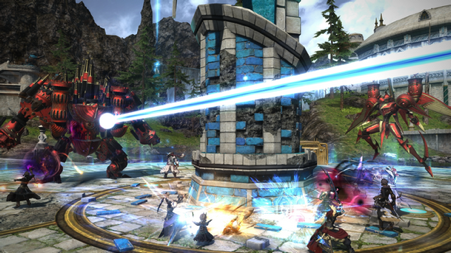 Published on November 22nd, 2017 | by admin
MECHANICAL MAYHEM COMES TO FINAL FANTASY XIV ONLINE WITH NEW RIVAL WINGS PVP ENCOUNTER
Sydney, Australia – November 22, 2017 – A fresh and frantic challenge has arrived in FINAL FANTASY® XIV Online with the addition of an intense new PvP encounter. Released alongside Patch 4.15, the new Rival Wings mode sees two teams, each containing 24 players, duke it out across a goblin-crafted arena in a bid for territorial supremacy.
To secure victory, the teams will begin by having to destroy their opponent's towers, aided by waves of automatons periodically released by the goblins. After achieving this, the shield around the opposing core will drop, making it vulnerable to attack! Throughout the battle, there'll also be opportunities to collect precious Ceruleum – gather enough, and players will be able to power up and pilot a range of mighty machina lying dormant on the battlefield …
Even more excitingly, Rival Wings is available to anyone playing the FINAL FANTASY XIV Free Trial, which allows anyone to access all available content up to level 35, create up to eight playable characters, and experience the different playable races, classes, and jobs with no restrictions on playtime. New players who wish to experience the free trial may register here: http://freetrial.finalfantasyxiv.com/.
If the prospect of fierce combat doesn't appeal, however, Patch 4.15 also brings a much more sedate offering in the form of the new Bard action 'Perform'. With harp in hand, Bards across Hydaelyn will be able to make the hills come alive with the sound of music.
Finally, there's no rest for the wicked – Season 5 of competitive PvP mode The Feast may have drawn to a close recently, but today's launch of Patch 4.15 marks the start of Season 6, which'll run until the release of Patch 4.2. Adventurers are invited to enter the arena and climb through the ranks in order to earn fierce new armour and weapons of war!
All editions of FINAL FANTASY XIV Online, including the FINAL FANTASY XIV: Stormblood™ expansion, may be purchased through the Square Enix® Online Store here: http://sqex.to/FFXIVStore