Interviews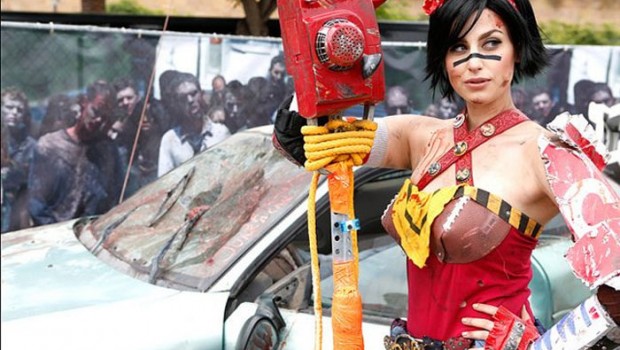 Published on March 31st, 2014 | by Admin
Meagan Marie Interview
Welcome to Impulse Gamer Meagan! How did you become involved in Cosplay?
I started playing around with costumes back in 2006/7. At the time I didn't actually know what cosplay was – I did a bit of modeling in college and decided to whip up costumes of a few of my favorite leading ladies for test shoots. Lara Croft and Wonder Woman marked my first foray into dressing up as fictional characters. Who doesn't want to be a superhero, right? Being a geek my whole life, I also started attending comic conventions in Minnesota around that time, and realized that there was a thriving community around the activity. It was called cosplay, and I was hooked. Cosplay has now become my primary hobby, as well as foremost artistic and social outlet.
How difficult is it to create your own costumes?
It depends on just how ambitious you're feeling! I've actually had to rein in some of my costumes the past two years. Working a full-time+ job and attempting massive armor builds in your free time can be a bit taxing. While I love the challenge, it's also nice to finish more than one project each year. So I've started balancing my bigger builds – such as Anya Stroud, Gabrielle Belmont, and Warrior Wonder Woman – with some slightly more manageable (and comfortable!) characters like Ramona Flowers and Claire Redfield. My motto no matter what the scope of the project is that I want to learn something new with each build. This is true even with the less demanding costumes like Ramona. For her I studied how to curl wigs with foam rollers and boiling water – worked like a charm!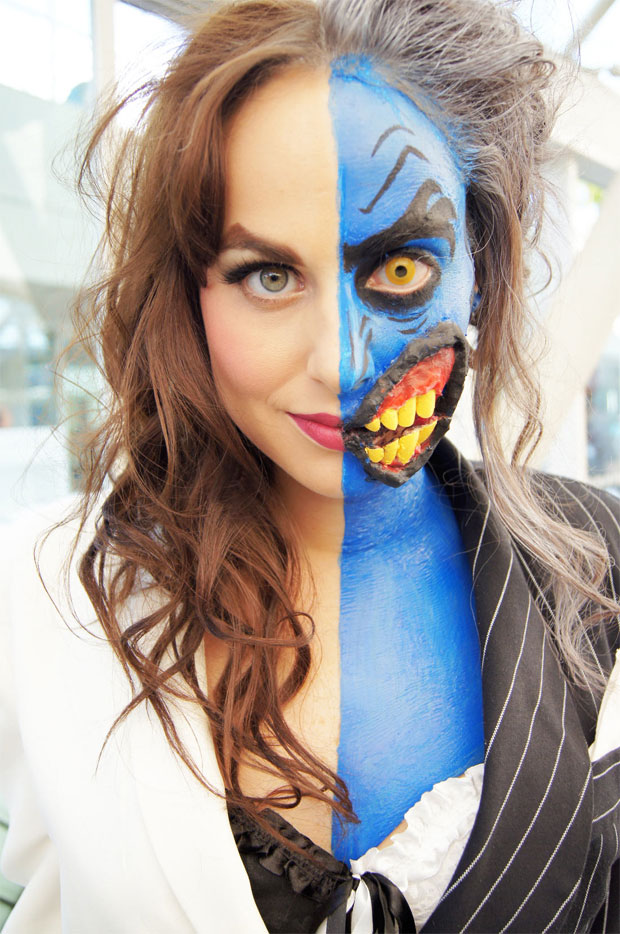 Which has been your favourite Cosplay character and why?
Lara Croft is my favorite fictional character, and I've cosplayed her a few times. That being said, I think my favorite cosplay goes to Warrior Wonder Woman – Diana being a close second on my beloved fictional lady list. The project was bouncing around my brain for years, and I hired the amazing artist Tess Fowler to help get my original Wonder Woman concept on paper. After going back and forth with her for a few weeks, I had a clear design to work from, and over the next few months I brought my take on the Amazonian warrior to life! 
If aliens landed on Earth and went to Comic-con, what do you think they would say about Cosplay?
I think if first contact happened at comic-con, the extraterrestrials would be confused. As would we. We'd likely think they were some promotion for an upcoming blockbuster film, and they'd think our culture's taste in attire varies greatly from comfortable to impractical to outlandish.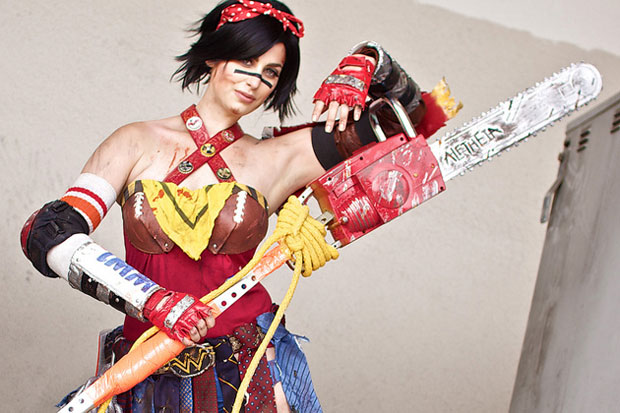 What made you Cosplay Atomic Wonder Woman? <we think it's the most amazing Cosplay ever>
I adore Wonder Woman and her Atomic ensemble is an incredibly original take on a character with an iconic visual style. I love how the designers translated those recognizable symbols and colors into this alternate outfit – the swath of yellow cloth at her breast, the license-plate bracers replacing her traditional sliver cuffs, the yellow rope on the chainsaw, and so on. Also, prancing around all post-apocalyptic looking is always fun.
What was the biggest challenge in creating Atomic Wonder Woman?
Mapping out her stop sign shoulder pauldron was actually quite difficult. I think I made it more complicated than needed by researching the actual dimensions of stop signs and recreating one to scale on paper to estimate how she would have bent and layered the metal plate. I actually couldn't replicate it though, so I'm under the impression that the design favors the aesthetic rather than accuracy. At that point I just tried to recreate the basic form, and had quite a bit of fun with it – I translated the shapes into Worbla (a thermoplastic) and heated it to the correct shapes before taking a soldering iron to the form to duplicate battle damage.
Most rewarding?
I'd say the same! I was pretty smitten with my work once the pauldron was done. Most people actually think I made it from remnants of a stop sign, so I take that as a pretty good sign! Waving around the chainsaw of truth is pretty fun too, though. J 
Once your finished and see in the mirror, do you ever fall into character because you look so bad ass?
I'm actually quite terrible at the "play" aspect of Cosplay. I've never done theater or acting or the like, so I draw on my modeling experience when posing for photos. Being in a battle-damaged costume, covered in dirt, scrapes, and bloodied up a bit certainly makes you feel badass, and I think I reflect that well in photos. But the second after the shutter snaps I'm usually back to being goofy and have a big grin on my face.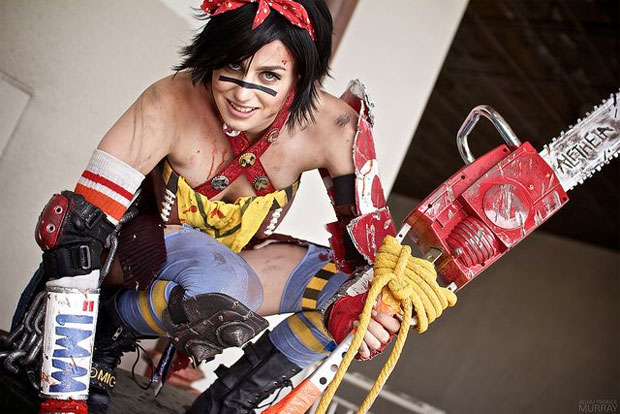 Are you playing any games at the moment?
I am! I just caught up on the second episodes of Telltale's The Walking Dead and The Wolf Among Us. I also polished off Thomas was Alone this weekend. On my plate next is Bravely Default on my new 3DS, and Gravity Rush, Tearaway, and revisiting Final Fantasy X/X-2 on my Vita. Also – lots of League of Legends. I'm moving to Ireland in a month to take up a gig at Riot Games, so I'm not doing much on consoles at the moment – I'm packing all my belongings up. When I get settled, though, I'll likely tackle Titanfall and Ryse on my Xbox One!
How do you handle being approached by almost everyone at Conventions to take photos?
It's not overly stressful in my opinion. I love posing with fans of the franchise I'm representing and geeking out with them on the show floor. The only time it gets complicated is when I'm scheduled to be somewhere at a specific time and am in a rush – having to turn down photos because you're sprinting to a panel appearance is always a bummer. But, that being said, I try my hardest to slowly work my way towards my destination with at least an hour lead-time. Solves the problem more often than not!
Gaming, what is your favourite game of all time?
That's an evil question I refuse to answer. I have genre favorites, but there are so many unique experiences available in gaming I could never choose just one. Tomb Raider II and Final Fantasy VII changed the way I looked at games forever and motivated me to work towards a job in the industry. Mass Effect 2, Journey, and Gone Home made lasting impressions on me recently. And games like Borderlands, Gears of War, and Split/Second are just insanely fun to play. Also, nothing can topple the incredible experience of working on 2013's Tomb Raider, and playing it from my couch knowing all of the talented people who crafted it.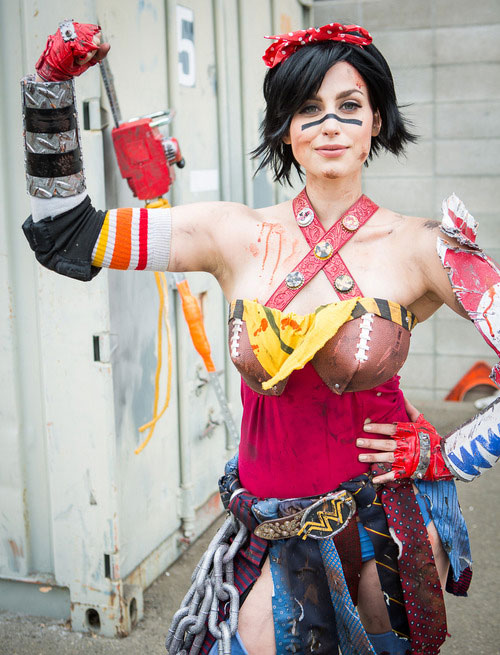 How did you become involved in the gaming industry?
I got my break in the industry at Game Informer magazine – a dream job I secured right out of college. I'd been a longtime reader of the publication and realized in my teens that GI HQ was located in my home state of Minnesota. I made up my mind that I would work for Game Informer someday, and stayed steadfast in that goal all the way through college.  The full story is actually quite long – if you're interested in reading up on my gig at Game Informer, and my move to Crystal Dynamics, as well as some general industry advice, feel free to check out my FAQ on the matter! http://www.meagan-marie.com/faq/faq-game-industry-advice/faq-gaming/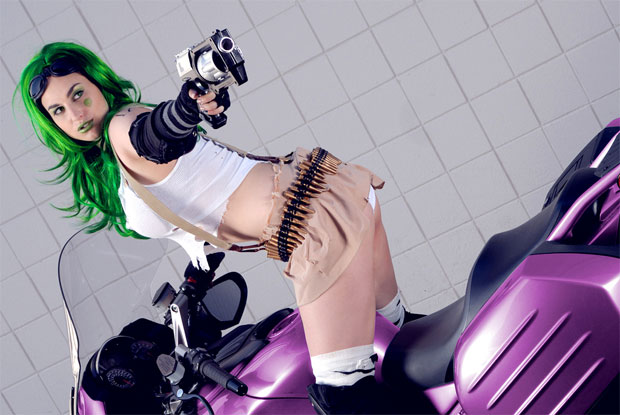 What draws you to the character Lara Croft?
I've always adored games. As kids my brothers and I would duke it out in Mario Kart, rage-quit TMNT, and cheat through Track & Field on a daily basis. Games were fun and a way to pass time. When I first set my eyes on Tomb Raider, however, everything changed. I experienced a paradigm shift. At twelve years old I was too young to appreciate how Tomb Raider transformed the industry, but for the first time I saw myself represented in a video game. It may seem odd that someone so young would identify with a gun toting, aristocrat archeologist, but Lara captivated me. We didn't have much in common other than our gender, but that was enough. I aspired to be like her, to exemplify her strength, intelligence, athleticism, beauty, and adventurous nature. Lara continued to inspire me year after year, and I can say with full certainty that she helped shape me into the woman I am today.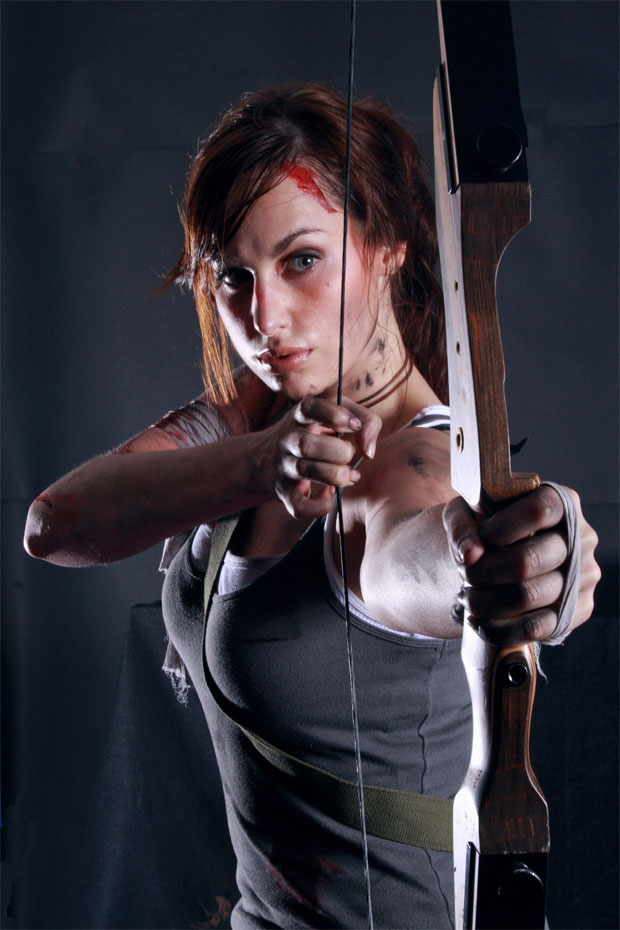 Where can fans see more of you?
I most frequently update my Facebook page with musings and ramblings. You can also catch me on the go via Instagram.
Facebook: https://www.facebook.com/MurgBurgler
Instagram: http://instagram.com/_meaganmarie_
Thanks again Meagan and all the best for 2014!