Films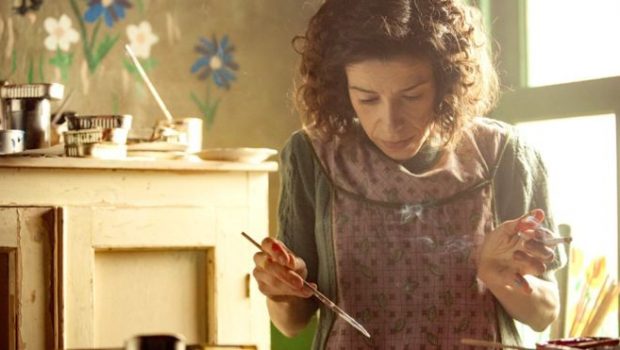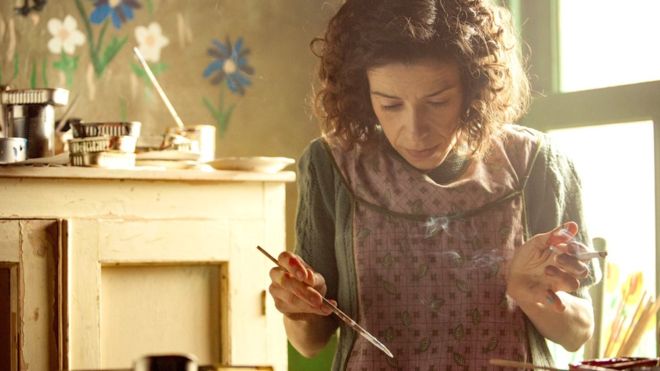 Published on August 25th, 2017 | by Damien Straker
Maudie – Film Review
Reviewed by Damien Straker on the 24th of August 2017
Transmission presents a film by Aisling Walsh
Produced by Bob Cooper, Mary Young Leckie, Mary Sexton and Susan Mullen
Written by Sherry White
Starring Sally Hawkins and Ethan Hawke
Music by Michael Timmins
Cinematography Guy Godfree
Edited by Stephen O'Connell
Running Time: 116 minutes
Rating: PG
Release Date: the 24th of August 2017
This is a nice, small and pleasant movie about the artist Maud Lewis, who was an Irish Canadian folk painter who suffered from arthritis. This film version of her life is said to have been in development for ten years. Fortunately, Maudie delivers as an occasionally touching portrait of the woman because of an incredible leading performance by Sally Hawkins who dissolves into the title role seamlessly and shares great chemistry with Ethan Hawke as her troubled and brutish partner Everett, who must undergo his own personal change.
Their relationship and eventual marriage becomes the bulk of the film. Maudie is told by her obnoxious brother that their family home is being sold; consequently, she decides that she will venture out on her own. Her independence comes despite her crippling arthritis that distorts her body. However, her ailments never dampen her personal agency or sense of humour. She answers an ad one day and becomes a paying roommate to Everette, an angry, disgruntled fellow, who is bitter about being an orphan and has a short fuse.
He's highly abusive of Maud and dogmatic in how he speaks to her and orders her around the house, almost like a slave. The movie doesn't make cute on this though—he violently slaps in the face on one occasion, which made most of the older audience at the screening audibly reel. Yet he also comes to see she's proactive, such as when he comes down stairs one day to find her on her hands and knees scrubbing the floor. They're both active people regardless of their abandonment issues, which draws them closer.
Maud herself once had a baby girl she lost too; this and the fact that she will stand by Everett and his strong physicality builds their emotional connectivity. Everett berates her with grating self-pity, proclaiming that he performs much of the hard, physical labour while all she does is paint; however, she also makes him dinner of an evening and cleans. In one darkly comical moment, the film hard cuts away to another scene just as Maud apologises and lowers the axe onto the head of a chook! What Everette also comes to realise beyond housework is Maud's persistence as a remarkable painter.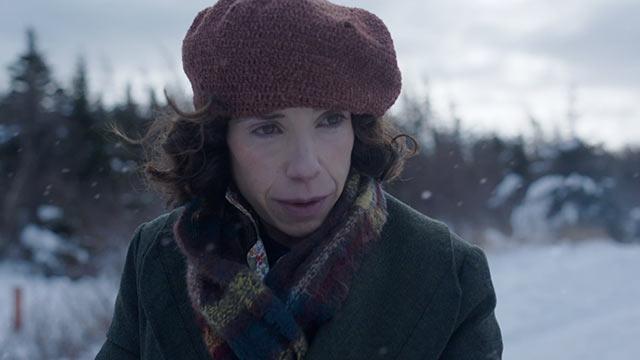 Although he specifies that she cannot paint a certain corner of the house, she continues painting figures of birds and other decorations. She successfully creates a series of paintings that she sells by placing them on the outside of their cottage. Her fame is extensive enough that the US Vice President of the time, Richard Nixon, sends her a letter to buy one of her works. Maud insists that he'll have to pay for it though! Her talent transcends the limitations of her body, but as the snow begins to amount towards the film's end, her condition worsens, thereby crippling and distorting her posture and further limiting her movement.
The film was directed by Irish filmmaker Aisling Walsh. She studied at the Dún Laoghaire Institute of Art, Design and Technology in Ireland and has a lot of experience in television. Her background has seen her keep the story contained and low key, opting to focus exclusively on the relationship of the couple rather than branching out to explore the cultural significance of the paintings. Also, rather than shooting in the Canadian Province of Nova Scotia where Maud lived, the film was shot in Newfoundland and Labrador. Most of the film is set in the house but sometimes the cinematic craft is sparked by attractive establishment shots. An extreme long shot of Maud illustrates her diminutive sense of personal belonging.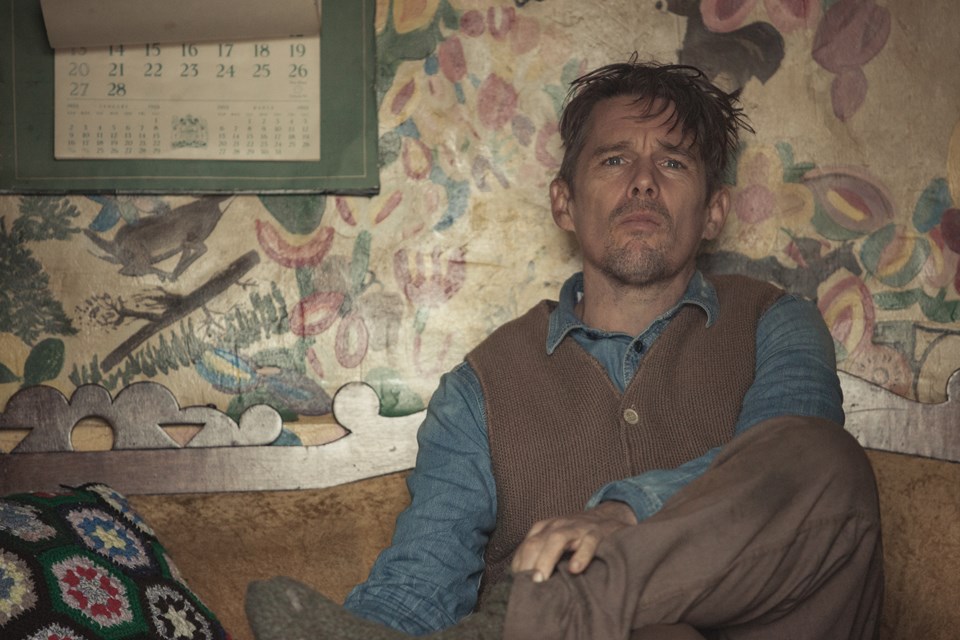 There are positives and detractions to the small-scale approach. It keeps the focus on the two actors who are remarkable attuned to the contrasting portraits and characterisation asked of them. Sally Hawkins is incredible in the way that she makes this physically constrained woman continually disarm an angry troubled man with her humour and her willpower. Its quietly funny seeing how she slowly asserts herself as the dominant household figure over time. Ethan Hawke excels in finding the brutality of Everett, playing against the type of lovable slackers he's been in the past, but also the anguish as he begins to lose Maud.
Yet outside of them, this is still a small film and one that's very leisurely in its pacing as it edges to the two-hour mark. Nor is it going to reinvent the subgenre of the flawed artist that must overcome their ailment to reach the height of their genius or their masterwork. It doesn't transcend those common tropes. Nonetheless, it's a pleasant and sometimes sad movie with an interesting relationship at its core and capped off by two impressive performances, which should be enough to draw people closer to learning about Maud Lewis.
Summary: Maudie delivers as an occasionally touching portrait of the woman because of an incredible leading performance by Sally Hawkins who dissolves into the title role seamlessly.