Games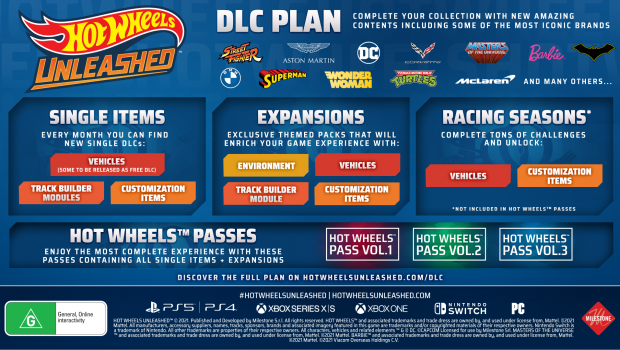 Published on September 1st, 2021 | by Adrian Gunning
Mattel and Milestone Reveal Ongoing Content Plan for Hot Wheels Unleashed
Mattel, Inc. (NASDAQ: MAT) and Milestone, a leading global racing game developer, have unveiled plans to unlock ongoing special content for Hot Wheels Unleashed. Three Hot Wheels™ Passes will unlock a set of special DLC content from Hot Wheels originals as well as from Barbie, DC™, Masters of the Universe, Street Fighter™, Teenage Mutant Ninja Turtles and OEMs like Aston Martin, BMW and McLaren™ and many others. Free and premium DLCs will also be released periodically, and may feature vehicles, track builder modules, customisation items and exclusive themed expansion sets introducing new environments. Players will also have the chance to join Racing Seasons, limited-time challenges with new vehicles and special rewards.
Hot Wheels Pass Vol. 1 will be available at launch and includes ten vehicles coming from brands like Barbie, DC™, Street Fighter™ and Teenage Mutant Ninja Turtles, three customisation packs and three track builder modules. It will also include a Batman DLC expansion from DC™. Details on HOT WHEELS – Batman Expansion and Hot Wheels Passes Vol. 2 and Vol. 3 will be announced at a later date.
Hot Wheels Unleashed will feature 66 vehicles from some of the most iconic pop culture brands at launch such as the Batmobile from DC™, Party Wagon from Teenage Mutant Ninja Turtles, Snoopy from Peanuts, K.I.T.T. from NBC's Knight Rider and the Time Machine from Universal Pictures and Amblin Entertainment's Back to the Future and more.
As the #1 selling toy in the world*, Hot Wheels is the global leader of vehicle culture. For the last fifty plus years, Hot Wheels has proven its influence on car culture with legendary design and epic performance. Today, Hot Wheels has become a global powerhouse franchise, with immersive live and virtual events across the globe, highly sought-after consumer products and top-tier collaborations, a #1-rated content channel on YouTube, and more. While 16.5 Hot Wheels are sold every second and over 8 billion cars have been sold to date, the brand continues to expand its presence in digital gaming, with success across mobile, console and PC platforms.
Hot Wheels Unleashed launches globally on Sept. 30, 2021 on PlayStation®5, PlayStation®4, Xbox Series X|S, Xbox One X, Xbox One, Nintendo Switch and PC (Steam and Epic Games Store).