Comics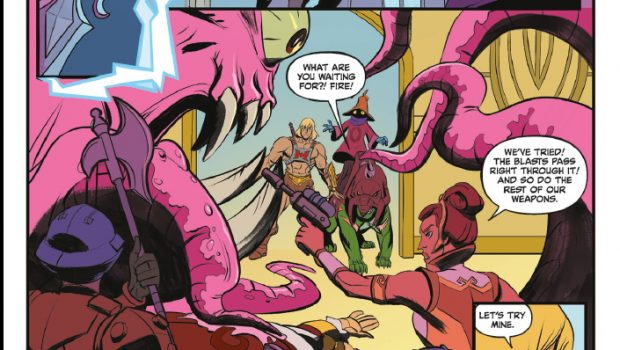 Published on July 6th, 2021 | by Tim Chuma
MASTERS OF THE UNIVERSE: REVELATION #1 (2021) REVIEW
Summary: A nice prelude if you are going to be watching the new Netflix show but by no means essential to have read this first.
4
You Goddamn better believe it!
When an ancient evil returns to Eternia, He-man is forced to travel across time and space to learn the true nature of the threat and try and find a way to cure King Randor of what is ailing him. This story is the official prequel to the new Netflix series by Kevin Smith.
Masters of the Universe was one of the many 1980s cartoons set up just to sell toys and I remember it had a lot of different characters that had one unique thing about them just so they could get another toy line out. Everyone loves to show off FISTO, but he wasn't even one of the weirdest ones on the show.
A lot of the time the show had the same storyline with Skeletor dreaming up a plot and He-man thwarting it over and over. The new shows seems to be trying to do something else and this story is the start of that plotline. Skeletor is hardly in this story at all for now it seems.
Everything looks pretty much how I remember it from the TV show so fans of it would be happy with it. More casual fans should maybe wait until the show premieres and then check this one out.
Hahahaha:
Comic details:
Writer: Kevin Smith, Rob David, Tim Sheridan
Artist: Mindy Lee
Letterer: Deron Bennett
Colourist: Rico Renzi
Cover Artist: Stjepan Sejic
Genre: Superhero, Fantasy, Action/Adventure
Publisher: Dark Horse
Publication Date: July 07, 2021