Films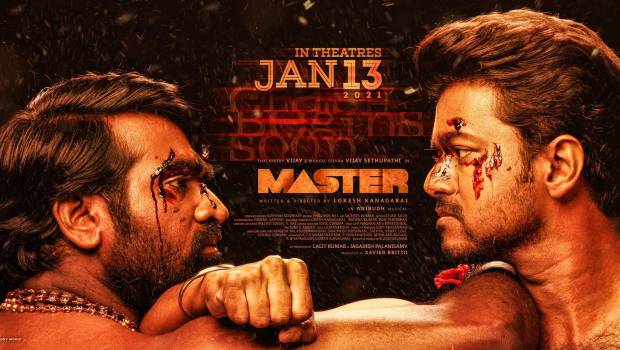 Published on January 15th, 2021 | by Tim Chuma
Master (2021) Review
Summary: If you ever thought Dead Poets Society needed more fist fights then this is the film for you.
I have to admit I have a complete blind spot of Bollywood films or any movies from India at all apart from a couple like Fight Club Members Only and Zinda (remake of Oldboy) so I was interested in this one as it seemed to be more action oriented than a lot of films I have heard of from the country. Sure, they can produce a lot of wacky clips but that is not all a country's film output should be.
The story follows JD (Joseph Vijay) a cool with the kids' college professor who ends up agreeing to quit his job at the university due to the student elections getting violent. He ends up having three months off as head teacher at a reform school for wayward boys in the country which is a recruiting ground for former inmate Bhavani (Vijay Sethupathi). JD does not care at first and still drinks heavily after school, but the death of two children at the hands of Bhavani changes his mind and he swears off drink and vows to take down the big bad.
How I explaining this film makes it sound a lot more straight-forward and westernised than it is. There are a lot of dance numbers that seem to come from nowhere but still seem to match up with the story. Even during the fight scene there is a dance number.
The lead star must be very famous as people cheered when he appeared on screen. Also there are a lot of film references but you have to have seen the Bollywood films they are talking about as the running gag is that every time JD goes to tell his life story it is the plot of a movie.
While there are less fight scenes than you would think for an action movie they do have a good punch to them but not as brutal as some of the ones from Indonesia. Night fight choreography and a whole of people involved.
There are thousands of extras in this movie and it shows in scenes like the musical numbers. The men seem to be enjoying each other's company and the women don't really get to do that much apart from be in peril. Men also dance the best in this for some reason. Nobody danced during the movie but it did get a bit rowdier in the audience during these scenes.
The composer of the soundtrack is quite famous and they hyped up the soundtrack before release. There is a lot of music in the movie including the main theme which comes up a lot. It could hardly be as obnoxious as some of the dubstep in recent Hollywood fare. Strap in and enjoy the ride.
For some reason they put all the emotion in the subtitles such as [IRONIC LAUGHTHER] or [CRIES OF ANGUISH] or [HYPED UP LAUGHTER] and the bass was up to the max. I am perplexed as to why this was unless movie theatres in India are much noisier than in Australia.
It was quite long for a movie like this but I had a smile on my face the entire way through it. There were families who went to see this, not so sure about that since the scene of the hanged children.
You are going to get more out of this if you are already familiar with films from India. Everyone else maybe do some reading or go with someone who can explain some more of the context to you afterwards.
Trailer
Music video
Film details:
Director: Lokesh Kanagaraj
Written by: Lokesh Kanagaraj, Rathna Kumar, Pon Parthiban
Starring: Joseph Vijay, Vijay Sethupathi, Malavika Mohanan, Andrea Jeremiah, Nassar, Arjun Das, Gouri Kishana, Shanthnu Bhagyaraj, Arun Alexander, Ramya Subramanian, Ramesh Thilak, Azhagam Perumal
Country: India
Language: Tamil with English subtitles
Genre: Action/Drama/Musical
Running Time: 179min