Games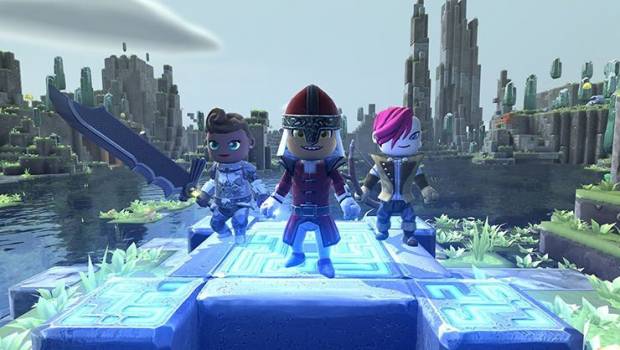 Published on September 3rd, 2018 | by Admin
MASSIVE UPDATE FOR PORTAL KNIGHTS!!!
WILDLY POPULAR GAME 'PORTAL KNIGHTS' UNVEILS MASSIVE UPDATE FOR STEAM, XBOX ONE AND PLAYSTATION 4, INTRODUCING NEW THREATS TO PLAYERS WITH THE "VILLAINOUS UPDATE"
New Updates Arrive Today on Steam, PlayStation 4 and Xbox One; Landing on Mobile September 6 and Coming Soon to Nintendo Switch
Keen Games and indie publisher 505 Games are continuing to help Portal Knights players unleash their creativity with the launch of a new content update on Steam, PlayStation 4 and Xbox One today! Players will be able to adventure through The "Villainous Update," which treats players to exciting new gameplay features designed to improve the Portal Knights experience and introduces new threats into the realm of Elysia. New features now available include the introduction of three ferocious new bosses; the Slime Queen, Knight Hunter and All-Watcher. Only the bravest of Knights will be able to defeat these giant creatures but those that succeed will be handsomely rewarded!
Also available as part of the "Villainous Update" is The Ranger's Guild Bodkins Point – an exciting new area for players to explore complete with new quests, NPCs, merchants and more! Players will also benefit from side-by-side chest management improvements, which enable players to quickly move items in their inventory for mass item transfers and stacking, and an unlimited water source while in Creative Mode.
PlayStation 4 and Xbox One players will have access to all content from the Villainous update alongside the Adventurer's and Creator's Updates in the game's biggest console update ever. Players will be able to journey through giant quest towns, unleash their creativity in Creative Mode and build the town of their dreams with a host of new decorations including a drawbridge, equipment mannequins, mine carts and more!
Mobile players on iOS and Android devices can look forward to receiving all this new content on Thursday, Sept. 6, 2018, and will grant players access to all the same great content to take on-the-go! Also launching soon is the "Creator's Update" paired with the new "Villainous Update" for Portal Knights players on Nintendo Switch. For a complete list of content available by platform visit https://www.portalknights.com/en/blog/.
Portal Knights is available for purchase now on Steam or as a digital download from the PlayStation Store, Microsoft Store and the Nintendo eShop.  New players to Steam can purchase Portal Knights for a special 60% off discount through September 6, 2018. Physical copies of Portal Knights are available at most major retailers for PlayStation 4, Xbox One and Nintendo Switch. Mobile players can download Portal Knights from the App Store and Google Play.
In Portal Knights, players begin their journey as a Warrior, Mage or Ranger, then level up their character while gathering resources to craft powerful weapons, armor and spells to defeat formidable monsters and epic bosses in real-time combat. Players can work cooperatively with friends or family to build structures, explore dungeons and combine the unique attack styles of all classes to overcome challenging perils together while traveling between expansive, imaginative 3D worlds.
Portal Knights is rated PG Mild violence, online interactivity
For more information, please visit www.portalknights.com
Social Media:
Portal Knights Website: http://www.portalknights.com/
Portal Knights Facebook: https://www.facebook.com/PortalKnights
Portal Knights Twitter: https://twitter.com/PortalKnights
Portal Knights YouTube: https://www.youtube.com/portalknights
Portal Knights Instagram: https://www.instagram.com/portalknights/