Comics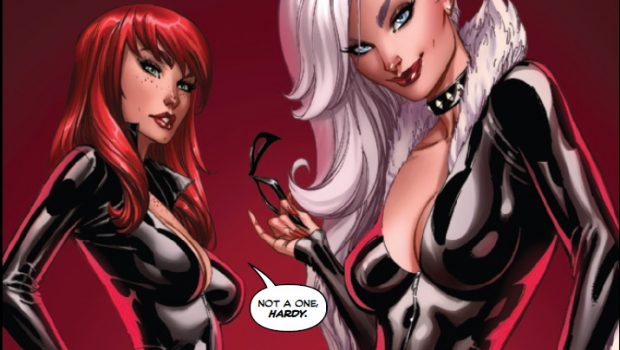 Published on January 30th, 2022 | by Tim Chuma
Mary Jane & Black Cat: Beyond #1 Review (2022)
Summary: A great team-up story from two characters you would not think would work well together but it comes together well. Not sure if this is just a one-shot but it shows you how well the story went if you do want more of it.
Black Cat is undercover as Felicia Hardy who visits an incapacitated Peter Parker in hospital after one of Spiderman's fights only to find Mary Jane being held at gunpoint by a villain formerly known as the Hood who wants them to get his hood back or he shoots Peter.
Only having one night to do so, they both set to work questioning the underworld, which goes better than they would expect as on of the biggest villains turns out to be a big fan of Mary Jane's acting work and just wants the Hollywood gossip in exchange for help. They do both end up having to do actual work to get what they needed and it works out well.
Not sure if this is going to be a continuing series or just a one-shot. It would be a shame if these two did not work together again in a story as they seemed to go well in this story. They each have their own strengths and weaknesses and the connection they had by the end actually meant something in terms of the story.
I am not sure in which continuity this sits in the Spiderman multiverse or what is going to happen in the future with this but would recommend this one even if you have not read any of the other stories with these characters.
Well worth your time and an example of how to work two side characters into their own story and have it turn out well. It reminded me of some of the War of the Bounty Hunters one-shot stories.
Comic details:
Writer: Jed Mackay
Penciler: C.F. Villa
Cover Artist: J. Scott Campbell
Publisher: Marvel
Published: January 26, 2022