Games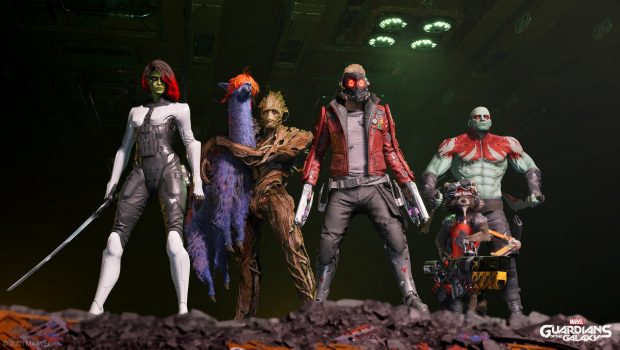 Published on October 27th, 2021 | by Adrian Gunning
MARVEL'S GUARDIANS OF THE GALAXY – NOW AVAILABLE
Buckle those seat belts and get ready for an epic journey across the cosmos. Marvel's Guardians of the Galaxy is now available for PlayStation®5 (PS5), PlayStation®4, Xbox Series X|S, Xbox One, PC, and streaming via GeForce NOW. In celebration, the team has released a new trailer detailing what fans can expect in the game.
Watch the new "What is" Trailer here
To also celebrate the launch, comedian and podcaster Matt Okine has starred in an '80s inspired fitness routine to help players "Get Fit for the Galaxy". Set to original music from in-game band Star-Lord, Matt leads a routine to help those at home master the unique moves needed to save the galaxy as Peter Quill. In a workout nothing short of heroic, the comedian proves he has the moves, pulling out air guitars, knee slides, and the signature Huddle – a special feature that allows gamers to hit play on Star-Lord's cassette player and spur on his fellow Guardians in combat.
Watch the "Get Fit for thTagse Galaxy" video here
"As the father of a toddler, I've found myself more homebound and turning to a gaming console in my downtime, and it's brought back such fun memories," said Matt Okine. "As a comedian, I love to make people laugh, and that's what this workout does. Music and humour are at the core of Marvel's Guardians of the Galaxy, and the 'Get Fit for the Galaxy' routine isn't about building rock hard abs, but about rocking out like Star-Lord and feeling amped up to save the galaxy."
Created by the Eidos-Montréal™ team, who worked closely with Marvel Entertainment, Marvel's Guardians of the Galaxy is a single player action-adventure with an all-new story and fresh take on the Guardians of the Galaxy.
"Collaborating with Marvel Entertainment to bring Marvel's Guardians of the Galaxy to life has been an absolutely incredible journey and experience for the Eidos-Montréal team" said David Anfossi, Head of Studio at Eidos-Montréal. "We're excited for fans to jump into Marvel's Guardians of the Galaxy and for the first time ever, step into the boots of Star-Lord and show the universe what they're made of."
In Marvel's Guardians of the Galaxy, take on the role of Star-Lord, the self-proclaimed leader of the Guardians of the Galaxy, and lead the guardians in combat, exploration and conversation. Discover new cosmic superheroes, super villains and worlds. Upgrade guardians and experiment with 40+ in-game outfits, and much more.
"We knew that Eidos-Montréal would be the right partner to create an original, authentic, and fun Guardians of the Galaxy experience, and they delivered on that vision in spades," said Jay Ong, EVP and Head of Marvel Games. "We hope fans enjoy this unique spin on our beloved Guardians and have a thrilling ride across the cosmos."
Last, but not least, rock out to a killer soundtrack with 30+ classic 80s hits, including songs from Bonnie Tyler, Rick Astley, KISS, Hot Chocolate, Mötley Crüe and many more. Headbanging required.
For more information on Marvel's Guardians of the Galaxy, please visit the official website and follow Marvel's Guardians of the Galaxy on social networks.