Comics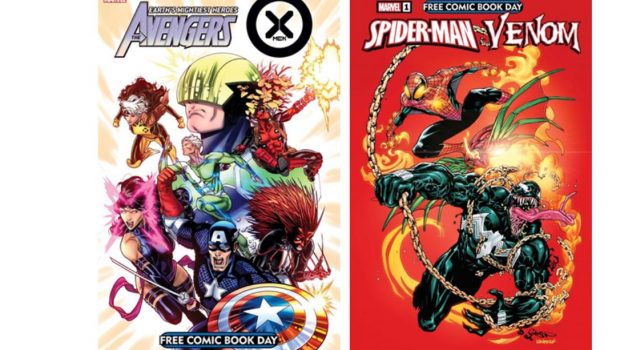 Published on January 11th, 2023 | by Adrian Gunning
MARVEL'S FREE COMIC BOOK DAY TITLES KICK OFF THE BIGGEST STORIES OF 2023!
For this year's FREE COMIC BOOK DAY, Marvel Comics will have something for every fan, offering four separate titles packed with exciting entry points into the Marvel Comics mythos! In addition to lead-in stories to the biggest comic book sagas of 2023 including FALL OF X and Jonathan Hickman and Valerio Schiti's upcoming epic, 2023's FREE COMIC BOOK DAY titles will also spotlight creators and characters from different cultures, communities, and identities and provide the perfect first comic for new readers!
FREE COMIC BOOK DAY 2023: AVENGERS/X-MEN #1 features a pair of all-new stories that set the stage for the next evolution in mutant adventures, FALL OF X! First, X-Men masterminds Gerry Duggan and Joshua Cassara give fans a peek at the drama to come at this year's Hellfire Gala and reveal the surprising fate of Captain Krakoa. Then, superstar artist Javier Garrón joins Duggan for a story that features the rise of Stark Sentinels and lays the groundwork for an uncanny new team book launching later this year. Plus meet Jonathan Hickman and Valerio Schiti at the crossroads of science and magic with a sneak peek at their upcoming mystery project!
FREE COMIC BOOK DAY 2023: SPIDER-MAN/VENOM #1 will web-sling readers into the exciting developments currently taking place in the world of Amazing Spider-Man and Venom! First, see Zeb Wells and Patrick Gleason unleash the full fury of Peter Parker's new spidey suit and reveal the exciting plans for one of Spider-Man's fiercest foes. Then witness a symbiote experiment gone horribly wrong and the creation of a terrifying new enemy for Venom in a story by writer Al Ewing and new Venom artist CAFU. Plus a surprising preview of new Marvel saga just on the horizon by two of Marvel's top creators!
FREE COMIC BOOK DAY 2023: MARVEL'S VOICES #1 invites readers to the groundbreaking and critically acclaimed Marvel's Voices series, which spotlights creators and characters across Marvel's diverse and ever-evolving universe. The book will include a range of stories from previous Marvel's Voices issues that star Ms. Marvel, Luke Cage, Wave, and more! Plus a brand-new Ironheart adventure by writer John Jennings and Paris Alleyne that debuts her deadly new nemesis, KHEM!
And last but certainly not least, FREE COMIC BOOK DAY 2023: SPIDEY & HIS AMAZING FRIENDS #1 is back! Swing into adventure with Spidey, Ghost-Spider, and Miles as they face off against Green Goblin, Doc Ock and more in this spectacular special. Filled with easy-to-read comic stories based on the hit Disney Junior show, this book is perfect for the youngest readers aged 5-7. Young fans will even be able to test their wall-crawling skills with thrilling interactive activity pages! Kids will love this not-to-be-missed comic: the perfect primer for the newest generation of Spider-Fans!