Games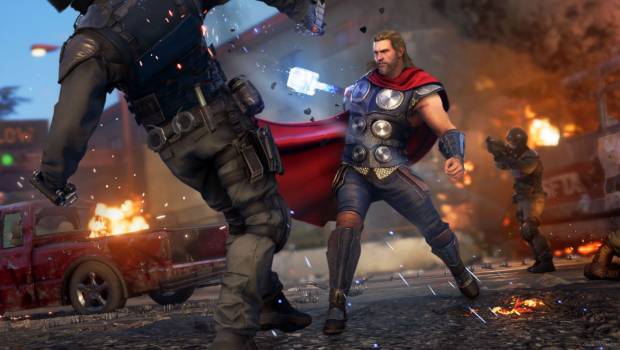 Published on August 5th, 2020 | by Andrew Bistak
MARVEL'S AVENGERS BETA PREVIEW IMPRESSIONS
Under strict embargo, Impulse Gamer was given a sneak and more importantly, a 3.5 hour playable preview on the PlayStation 4 from the comfort of our own lounge. So how's one of the most highly anticipated games of 2020 looking so far? AMAZING! Before the COVID-19 pandemic hit, I had the chance to check out a very early preview of the game at PAX AUS 2019 that allowed me to play as Ms Marvel (Kamala Khan) and needless to say, I was impressed. However since last year, a lot has changed and this time I get to play with almost all toys from the Avengers which includes Iron-Man, Captain America, Thor, The Hulk (including Bruce Banner), Black Widow and of course Ms Marvel as I try to protect the citizens of San Francisco from super villains.
When I played the initial preview, I was a little apprehensive on how different the characters would be, especially their play style but Crystal Dynamics and Eidos-Montréal should be commended on their heroic feat because each character not only plays differently but feels different. With Iron-Man you get a real sense of technology and flying around, shooting energy blasts feels quite natural. Then you have the big guns, The Hulk and the Mighty Thor and when you swing that hammer, it feels solid, including all the smashes of our favourite green hero. Captain Marvel is also great as you throw your shield around and use it as a weapon to whack your enemies. Like Thor's hammer, it also has "clunk" behind it.
Needless to say, these characters feel epic, considering the power that they wield. On the flip side you have Black Widow who feels more grounded and considerably agile then the other heroes as she navigates the environment to take down her enemies. There's a great boss battle at the start of the game and her honed human powers feels just right. This is the same for Ms Marvel who has the ability to change the shape of her body in order challenge her enemies as she swats them away like flies. Adding to the abilities of all the heroes are special combat abilities that reminds you of just how heroic they are, such as when The Hulk claps his hands together to cause a shock wave through the air.
Thankfully the enemies that you face are almost up to the challenge of taking on these heroes from highly equipped humans with the latest technological weaponry to robots who definitely give you a run for your money, depending on what level of difficulty you are playing. The boss battles are a challenge but without that threat, the game would become a little boring and thankfully that's not the case with Marvel's Avengers. Further, the controls are well mapped on the DualShock controller and nothing feels out of place but rather, it creates a fluid experience. Adding to the perfect visuals are cinematics that help bring the characters and story to life, even though the voice acting is a little flat at times. Add in skill trees and hero abilities and dare I say that Marvel's Avengers may be one of the best superhero games since the original Batman Arkham game.
So how do you become involved in the BETA? If you have pre-ordered the game, here's the information that you might be looking for if you want to join the sneak peak!
Upcoming Beta Dates
PlayStation preorder beta: 9pm August 7 to 9pm August 9
Xbox and PC preorder beta, plus PlayStation open beta: 9pm August 14 to 9pm August 16
Open beta: 9pm August 21 to 9pm August 23
Just be warned that any progression made in the Beta will be lost once you receive the full game.
Gallery
MARVEL'S AVENGERS BETA DEEP DIVE VIDEO
Want to know? Check out this Beta Deep Dive Video below!
AVENGERS STORE – ALTERNATE COSTUMES & MENUS