Books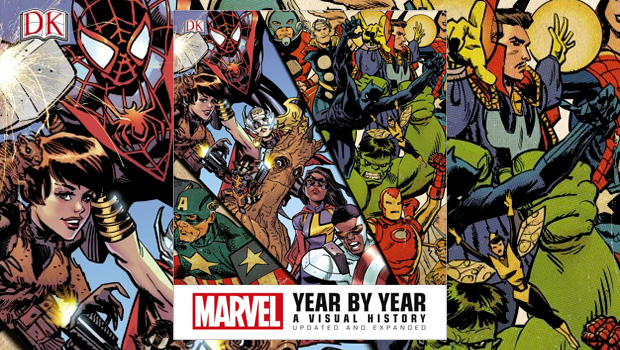 Published on April 25th, 2017 | by Admin
Marvel Year by Year A Visual History Updated and Expanded Review
Summary: Marvel Year by Year A Visual History Updated and Expanded is a faultless guide to the diverse history of this amazing comic book company.
Although collecting comics can be considered static (e.g. these books exist and are part of a bigger universe or story), however the universe that these characters exist are modified to suit the changing times. For instance, Spider-Man first appeared in 1962 and Captain America made his debut in 1941 and although these characters that appear in Marvel Comics today share an affinity to the originals, they have changed with the times. In other words, they become different characters over the years but may still share common threads. Sure, it might sound like cult sci-fi film Dark City but somehow it works.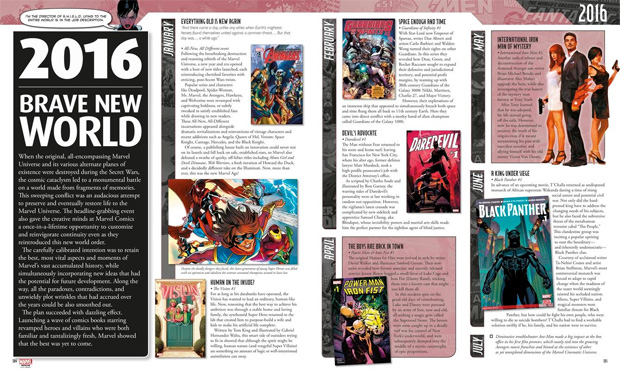 Given that, the complex history of Marvel Comics should not be dismissed but rather celebrated and this is where the new book from DK, Marvel Year by Year A Visual History Updated and Expanded comes into play which for now is the most comprehensive history of Marvel Comics that gives the reader a year by year play of what occurred in this diverse universe that features characters such as Thor, The Hulk, Black Widow and the Guardians of the Galaxy as some of the characters who grace one of the biggest comic companies in the world.
The first thing that you notice about this Marvel tome is its weight as this 400 page hardcover book weighs in at 2.8 kilograms and given that Marvel was established in 1939 as Timely Publications, there's definitely quite a bit to cover. Also, Marvel Year by Year A Visual History Updated and Expanded comes with a slipcase to protect the book and the cover features a mix of golden age, silver age and modern age characters proudly showcased on the front. Welcome to Marvel Comics as this guide shares its diverse history, characters, key moments in time plus real-world references. This book also highlights the diverse changes of this company and it does give the reader enough information to know what happened like in 2015.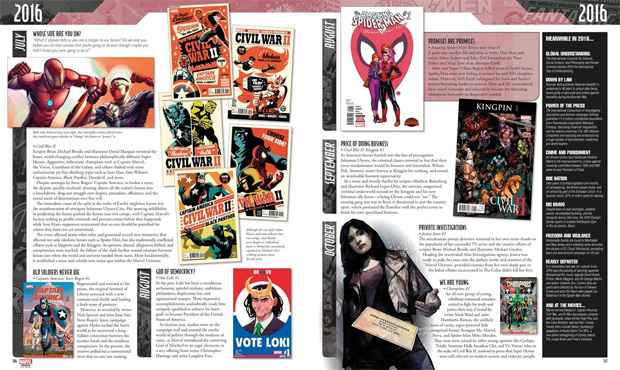 In 2015, Marvel Comics started a storyline called Secret Wars and after this event concluded, it saw the entire universe reshaped that combined their main two universes, the 616 and 1610 Ultimate Universe, including characters from lesser known universe which was not only controversial but quite modern in its approach, especially with diversity. This meant that the "original" Spider-Man Peter Parker now shared his universe with Miles Morales, another Spider-Man which really shook the foundation of these characters. It's events like this that Marvel Year by Year A Visual History Updated and Expanded successfully captures in easy digestible chunks of information with some beautiful accompanying images.
So although the book is set out year by year, there is a foreword by the father of Marvel Comics, Stan Lee plus an introduction by Tom DeFalco, another famous Marvel scribe and true believer. Each of the decades also has an introduction which includes the birth of Marvel in 1939 by Peter Sanderson, then it goes from the 1940's, all the way to the 2010s. Add in an index and also acknowledgments and this is a true Marvel Comics bible. All in all, it's a well presented book by DK.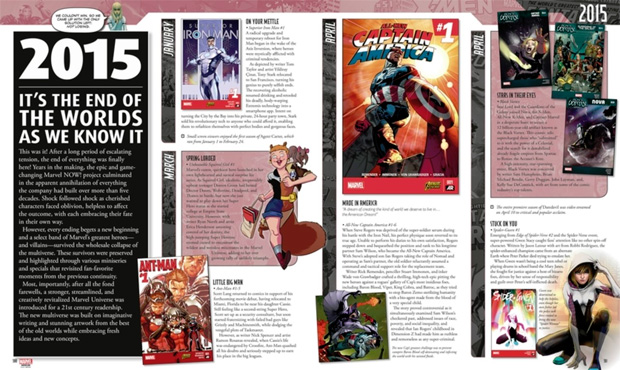 However what makes this guide so valuable is the behind the scenes information about the comic world and sure, it features all your favourite characters and major storylines but it also goes into some depth about the things happening behind the scenes such as how Stan Martin Lieber became the 'sidekicks' of the legendary Joe Simon and Jack Kirby. Another great element is that each year showcases on what happened during this time such as the Battle of Britain in 1940 or that James Dean passed away in a car crash in 1955 at the age of 24 or the turbulent era of Marvel where it almost went into bankruptcy to its new golden age in 2016 following the event Secret Wars.
So as you read about the history of Marvel, you'll also learn about the real-world which helps place these stories and characters. Of course, the images contained in this book is fantastic and at times, they almost jump out of the page, especially some of the larger images. The text that accompanies these images is well written and not only gets to the point but gives enough information to inform the reader on what occurred during each of the years of Marvel Comics.
Final Thoughts?
Marvel Year by Year A Visual History Updated and Expanded is a must have book for avid fans of Marvel Comics as it takes you the reader on a spectacular journey through its diverse history, including real-world moments. Not only is it quite detailed but is filled with stunning images from its diverse history and is one guide that you'll be revisiting on several occasions. So if you're curious about the Marvel Universe or a fan, this book has it all.
Brilliant!
Book Details
Title: Marvel Year By Year: A Visual History Updated and Expanded
Binding: Hardcover
Size: 32.0 x 26.5 x 4.3 cm
Publisher: UK Dorling Kindersley (DK)
Publishing Date: 2017
ISBN Number: 0241281008 / 978024128100