Comics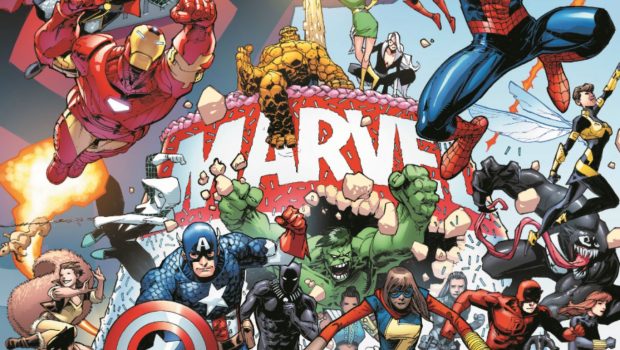 Published on September 4th, 2019 | by Admin
Marvel Unlimited Expands this September
Marvel Unlimited, Marvel's digital comics subscription service, offers members unlimited access to over 25,000 issues of Marvel's classic and newer titles, delivered digitally through your desktop web browser and the Marvel Unlimited mobile app. With classic and newer issues added every week, here are some of the amazing Marvel titles coming to Marvel Unlimited this month:
Week of 9/2
ENTER THE AGE OF X-MAN! A perfect world doesn't just…happen. It needs to be cultivated. That's where the X-Tremists come in. Psylocke, Iceman, Northstar, Blob, Jubilee and Moneta protect people from threats they won't even know existed, including the most insidious threat of all — love.
BLACK PANTHER VS. DEADPOOL #5 SERIES COMPLETE!
CAPTAIN MARVEL: BRAVER & MIGHTIER #1
HERO FOR A DAY, HERO FOR A PLANET! It's CAROL DANVERS Day! Air Force Pilot Carol Danvers is a hero to many…so what could possibly delay her to her own celebration? Only her other job—as Earth's Mightiest Hero, CAPTAIN MARVEL! Stuck between her duty to her community and her responsibility to the wider world, Carol will have to make a tough decision, and muster all of her power to fend off an invasion force! Don't miss the excitement of the STRONGEST & MIGHTIEST hero of all in her latest adventure!
CLOAK AND DAGGER: MARVEL DIGITAL ORIGINAL – NEGATIVE EXPOSURE #3 SERIES COMPLETE!
MOON GIRL AND DEVIL DINOSAUR #40
Week of 9/9
ENTER THE AGE OF X-MAN! In the Age of X-Man, when you break the law, you aren't sent to just any prison. You're sent to the Danger Room…a penitentiary filled with the roughest and meanest mutants that don't fit into X-Man's utopia. They each have a reason for being there. And they're all ready to kill each other. But that's about to change, because the newest prisoner just arrived…Lucas Bishop!
BLACK ORDER #5 SERIES COMPLETE!
COSMIC GHOST RIDER DESTROYS MARVEL HISTORY #1
The Cosmic Ghost Rider is stuck in the past, so he might as well have some fun with the origins of the Marvel Universe, right?! After going back in time and trying to kill Thanos as a baby, Frank Castle has sworn off trying to alter history. But when he arrives in Earth's past at the birth of the Fantastic Four, how can he resist jumping in on the fun?!
BULLY, BRAWLER, MERCENARY, SPIES: THE MARVEL UNIVERSE'S HOTTEST TEAM IS HERE! Domino and her pals Outlaw and Diamondback are caught between warring nations! And it'll take a whole new crew of international women of mystery to sort it out! Featuring the titanic talents of Gail Simone (Birds of Prey) and David Baldeón (SPIRITS OF VENGEANCE)!
KILLMONGER #5 SERIES COMPLETE!
MARVEL SUPER HERO ADVENTURES: SPIDER-MAN – SPIDER-SENSE OF ADVENTURE #1
The Warners are your typical family. Dad works at Stark. Mom works in a senator's office. Jennifer and Alice are students at Stamford High School. The only thing that makes them different is that they're shape-shifting Skrulls and have infiltrated our society to pave the way for a Skrull invasion. Robbie Thompson (SPIDER-MAN/DEADPOOL) and Niko Henrichon (DOCTOR STRANGE, Pride of Baghdad) bring the Marvel Universe down to earth with a bold new look at the Skrulls that will test even YOUR loyalty.
STAR WARS: AGE OF REPUBLIC – PADME AMIDALA #1
A DESPERATE DIPLOMATIC MISSION FOR SENATOR AMIDALA! PADMÉ sets out in secret to try to bring a neutral world into the Republic fold. Is this a genuine offer of alliance, or another trap for the outspoken Senator? And will rejecting the help of the JEDI be a deadly mistake?
STAR WARS: VADER – DARK VISIONS #1
WHO IS DARTH VADER? He has been many things: a SITH warrior, a commander, a destroyer. DARTH VADER is to many throughout the GALACTIC EMPIRE a symbol of fear and mysterious, otherworldly power. But there are some who have seen the DARK LORD in a different light. There are some corners of the galaxy so dark and desperate that even Vader can be a knight in shining armor. The first issue of a new STAR WARS limited series, writer Dennis Hopeless (CLOAK AND DAGGER, JEAN GREY) sheds new light on the many sides of the galaxy's greatest villain.
ZIGGY PIG – SILLY SEAL COMICS #1
NOT SO FUNNY WHEN IT HAPPENS TO YOU? Once they were superstars of the Funny Animal Comedy circuit! Now money and fame have ruined their friendship. Will it ruin their lives?
Week of 9/16
AGE OF X-MAN: APOCALYPSE & THE X-TRACTS #1
ENTER THE AGE OF X-MAN! X-Man has created a utopia for mutants…a utopia where no one knows love. Thankfully, a hero rises up to lead the rebellion against this way of life and teach the ways of family and romance, and he goes by the name…EN SABAH NUR?! Join Apocalypse and his rebel X-Tracts as they strive to teach the world to love again!
AGE OF X-MAN: THE MARVELOUS X-MEN #2
MARVEL IS BACK! But it's not business as usual in Jersey City. Aliens are wreaking havoc in Kamala's corner of the world, and they seem weirdly interested in Ms. Marvel…and her family. Eisner Award–winner Saladin Ahmed (BLACK BOLT, EXILES) and rising star Minkyu Jung (Batgirl, Nightwing) take the reigns of one of Marvel's most beloved new characters! You won't want to miss this shocking start of a new era!
STAR WARS: AGE OF REPUBLIC – GENERAL GRIEVOUS #1
THE FEARSOME SEPARATIST GENERAL STRIKES! In his hunt to kill Jedi, GRIEVOUS stumbles across a power greater than he imagined. What secrets will the killer cyborg find inside a lost Jedi temple? Can Grievous strike a blow against the very FORCE itself?
STAR WARS: HAN SOLO – IMPERIAL CADET #5 SERIES COMPLETE!
THE UNBEATABLE SQUIRREL GIRL #42
UNCANNY X-MEN: WINTER'S END #1
Iceman and the X-Men get a special visitor from the future! An older Bobby Drake has come to the present to tell him to give up being a super hero. But what could have happened that would change Bobby Drake from the X-Men's resident jokester to a morose mutant?
WOLVERINE: THE LONG NIGHT ADAPTATION #3
Week of 9/23
AGE OF X-MAN: THE AMAZING NIGHTCRAWLER #2
FRIENDLY NEIGHBORHOOD SPIDER-MAN #4
JESSICA JONES – MARVEL DIGITAL ORIGINAL: PURPLE DAUGHTER #3 SERIES COMPLETE!
MARVEL'S SPIDER-MAN: CITY AT WAR #1
PRESS START ON A BRAND-NEW MARVEL UNIVERSE! Showered with worldwide acclaim, the blockbuster Marvel's Spider-Man has everyone's spider-sense buzzing! Now you can experience the emotional and shock-filled story that takes favorite characters (including Mary Jane, Aunt May, Norman Osborn, Otto Octavius and Miles Morales) and spins them into an all-new and unexpected web of drama, spectacle, and classic Spidey action in the Mighty Marvel Manner… with more original stories to come! After years of seeing Wilson Fisk escape criminal prosecution, the wise-cracking web-slinger finally has the opportunity to team with the PDNY to help them arrest his fearsome foe. But when the Kingpin of Crime is removed from the mean streets of the Big Apple, how will the mysterious Mister Negative's ascent to power bring Peter Parker's civilian world and Spider-Man's superhuman worlds crashing together? Plus: All-new story moments never seen in the game and bonus behind-the-scenes content!
SOLO: A STAR WARS STORY ADAPTATION #6
In 1962, in AMAZING FANTASY #15, 15-year-old Peter Parker was bitten by a radioactive spider and became the Amazing Spider-Man! Fifty-seven years have passed in the real world since that event — so what would have happened if the same amount of time passed for Peter as well? A special high-end limited series that's a part of the celebration of Marvel's 80th anniversary, SPIDER-MAN: LIFE STORY combines the talents of Chip Zdarsky (SPECTACULAR SPIDER-MAN, MARVEL 2-IN-ONE) and Mark Bagley (AMAZING SPIDER-MAN, ULTIMATE SPIDER-MAN) to tell the entire history of Spider-Man from beginning to end, set against the key events of the decades through which he lived! In this first oversized issue, when Flash Thompson is drafted to serve during the Vietnam War, Spidey must weigh the question of where his responsibility truly lies!
Week of 9/30
INCREDIBLE HULK #181 FACSIMILE EDITION
HEROES OF THE ROUNDTABLE! With the powers of GIRL and the powers of SQUIRREL on their side, Kamala Khan and Doreen Green are an unbeatable team! But that title is about to be seriously challenged — because New Jersey has been invaded by a swarm of knights in shining…suits?! Driving cars armed with javelins?! Uh-oh. Kamala and Doreen are gonna need allies to help protect their home turf — and they know just who to call. Don't miss the return of the team-up that's got everyone talking!
MOON GIRL AND DEVIL DINOSAUR #41
SPIDER-MAN: FAR FROM HOME PRELUDE #1
DOES WHATEVER A SPIDER CAN! PETER PARKER has already fought with the AVENGERS, but now he faces his biggest challenge: HIGH SCHOOL! Having the proportionate strength and agility of a spider doesn't help Peter fit in, but when a piece of alien CHITAURI technology falls into the wrong hands, his abilities just may be the only thing standing between New York City and annihilation! Well, that and the expert tutelage of one TONY STARK, A.K.A. IRON MAN! Get ready for this summer's SPIDER-MAN: FAR FROM HOME with this adaptation of the smash-hit SPIDER-MAN: HOMECOMING!
STAR WARS: VADER – DARK VISIONS #2
Not a Marvel Unlimited member? Join today!
Marvel Unlimited members have access to some of the greatest Marvel Comics featuring The Avengers, Spider-Man, Thor, Black Panther, Captain Marvel and more! With September's update, Marvel Unlimited will also be expanding its back catalog with the following issues: NEW MUTANTS (1983) #62-70, DOOM 2099 (1993) #24-39, UNCANNY ORIGINS (1996) #1-7, X-FACTOR (1986) #27-32, and much more! This amazing service is accessible through Marvel Unlimited on the web and through the Marvel Unlimited app on iPhone®, iPad® and on select Android™ devices.
New to comics, and don't know where to start? Don't worry! Marvel Unlimited features a curated READING LIST section to help you uncover pathways into the Marvel Universe through events, themed lists, and recommended series featuring your favorite characters and creators!
An added bonus? New Unlimited subscribers get a reward of 3,000 Marvel Insider points when they join this service, and more points when they renew their subscription! Not a Marvel Insider? Sign up today and earn exclusive prizes just by being a Marvel fan! See what rewards are available here! *
With classic and newer issues added to Marvel Unlimited on a weekly basis as early as six months after they're in stores, you'll definitely want to join this curated experience that lets you find new favorites to read anytime, anywhere, from the full range of Marvel's history.
Follow Marvel on Facebook at www.facebook.com/marvel, join in the conversation on Twitter with #Marvel and #MarvelUnlimited, and for all things Marvel, please visit marvel.com.