Comics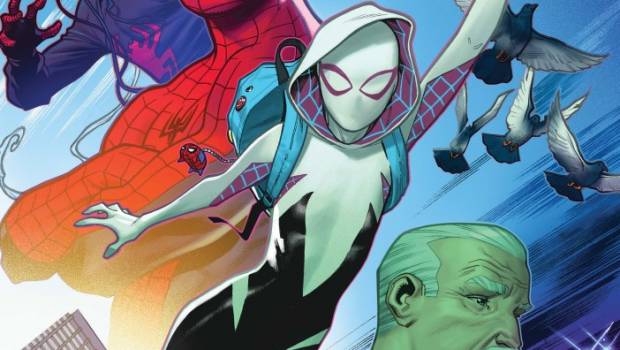 Published on February 1st, 2020 | by Andrew Bistak
Marvel Unlimited Expands this February
Marvel Unlimited, Marvel's digital comics subscription service, offers members unlimited access to over 25,000 issues of Marvel's classic and newer titles, delivered digitally through your desktop web browser and the award-winning Marvel Unlimited mobile app. With classic and newer issues added every week, here are some of the binge-worthy Marvel titles hitting MU this month.
Hotly anticipated? The continuation of writer Jonathan Hickman's universe-building X-Men series HOUSE OF X and POWERS OF X, and the ABSOLUTE CARNAGE event by creators Donny Cates and Ryan Stegman, where Carnage host Cletus Kasady goes on a deranged killing spree for every single being who's ever worn a symbiote! Each week, this event will expand, so be sure to check in every Monday for new additions to this sickening saga!
Week of 2/3
DEATH'S HEAD #1  MAJOR DEBUT!
RISING STARS TINI HOWARD & KEI ZAMA TAKE ON MARVEL UK'S HOTTEST CHARACTER, DEATH'S HEAD, IN A NEW MINISERIES! When a job goes wrong, intergalactic mech merc Death's Head wakes up half-assembled at a punk show! And if the crowd full of deodorant-eschewing youths wasn't enough, the Young Avengers show up! Well, half of them anyway. Hulkling and Wiccan face down the best freelance peacekeeping agent in this universe!
FRIENDLY NEIGHBORHOOD SPIDER-MAN #9
POWERS OF X #1  MAJOR DEBUT!
FEAR THE FUTURE Superstar writer Jonathan Hickman (INFINTY, NEW AVENGERS, FF) continues his revolutionary new direction for the X-Men. Intertwining with HOUSE OF X, POWERS OF X reveals the secret past, present and future of mutantkind, changing the way you look at every X-Men story before and after. You do not want to miss the next seminal moment in the history of the X-Men!
SECRET WARPS: IRON HAMMER ANNUAL #1
STAR WARS: AGE OF RESISTANCE SPECIAL #1
Week of 2/10
ABSOLUTE CARNAGE #1  MAJOR DEBUT!
After turning Venom's world upside down a year ago, DONNY CATES and RYAN STEGMAN are about to put the Sinister Symbiote through hell again, only this time CARNAGE has come calling, and everyone who's ever worn a symbiote is dead in his sights! He's skirted the periphery of the Marvel Universe for months, but Cletus Kasady at last stands poised to make his grand return to New York in a blistering triple-sized story…and he wants to paint the town red!
AGENTS OF ATLAS #1  MAJOR DEBUT!
PROTECTING EVERY CORNER OF THE MARVEL U! By popular demand, ATLAS debut in their own series as AMADEUS CHO, SILK, SHANG-CHI, WAVE, JIMMY WOO and all your favorites defend the cross-Asian portal city of Pan against the science-magic threat of one of Marvel's classic villains! Classic science-magic super hero fun combined with young and old heroes from multiple lands clashing with one another, fighting monsters and maybe saving the world along the way! And who is ISAAC IKEDA, the Protector of Pan? PLUS: Where are the original AGENTS OF ATLAS? Namora, M-11, Gorilla Man and Marvel Boy in an all-new top-secret mission!
COSMIC GHOST RIDER DESTROYS MARVEL HISTORY #6  SERIES COMPLETE!
FUTURE FOUNDATION #1  MAJOR DEBUT!
A BRAND-NEW SERIES STRAIGHT FROM THE PAGES OF FANTASTIC FOUR! When the Richards family is called back to Earth to be the Fantastic Four again, they left behind the Future Foundation — a think tank of the most brilliant young minds in the universe — with one mission: to find the pieces of and rebuild their friend Molecule Man. But that's proved harder than imagined as this crew of young geniuses, Atlanteans, Mutants, Moloids and androids have run into every problem in the Multiverse. Now, with the leadership of Alex and Julie Power and a little extra firepower from guest professor Yondu Udonta, the team will undergo their most dangerous mission yet — a PRISON BREAK! Jeremy Whitley (UNSTOPPABLE WASP) and Will Robson (GREAT LAKES AVENGERS; Spawn) take the Future Foundation on a heart-pounding journey across time and space!
MAJOR X #0  SERIES COMPLETE!
SENSATIONAL SPIDER-MAN: SELF-IMPROVEMENT #1
Week of 2/17
ABSOLUTE CARNAGE: SEPARATION ANXIETY #1
FRIENDLY NEIGHBORHOOD SPIDER-MAN #10
IMMORTAL HULK DIRECTOR'S CUT #1
MARVEL ACTION CAPTAIN MARVEL #1
SILVER SURFER: THE PRODIGAL SUN #1
SYMBIOTE SPIDER-MAN #5  SERIES COMPLETE!
THE UNBEATABLE SQUIRREL GIRL #47
X-FACTOR #87 FACSIMILE EDITION
Week of 2/24
ABSOLUTE CARNAGE VS. DEADPOOL #1
GHOST-SPIDER #1  MAJOR DEBUT!
GWEN STACY MAKES HER WAY TO THE MARVEL UNIVERSE! With a cloud of infamy hanging over her head on Earth-65, GWEN STACY now travels to Earth-616 for super hero action…and school?! The newest student at ESU is about to get a crash course in multiversity as she splits her time between the world she loves and the world she's just getting to know! But what devious villain has eyes on Gwen's travels? Is Gwen ready for what comes next?
HISTORY OF THE MARVEL UNIVERSE #2
MARVEL'S SPIDER-MAN: CITY AT WAR #6  SERIES COMPLETE!
STAR WARS: TIE FIGHTER #5  SERIES COMPLETE!
Not a Marvel Unlimited member? Join today!
Marvel Unlimited members have access to some of the greatest Marvel Comics featuring The Avengers, Spider-Man, X-Men, Thor, Captain Marvel and more! With February's update, Marvel Unlimited will also be expanding its back catalog with the following issues: DEATH'S HEAD (1988) #1-7, #9, PUNISHER: YEAR ONE (1994) #1-4, X-MEN UNLIMITED (1993) #30-36, and much more! All of February's back catalog comics will be hitting the library on Thursdays, so check back weekly to binge our throwback picks!
This amazing service is accessible through Marvel Unlimited on the web and through the Marvel Unlimited app on iPhone®, iPad® and on select Android™ devices.
New to comics, and don't know where to start? Don't worry! Marvel Unlimited features an editor-curated READING LIST section to help you uncover pathways into the Marvel Universe through events, themed lists, and recommended series featuring your favorite characters and creators!
An added bonus? New Unlimited subscribers get a reward of 3,000 Marvel Insider points when they join this service, and more points when they renew their subscription! Not a Marvel Insider? Sign up today and earn exclusive prizes just by being a Marvel fan! See what rewards are available here! *
With classic and newer issues added to Marvel Unlimited on a weekly basis as early as six months after they're in stores, you'll definitely want to join this curated experience that lets you find new favorites to read anytime, anywhere, from the full range of Marvel's history.