PS5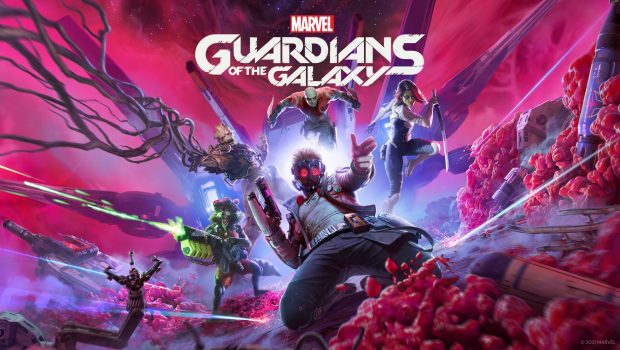 Published on October 26th, 2021 | by Andrew Bistak
Marvel Guardians of the Galaxy Review – The PS5 version of What If…?
Summary: Marvel's Guardian's the Galaxy is a kick-ass superhero adventure through space!
About Marvel Guardians of the Galaxy
Fire up a wild ride across the cosmos with a fresh take on Marvel's Guardians of the Galaxy. In this third-person actionadventure game, you are Star-Lord, and thanks to your bold yet questionable leadership, you have persuaded an oddball crew of unlikely heroes to join you.
.
.
Some jerk (surely not you) has set off a chain of catastrophic events, and only you can hold the unpredictable Guardians together long enough to fight off total interplanetary meltdown. Use Element Blasters, tag-team beat downs, jet boot-powered dropkicks, nothing's off-limits. If you think it's all going to plan, you're in for a world of surprises, with the consequences of your actions guaranteed to keep the Guardians on their toes.
In this original Marvel's Guardians of the Galaxy story, you'll cross paths with powerful new beings and unique takes on iconic characters, all caught in a struggle for the galaxy's fate. It's time to show the universe what you're made of.
You got this. Probably.
.
.
The Review
Almost a year ago, Marvel's Avengers was released across multiple platforms that allowed gamers to be transformed into some of the greatest heroes of the Marvel universe in a third person action role-playing game ("lite") which revolved around Ms Marvel (aka Kamala Khan). While it received mixed reviews from critics and players across the Marvel multiverse, for fans it was an enjoyable experience from start to end, even though it was a grind at times.
However developers Crystal Dynamics managed to nail the heroes perfectly, particularly their super powers from Captain America's shield to the Hulk's fist and the mighty God of Thunder, Thor's hammer Mjolner! It should also be noted that this game is a single-player game opposed to the multiplayer component of Marvel's Avengers but nonetheless a strong single-player game as you control the fast quipped Star Lord and his unlikely crew.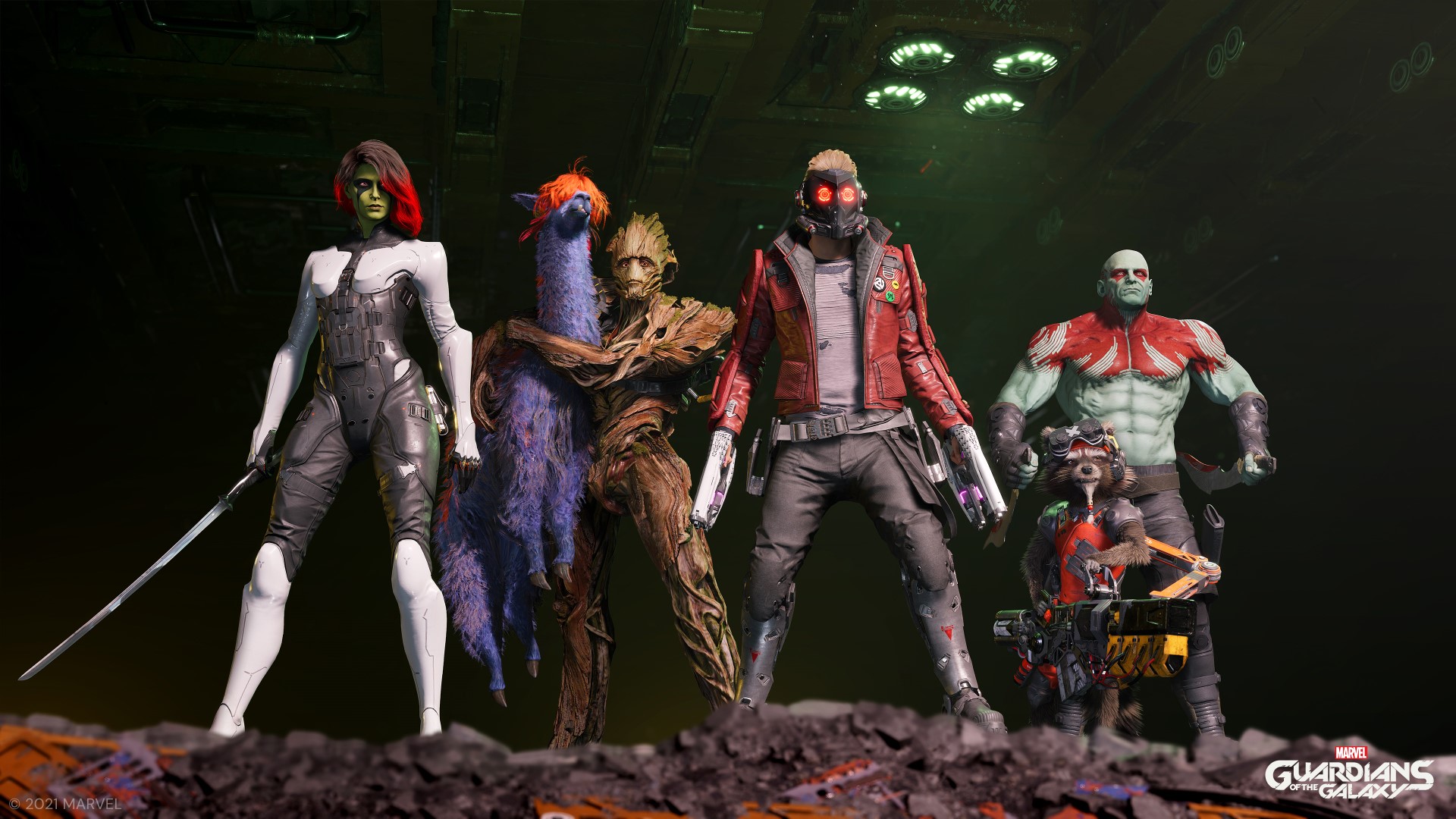 Guardians of the Galaxy starts on a similar yet annoying vein as Marvel's Avengers where you control a young Peter Jason Quill (aka Star Lord) as a boy but thankfully you don't need to go through the rigmarole of annoying mini-games as you controlled Kamala Khan before the disastrous events of A-Day which was the catalyst of her superpowers. Thankfully you can skip through the endless chats with Star Lord's mother Meredith Quill, before you finally end up in the present as the lovable rogue hero. Without spoiling the story, the Guardians become inadvertently with the intergalactic police force known as the Nova Corps and taking a colourful alien space llama, only to be drawn into a battle that threatens a plethora of alien worlds. And where does The Universal Church of Truth fit into all this?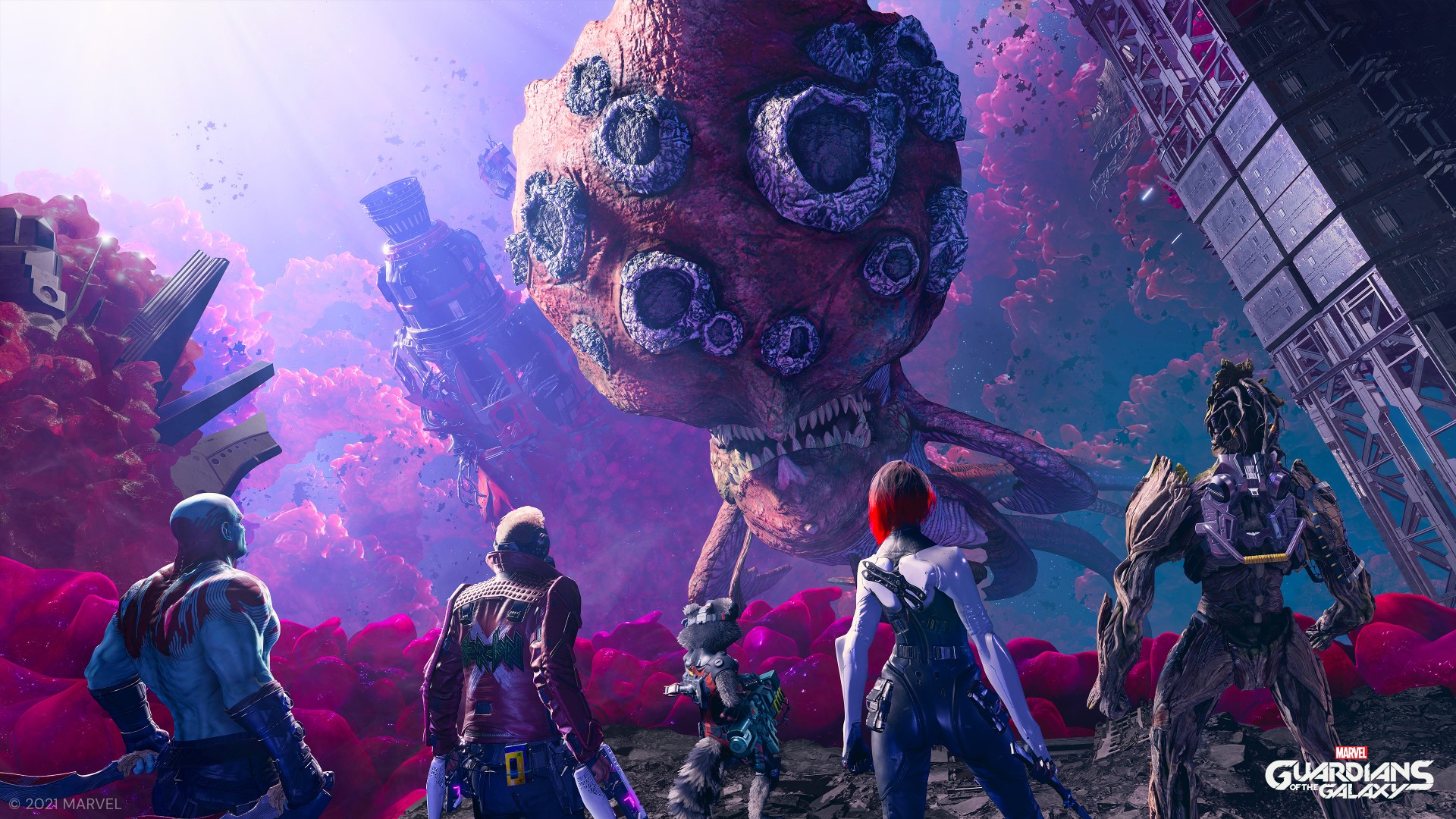 Cue in Star Lord, Rocket "Raccoon", Groot, Gamora and Drax who together become the Guardians of the Galaxy as this misfit of heroes try to save the universe before they kill each other. Like the recent Guardians of the Galaxy films, the dynamics between the characters is fantastic and while initially forced and contrived, their in-game chemistry is quickly established with some amusing banter thrown into the mix.
So as you explore the farthest reaches of the Marvel Universe with some puzzles, the Guardians will encounter a wide assortment of enemies, including powerful antagonists like Lady Hellbender, a monster collector who has an alien zoo of all sorts of creatures plus a few surprises for key Marvel comicbook fans. Additionally, your text choices with characcters will influence how the game is played out such as choosing Groot over Rocket as a "monster" gift to Lady Hellbender.
Marvel Guardian's of the Galaxy Story Trailer
The first "chapter" of the game serves as a tutorial while you search a remote alien ship junkyard for a prized monster. This chapter allows you to master the control system including the Guardians Mode that allows you to issue orders to your teammates. For example, you can command Drax to use his super strength to lift something, Groot to use his powers to build a bridge or Thanos' daughter Gamora to slice through one of your enemies.
Additionally Star Lord has a visor that allows you to search the environment for clues and scan objects to help you progress. As you proceed through the game, you can "level-up" your characters with new abilities, perks, weapon upgrades and some totally cool new outfits that again pay homage to the comics. Strategically, each of your Guardians can store four maneuvers that does allow for some detailed customisation and yes, you can chain commands amongst your "ravagers", including a very cool group power-up that is very reminiscent to the start of Guardians of the Galaxy Vol 2.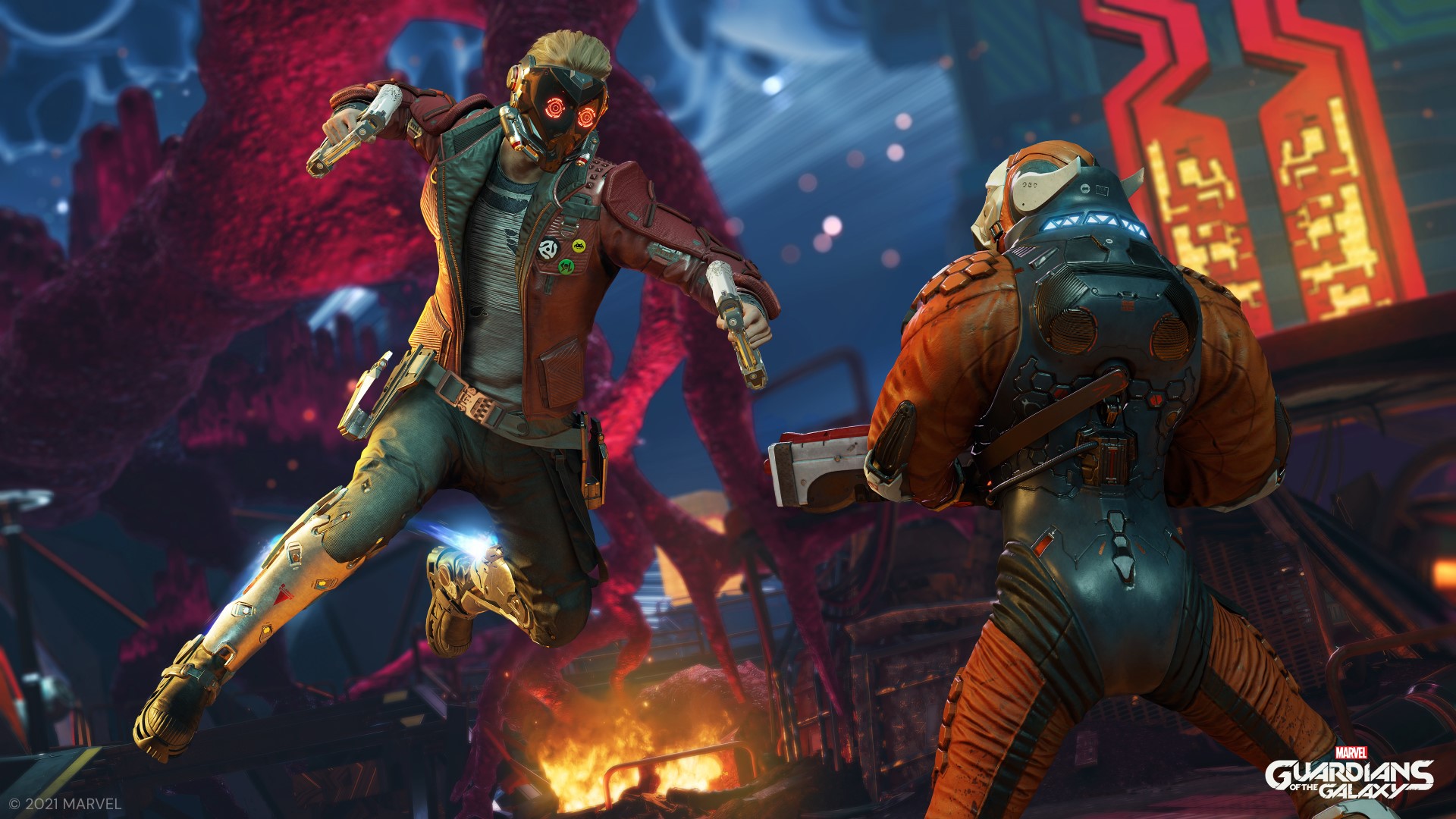 Although slightly repetitive, combat is flawless fun on the PlayStation 5 with the controls well mapped on the DualSense controller. As you shoot your enemies with Star Lords' twin guns plus melee attacks, you can even use his jet boots to launch into the air while you order your team on the battlefield and then shoot your enemies. However the ability to control your team with their attacks definitely adds to the strategy of the title and makes the grind a little less grinding. Boss battles can be a challenge at times, especially if you play the game on a higher level of difficulty which makes enemies more powerful. Even so, there is no controller rage as the combat flows very well.
Another side hustle in gameplay is being able to control the Guardians' ship Benatar which is a nice distraction. Additionally, there are quick-time events littered throughout the gaming world that adds an element of peril (including more challenges) into the mechanics and does break up the combat and exploration of the game. Add in exploration, hearing your teammates complain and insult each other plus solve basic puzzles and the gameplay of Guardians of the Galaxy is quite apt.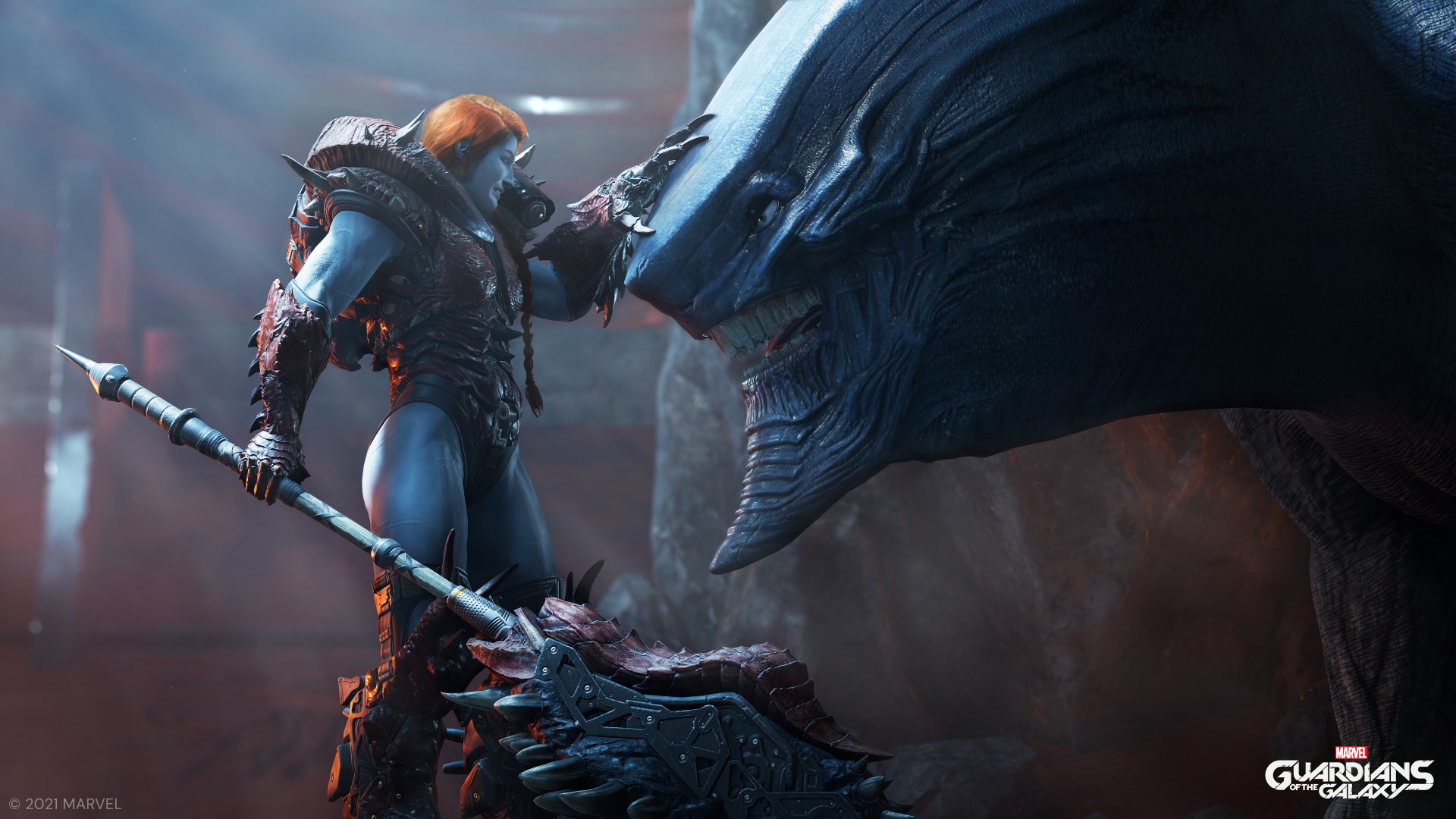 Graphically, Marvel Guardians of the Galaxy looks fantastic on the PlayStation 5 with some amazing 3D worlds that is nothing short of spectacular. Additionally, the lighting, special effects, texture detail and animation create a truly engaging game from start to finish. Supporting the story are the realistic expressions on the faces, however the eyes of most human-like character looks a little soulless, apart from Rocket who looks friggin' amazing. It's a true gaming blockbuster when it comes to the graphics of this game.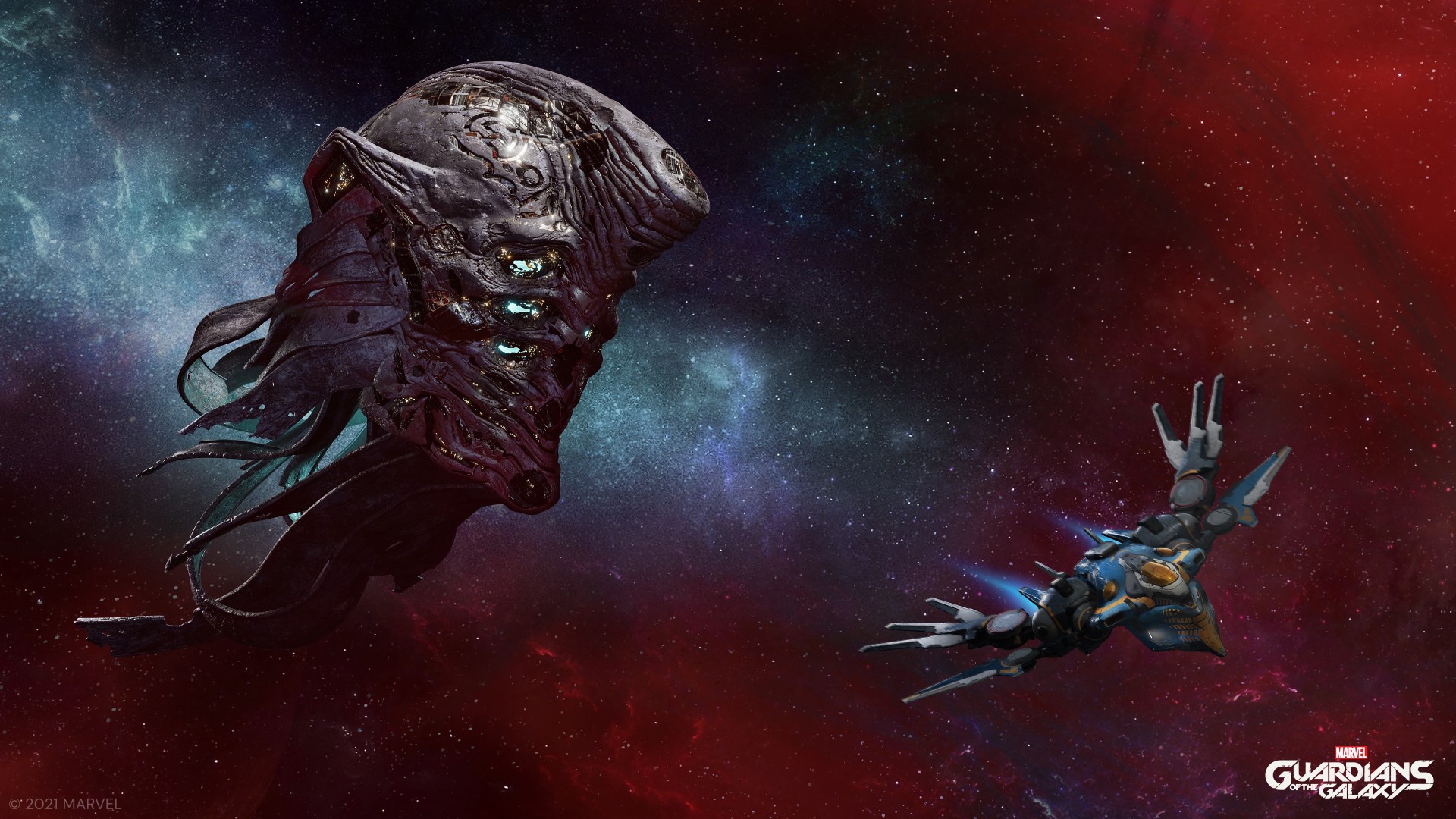 The voice acting is on point, however it did take a little getting used to as I'm a fan of the films, however the voice actors do a good job at creating their own renditions of these popular characters with lots of humour thrown in the mix. Sound effects go hand in hand with the graphics which adds to the overall fun factor, however where the audio shines is through the kick-ass 80's soundtrack with hits such as Take on Me (a-ha), Everybody Wants to Rule the World (Tears for Fears) and Every 1's a Winner (Hot Chocolate) as some of the classics including in the game. Complementing the 80's hits is the generic background superhero music that while not as memorable as the classics, does add to the story, particularly when combat commences.
Final Thoughts?
Marvel Guardians of the Galaxy aims high and hits the target perfectly by delivering a thoroughly enjoyable single-player action RPG as you control Star Lord and his his motley alien crew while kicking ass along the way. It's immaculately presented on the PlayStation 5 with graphics that pop and a soundtrack that will even make director James Gunn envious! So if you're looking for the perfect alien superhero getaway, Marvel Guardians of the Galaxy hits that bullseye perfectly!
Recommended!
Marvel's Guardians of the Galaxy is available on PlayStation 4, PlayStation 5, Xbox One, Nintendo Switch, Xbox Series X and Series S, Microsoft Windows on October 26.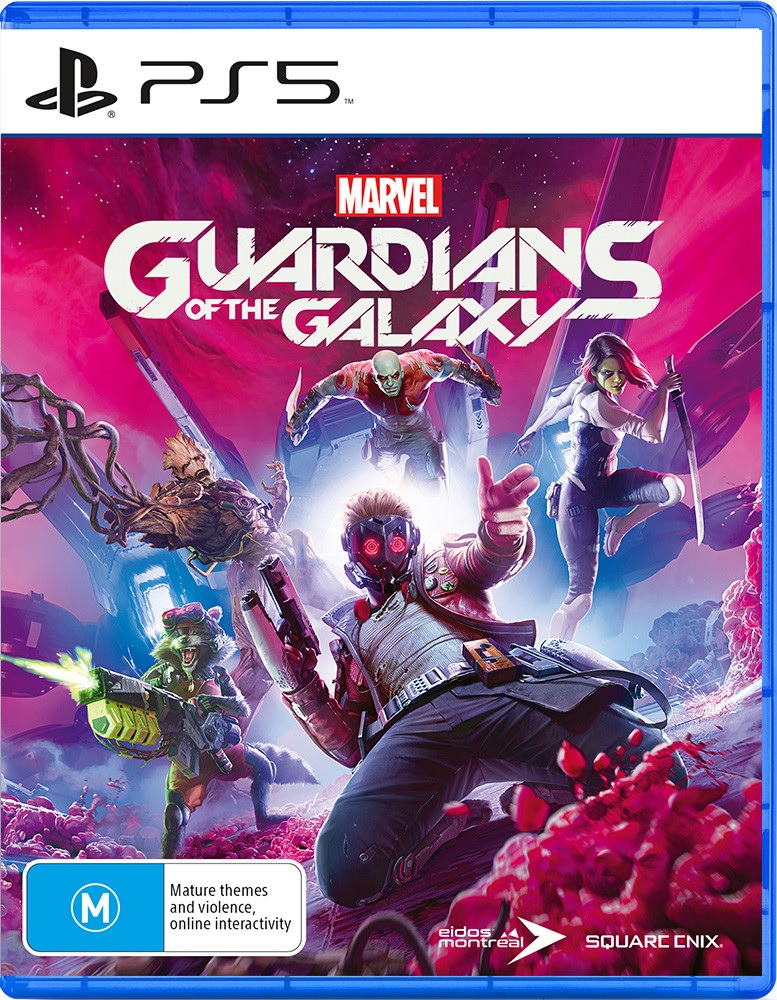 Bonus Gallery – Marvel Guardians of the Galaxy Concept Art