Comics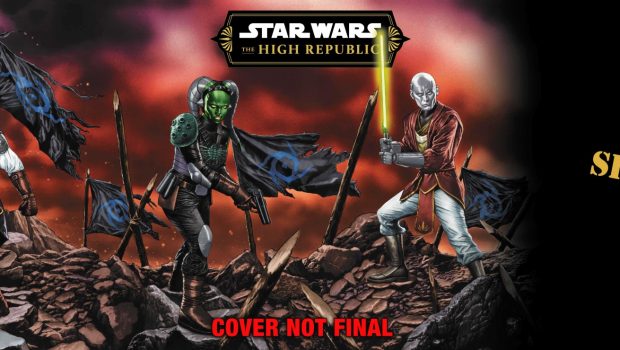 Published on October 7th, 2023 | by Adrian Gunning
MARVEL COMICS ENTERS PHASE III OF STAR WARS: THE HIGH REPUBLIC!
The explosive new era of Star Wars: The High Republic is upon us! Phase III of the hit publishing-wide storytelling initiative kicks off next month with new Star Wars novels and comics set during the golden age of the Jedi. On November 8, writer Cavan Scott and artist Ario Aninditio return for Marvel's flagship High Republic ongoing comic series in STAR WARS: THE HIGH REPUBLIC [PHASE III] #1.
Today, fans can check out the covers for the highly-anticipated debut issue, including a connecting piece by Mico Suayan that will run across the first four issues. To not spoil readers, the final part of Suayan's piece will be revealed at a later date!
The new series picks up after the shocking events of Phase I as Keeve Trennis, now a Jedi Master, fights to reunite the Jedi and restore hope to the galaxy far, far away. Complete with new heroes, mysteries, and threats, the High Republic stories take place centuries prior to the events of Star Wars: The Phantom Menace, taking fans into a previously unseen period where the Jedi were at the height of their glory! Marvel's STAR WARS: THE HIGH REPUBLIC [PHASE III] #1 will continue to reward readers already immersed in the world of Star Wars: The High Republic and serve as a perfect jumping on point for those venturing into the High Republic mythos for the very first time!
A year after the destruction of Starlight Beacon, Marchion Ro and the Nihil stand victorious! The galaxy is in turmoil: The once mighty Jedi are outclassed, the Republic is on its knees. On the edges of the galactic frontier, Jedi Master Keeve Trennis leads a desperate assault against an invading force! The odds are stacked against her, but a Jedi always clings to hope. The Force is always with her…right? Not so fast!
"I'm over the moon to be returning to our original High Republic characters as we reach the climatic final phase of the publishing initiative," Scott told StarWars.com. "I'm particularly excited to be working with Ario Anindito again as well as to welcome Jim Towe to the art team. Their work is truly stunning! I can't wait for readers to see it for themselves!"
Read the first five pages of STAR WARS: THE HIGH REPUBLIC #1 right now on StarWars.com, and preorder the debut issue of at your local comic shop today! For more information, visit Marvel.com.