Games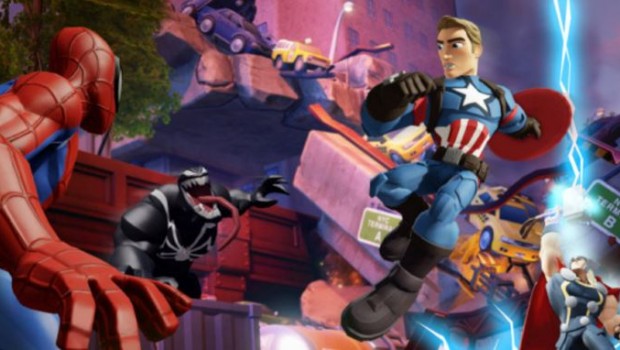 Published on March 16th, 2016 | by admin
Marvel Battlegrounds Play Set Featuring All-New Four-Player, Brawler Style Gameplay Launches on March 24 (AUS/NZ)
MELBOURNE, Aust. – (March 16, 2016) – Disney Interactive and Marvel today announced new details on the Marvel Battlegrounds Play Set for Disney Infinity 3.0, the No. 1 video game of 2014 and 2015 in the "toys-to-life" category, according to the US NPD Group. Developed by United Front Games, in partnership with Avalanche Software, Marvel Battlegrounds is the first Disney Infinity Play Set to introduce a new four-player, local co-op, brawler style gameplay. The Play Set features an original Marvel storyline and full compatibility for all Disney Infinity Marvel figures, including new characters, Captain America – The First Avenger, Ant-Man, and Black Panther, whose costumes are inspired by the upcoming film Marvel's Captain America: Civil War."
"We're providing our fans a brand new way to play Disney Infinity with Marvel Battlegrounds," said John Blackburn, SVP & General Manager, Disney Infinity. "The Play Set's four-player brawler style combat gameplay and wide selection of Marvel characters makes it the ultimate family game and a great way to experience some of the characters that appear in the upcoming summer blockbuster film, Marvel's Captain America: Civil War."
In addition to Captain America – The First Avenger, who is included in the Play Set pack, Hulkbuster, Ultron and Black Suit Spider-Man are also now available, along with other Marvel characters including: Ant-Man, who shrinks to the size of an ant but increases his strength to pack a whopping punch; Black Panther, the leader of Wakanda who defends his homeland utilizing acrobatic skills, increased agility, and legendary claws made from Vibranium, and Vision, a brave and noble synthetic warrior who will fight to bring peace to the world.
"Marvel Battlegrounds continues Marvel's history as a leader in the family gaming category," said Peter Phillips, EVP and General Manager, Interactive & Digital Distribution at Marvel Entertainment. "This innovative new Play Set gives families a new way to play together via a battle brewing across the Marvel Universe, starring an epic roster of our most popular Super Heroes and Super Villains."
In addition, a new Marvel Battlegrounds Power Disc Pack will be sold separately and includes:
Cosmic Cube Blast – Unleash a powerful energy blast on nearby foes
Darkhawk's Blast – Blast obstacles with a powerful energy beam from your chest
Nova Corps Strike – Call upon the Nova Corps to unleash a tactical strike from above
Ghost Rider's Motorcycle – Take a ride on the wild side with Ghost Rider's flaming motorcycle
All Disney Infinity 2.0: Marvel Super Heroes characters and round Power Discs are fully compatible with the Play Set. Marvel Battlegrounds is available for a suggested retail price of $34.95 AUD/$44.99 NZD.  Each Marvel character figure (RRP: $17.95 AUD/$24.99 NZD each) and the Marvel Battlegrounds themed Power Disc Pack (RRP: $11.95 AUD/$15.99 NZD) are sold separately. The Play Set requires the latest Disney Infinity software update in order to play. Software updates require Internet connection.
In the original storyline of Marvel Battlegrounds, Ultron teams up with Loki in an effort to steal Wakanda's most valuable resource, Vibranium. Captain America, along with the universe's greatest Super Heroes, leap into action but before they can uncover Loki's plans for the precious metal, their nemesis creates robotic replicas of the famed Marvel Super Heroes and turn them against each other. The Marvel Super Heroes battle each other in iconic environments such as a wrecked Brooklyn train yard, Wakanda mines and S.H.I.E.L.D.'s Lunar Base, culminating in a universe-shaking battle against Ultron. Players engage in the ultimate rumble and choose from more than 25 Disney Infinity Marvel Super Heroes and Super Villains, and battle through 12 levels across eight dynamic arenas.
Additional characters coming soon for Disney Infinity:
Baloo – The beloved bear from Disney's The Jungle Book will also be available from March 24 at a suggested retail price of $17.95 AUD/$24.99 NZD. Playable in the Toy Box, Baloo loves to dance around the jungle and protects his friends by tossing fruit.
 Kylo Ren Light FX – The Kylo Ren Light FX figure is also available for pre-order soon at a suggested retail price of $22.95 AUD/$34.99 NZD.