Comics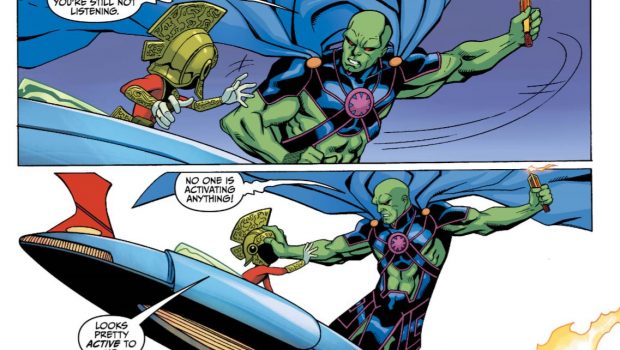 Published on June 17th, 2017 | by Andrew Bistak
Martian Manhunter / Marvin the Martian Special #1 Review
Summary: Martian Manhunter / Marvin the Martian Special #1 is a crash of two universes with some unexpected results!
What do you get when two of Warner Bros' most famous Martians crossover? You get the Martian Manhunter / Marvin the Martian Special #1 as DC Comics J'onn J'onzz teams up another Martian from Mars, the infamous Marvin! The adventure begins with J'onn reactivating the Erdel Gate which brought him to Earth many years ago in an attempt to contact his own species who are long dead. It is a message of hope of J'onn J'onzz and one of many surprises. Once activated, something does indeed walk through the Erdel Gate, another Martian from across the multiverse and none other than Marvin himself.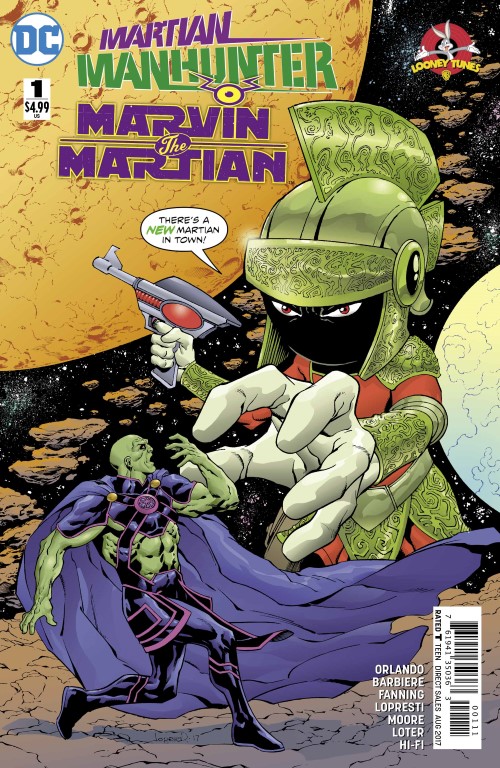 This meeting of Martian greats take a turn for the worse when Marvin informs J'onn that his message was to offer help to those wanting to destroy Earth. So Marvin takes it into his own hands to destroy Earth and his first act of destruction is to drop a 'just add water' pill into a puddle. Marvin also does his best to convince J'onn of the horrors of Earth that include wars, famine and hatred. So as our meddlesome alien makes more trouble for J'onn by forcing him to rescue a downed plane that he caused, he heads to Area 52 to find weapons to  help him destroy Earth which forces the military to intervene. To make matters worse, they believe that the Martian Manhunter is also working with our Trojan hat wearing alien.
Needless to say, J'onn does prevail as he clears his name and gives Marvin the ending he not only deserves but one that he wishes for. As DC Comics favourite green alien J'onn J'onzz has taken a back seat since Rebirth, the Martian Manhunter / Marvin the Martian Special #1 was a refreshing read and writers Steve Orlando and Frank J. Barbiere really capture the personalities of these two characters. Initially I thought it would be a more humorous read but somehow they incorporated just enough elements to make it work, without changing either the Martian Manhunter or Marvin. Furthermore, it's beautifully illustrated and Aaron Lopresti brings to life the two Martians perfectly with some great action sequences to be found along the way.
The second story is more Warner Bros cartoon centric story which is written by Jim Fanning and drawn by John Loter who turn the story into an almost buddy story as Marvin and J'onn J'onzz meet again. There's a classic scene of the Martian Manhunter using his shapeshifting powers to change into a plethora of Warner Bros cartoon characters to the annoyance of Marvin. Writer Jim Fanning even celebrates the love of 'Oreos' that J'onn J'onzz has and unlike the first story which is more on the serious side, this lighthearted tale would not look out of place on the cartoon show. Sure Marvin loses again but that's all part of his mythos and this story celebrates the two Martians perfectly.
Final Thoughts?
The Martian Manhunter / Marvin the Martian Special #1 is a fun read that offers two very distinct stories that channel their respective universes well. With detailed illustrations and colours that pop, Martian Manhunter / Marvin the Martian Special #1 is definitely a fun read for fans of both these characters!
Martian Manhunter / Marvin the Martian Special #1 Gallery
Comic Details
Title: Martian Manhunter / Marvin the Martian Special #1 Review
Publisher: DC Comics
Written by: Frank Barbiere, Steve Orlando
Art by: Jerome K. Moore, Aaron Lopresti
Backup Art by: John Loter
Backup Written by: Jim Fanning
Cover by: Aaron Lopresti
Variant cover by: Stephen DeStefano
U.S. Price: 4.99
On Sale Date: Jun 14 2017