Switch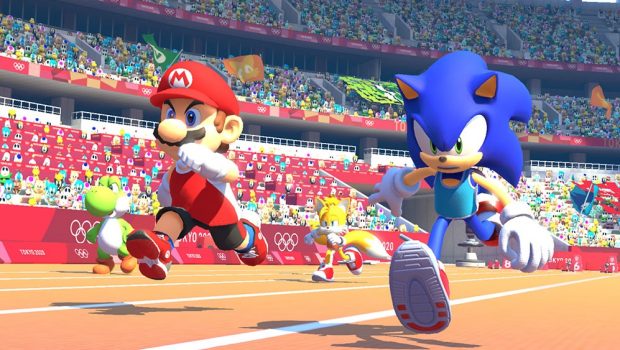 Published on November 3rd, 2019 | by Scott Romeyn
Mario & Sonic at the Olympic Games: Tokyo 2020 Review
Summary: The latest Mario and Sonic game goes for gold, but trips at the starting line.
It's sure been a while since we've had a Mario & Sonic game. With the previous Winter Olympics being skipped, many thought the series had run its course. After all, there's only so much you can do with the Olympics. But on the brink of the 2020 Olympics taking place in Tokyo, it seemed simply necessary to bring Mario & Sonic together in the video game capital of the world. After a modest reveal earlier this year, Mario & Sonic at the Olympic Games: Tokyo 2020 appeared to be a fresh start for the franchise. Now that it's here, we can see if this series return has been worth the wait.
The Rivalry Returns
Like previous games, Tokyo 2020 is essentially a minigame compilation. Each minigame, based on an Olympic Event, requires quick wit, timing, and Olympian skill. Series staples like 100m Athletics, 100m Swimming, Triple Jump, and Gymnastics return. In addition, Surfing, Karate, Skateboarding and Sport Climbing make their debut. All events (21 Main Events, 3 Dream Events, 10 1964 Events) can be played with the motion controls in the style of the Wii game that started it all, but there's also options for traditional controls with each Event, which is necessary for handheld play.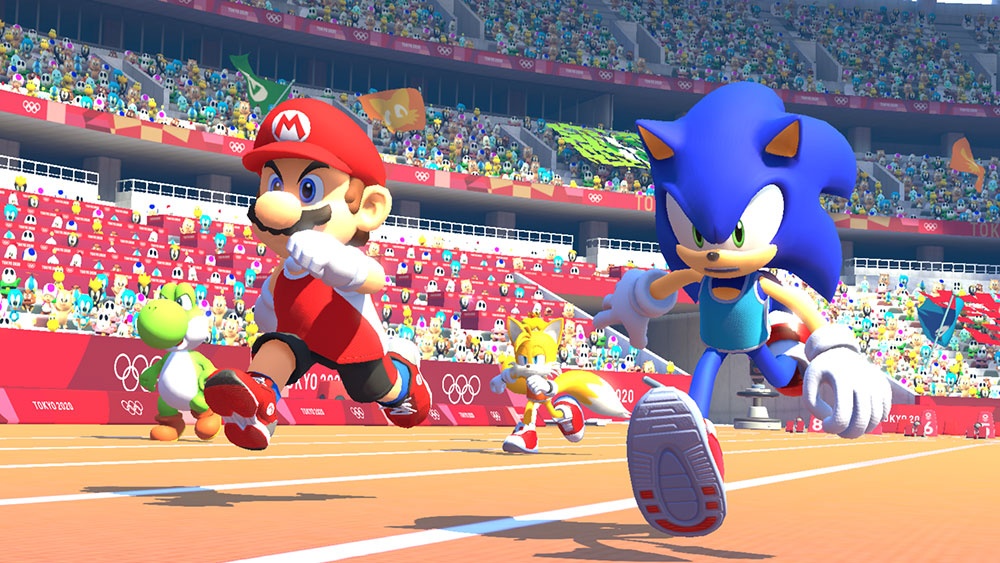 While there's a decent variety of Events, Tokyo 2020 has nixed many Events from previous games. Gone are the 400m variants of Athletics and Swimming. High Jump, Pole Vault, Hammer Throw, Trampoline, Synchronised Swimming, Badminton, Cycling and BMX- have all been cut. The game tries to make up for these cuts by introducing a new category of Events- Tokyo 1964 Events. These are retro-inspired Events. This is the only way to play 10m Platform, 400m Hurdles, Vault, Judo, Volleyball, Long Jump, Kayak, Marathon and Shooting.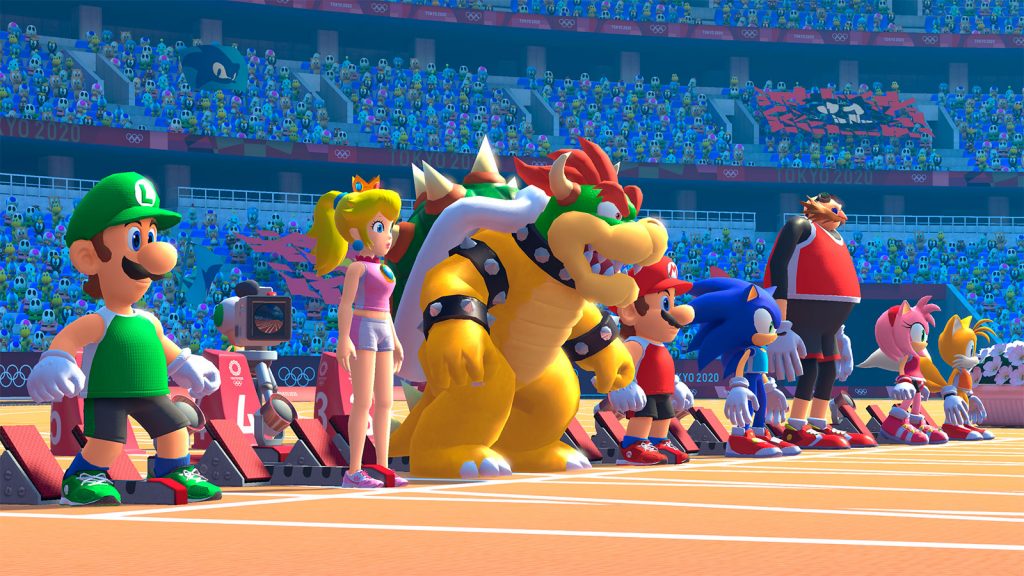 No Medals for Tokyo 2020
The 1964 Events are cute at a glance, but since they're the only way to play certain events, it does leave a little want for more. These aren't the best versions of these Events. The art style doesn't mesh well- the faux-2.5D pixel art backgrounds don't suit the 2D character sprites well, and seeing an 8-bit Mario together with a 16-bit Sonic just doesn't look right. It's very interesting that they paid tribute to video games in a way that also references Tokyo's previous Olympic Games 56 years prior, but it also seems like a way to cheap out on development costs.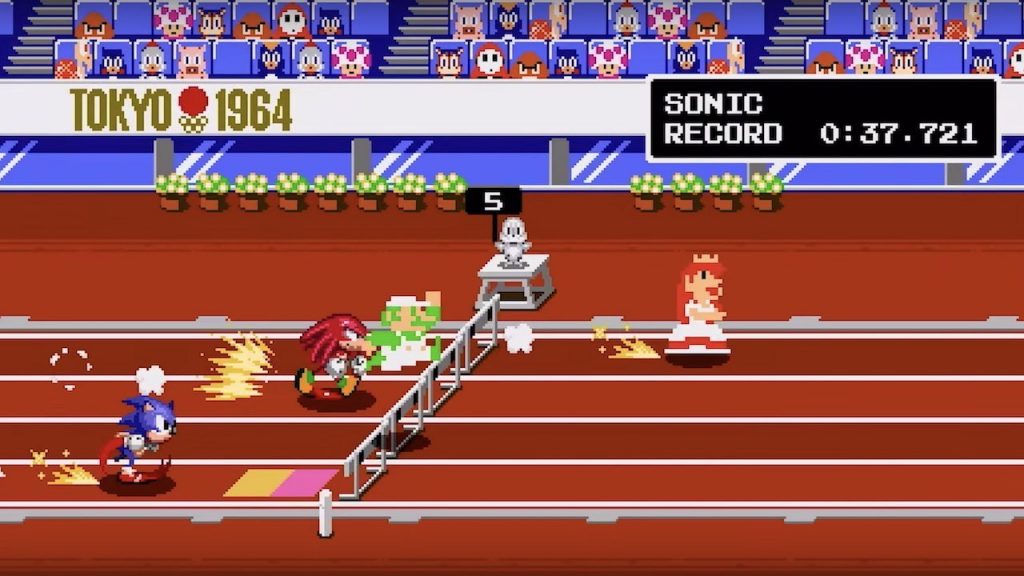 You might have thought that with this being set in Tokyo, that Sega might have gone the extra mile and made the definitive Mario & Sonic. Unfortunately, this seems to be on the contrary. Previous games celebrated the novelty of the Mario & Sonic universes colliding. Previous games contained around 40-50 energizing remixes of classic music from each franchise. London 2012 had ten Dream Events. There should be at least a bit of revelry that two of the biggest gaming rivals are coming together. Tokyo 2020 has almost none of it. One, maybe two remixes, and only three (rather disappointing) Dream Events. There aren't any extra goodies aside from a few pieces of trivia that can be uncovered in the Story Mode.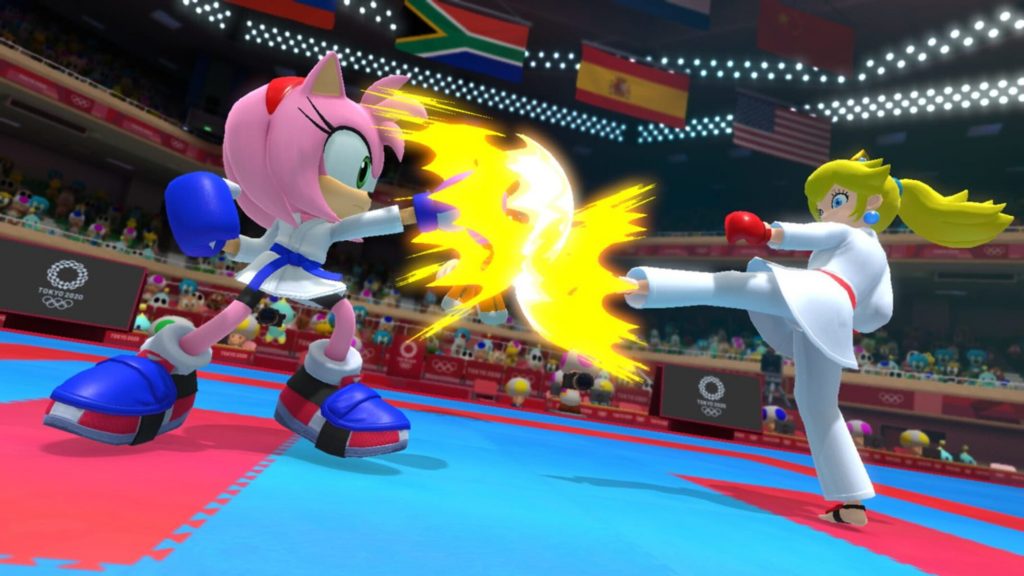 An Annoying Adventure
Tokyo 2020's attempt at a saving grace is the Story Mode. In this mode, Mario, Sonic, Bowser and Dr. Eggman are trapped in a retro game and have to win medals in the Tokyo 1964 Olympics to escape. Back in 2020, Luigi, Tails and the supporting cast members attempt to help them out by winning medals in the Tokyo 2020 Olympics. That's all there is to it, really, but the game doesn't need a complex story. This mode acts as a way to sample all of the events in the game, and it's necessary to unlock a handful of minigames (that you'll never play again) and new characters (that are only available in one specific event).
The game touts this mode like it's a big new single player campaign, but it's nothing special. You get to explore a world map of Tokyo, but there's nothing to do in it. All you can do is proceed to the venue where the next event is being held, and wade through dialogue that's frankly way too long and slow. The characters spend too much time talking plot. I tried paying attention to what the characters had to say for a while, but after realizing that it was irrelevant I spent the rest of the mode abusing my A button. Ultimately, it's a 2-3 hour slog through most of the events in the game. It's a snooze fest that left a bad taste in my mouth.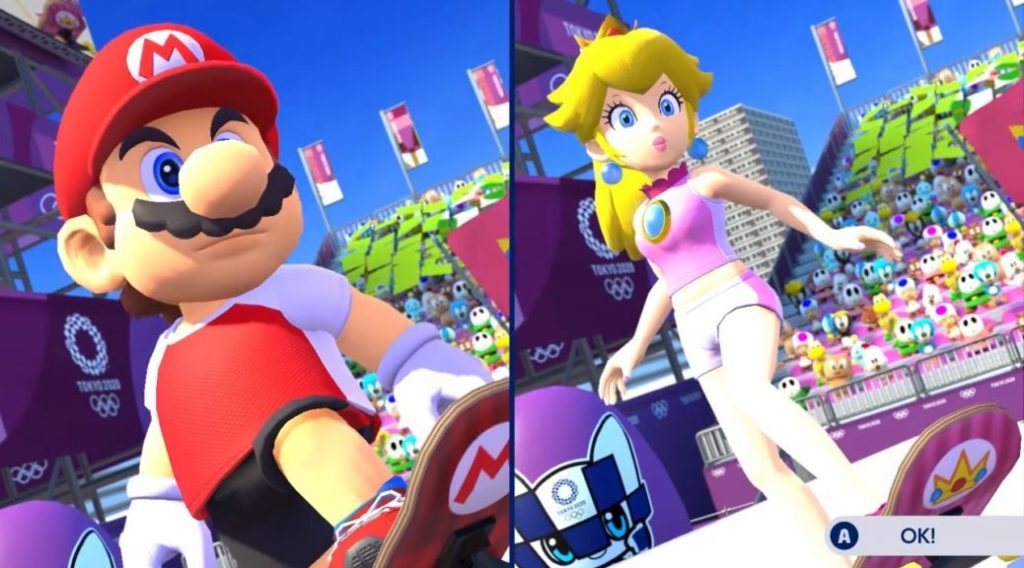 Conclusion
Unfortunately, it seems that Tokyo 2020 did not live up to my expectations. The Event selection is fine, if not a bit lacking, but there's no flare in the game itself. Tokyo 2020 is bested by every Mario & Sonic game that came before it, and that's disappointing to see from a game that could have, and should have been the best game yet. All I can hope is that maybe Paris 2024 will be better.