Switch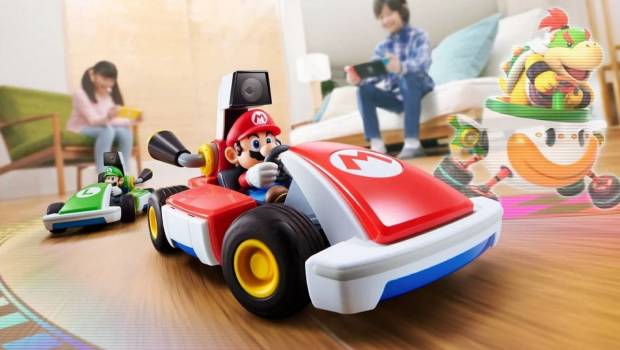 Published on October 25th, 2020 | by Tony Smith
Mario Kart Live Home Circuit Review
Summary: Mario Kart Live Home Circuit is probably the best augmented reality experience to date!
Nintendo have an affinity in setting itself apart from its competitors and Mario Kart Live Home Circuit is another one of those experiences that successfully implements augmented reality (FINALLY) onto the Nintendo Switch as Mario Kart races into the real-world. Best of all, Nintendo brings all the fun and over the top craziness of the Mario Kart series as you literally race a radio controlled (RC) car… err kart in your lounge room, hallway, study or almost anywhere you want, provided you have enough space.
.
Adding to this technological feat is that the kart you race has a small camera located on it that relays footage back to your Switch which is not only used to help you control your car but is also where the augmented reality comes into play as you attempt to dodge obstacles and race other virtual drivers in true classic Mario Kart fashion. The camera basically puts you the shoes of Mario so you see the game from his perspective.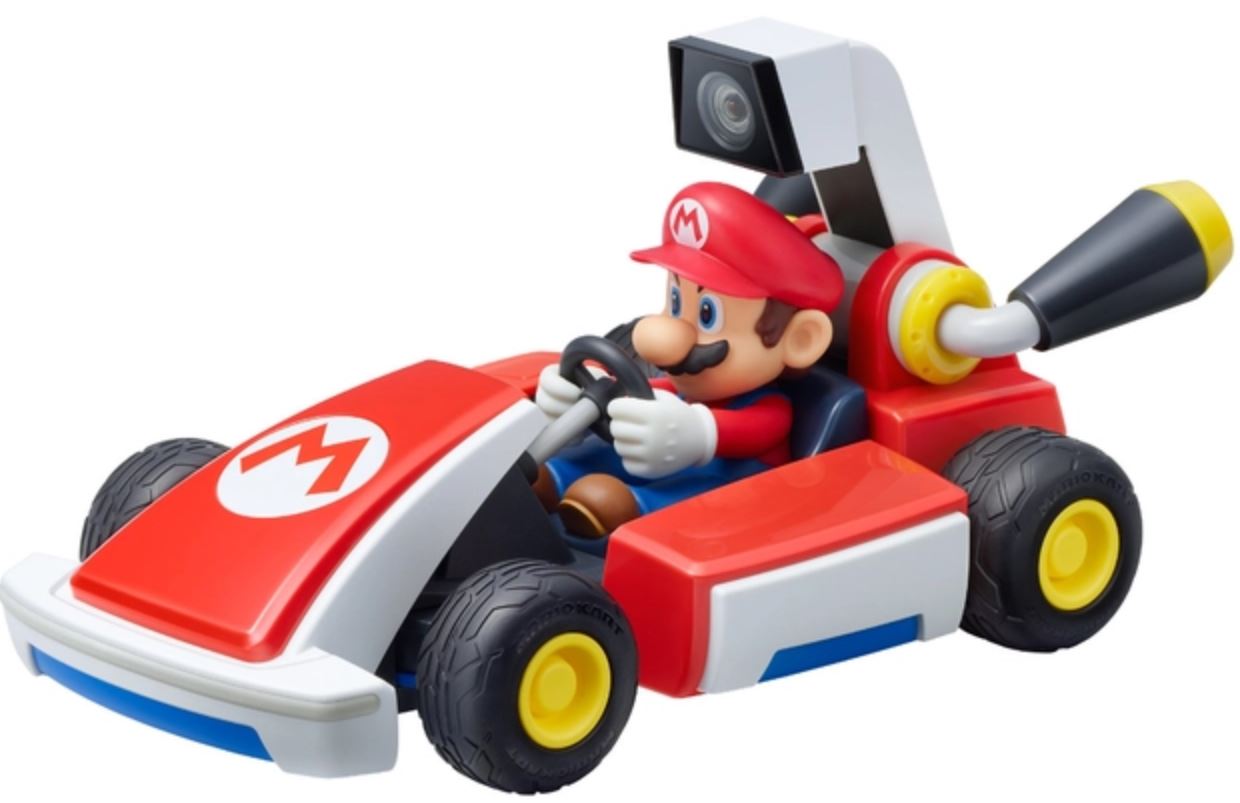 There's also cardboard gates and fences with arrows that helps in the course construction (which is only limited by your imagination) but the most impressive element of this game is the miniature Mario Kart that looks phenomenal with some gaming attention to detail. The car also handles like an old school Mario Kart game as it zips around your physical environment. In terms of setting up the course, you basically drive your kart through each of the gates in order to setup the course that maps it out for you and your virtual opponents.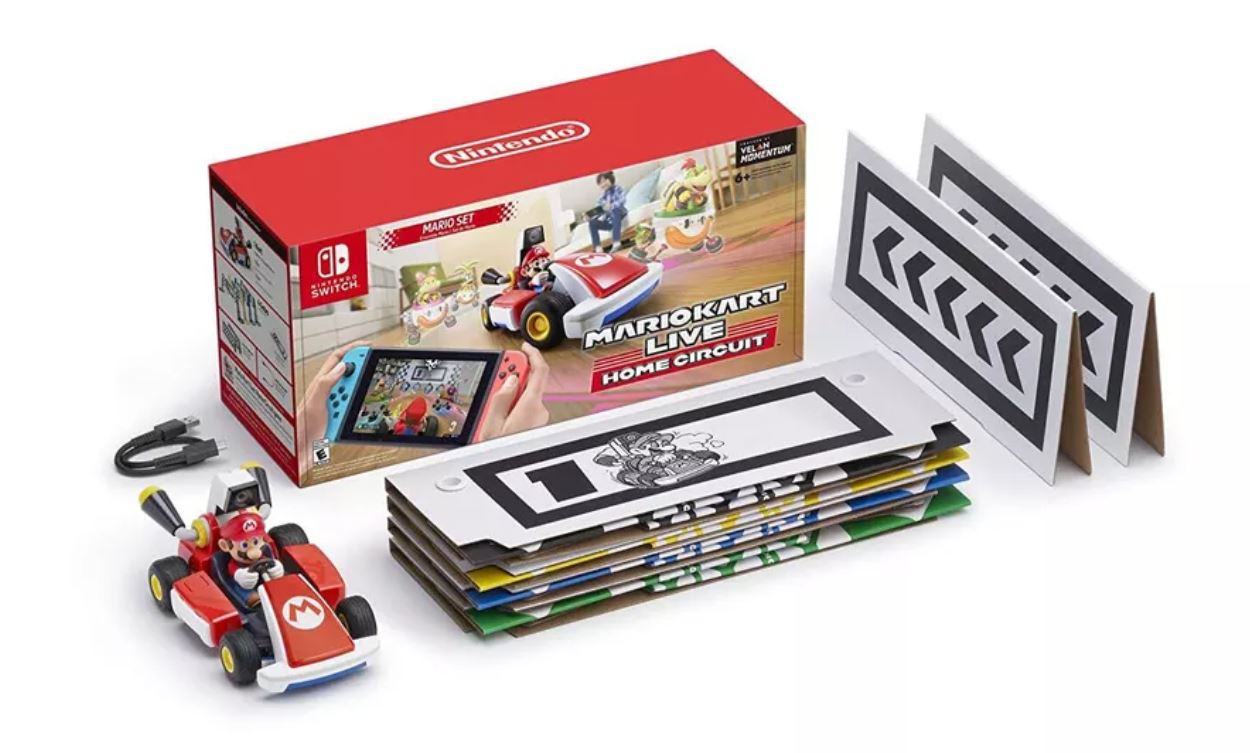 However before you jump into the game, you first need to pair the kart with your Nintendo Switch console. This is done by scanning in a QR code from the camera on the car to your Switch which links the two devices together. Considering that this is a RC car, the control system on the Nintendo Switch works quite well and there is a mode that teaches you the basics and allows you to explore. The RC car works on all services from carpet to tiles and wooden floorboards. I did however find that the kart works better on floorboards by giving you additional speed and control.
Oh, the camera on the car is also used to take your photo in order to create your Mario Kart driver's license. While I digress, the main crux of the gameplay is Grand Prix that requires you to race and of course beat your competitors, the Koopalings. And yes, the game comes in two different kits with either a Mario Kart or a Luigi Kart and yes, you can race your family or friends if they purchase their own karts. If you only have one car, you can race time trials together in order to beat each other's ghosts.
Furthermore, there are plenty of power-ups such as boosts, bananas and other items to help you against your fellow racers, not to mention virtual and physical obstacles to avoid. Like the game, there are different cubic centimeters (cc) engines from 50cc, all the way up to 200cc which is the fastest and the real-world kart flies at this speed, especially if you drive over a speed boost.
Needless to say, hours upon hours of fun and I so wish I had this game when the COVID-19 lock downs first started! Adding to the longevity are new karts, decals and even radio stations that are unlocked through coins. One caveat that is not found in the games is that the car needs to be charged and that's done through a USB-C connection which charges the car quite fast and in terms of battery life, you'll easy get over 2-hours of Mario Kart racing fun. Of course, this is dependent on cc level and surfaces.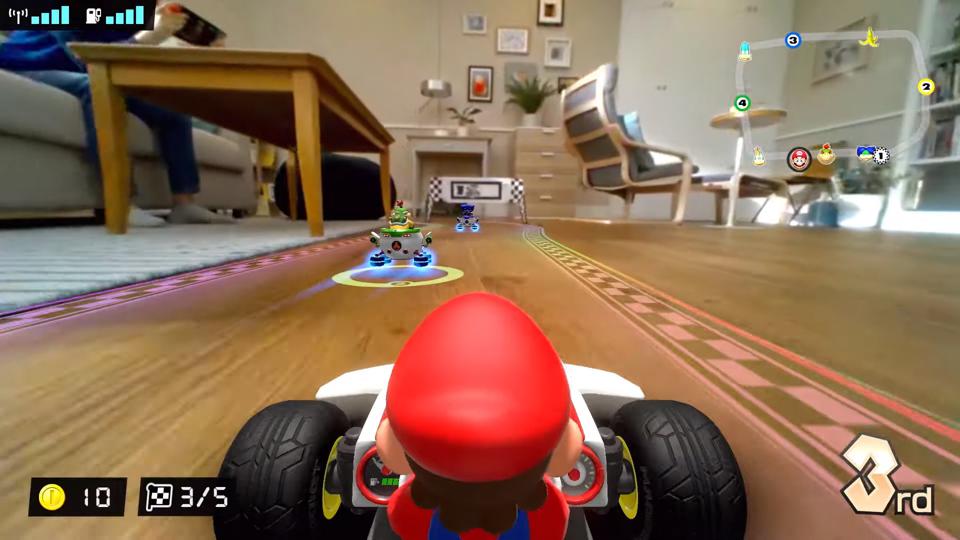 Graphically, it's Mario Kart in the real-world that add all the regalia of the previous virtual video games. There's also underwater areas with reefs and fish plus Bowser's Castle with a total of 24 tracks. So while it's nothing special in terms of graphics, seeing your kart in the real-world race around as you interact with the Switch and the virtual world is a whole new experience. Music is brilliant as are all the fantastic Mario Kart sound effects plus unlockable radio stations.
Final Thoughts?
Mario Kart Live Home Circuit is fun, fun and more fun! Again, there's so much fun to be found in this game plus lot of track creating. However the game feels like you're racing in a virtual Mario Kart title but in the real-world and if you're looking for a game with some escapism to draw you in, Mario Kart Live Home is indeed that game.
Highly Recommended!
Gallery