Switch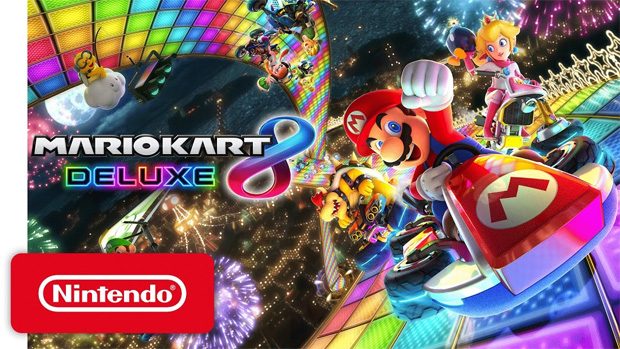 Published on April 25th, 2017 | by James Wright
Mario Kart 8 Deluxe Review (Nintendo Switch)
Summary: Mario Kart 8 Deluxe on the Nintendo Switch is faultless racing at its best!
Mario Kart 8 Deluxe on the Nintendo Switch is pretty much perfect in every way. Gaming mechanics are fun, controls are sturdy, environments are well-designed but more importantly, it allows gamers to play either single-player mode or multiplayer for both local (up to 8 players) and online fun (12 players) with lots of enjoyment to be found along the way. Sure, this game is no Forza or Gran Turismo when it comes to realism but it doesn't try to be either.
It's one of the most crazy cartoon-like racers around and although it has parallels to the previous Mario Kart games, this current incarnation on the Nintendo Switch works on so many levels, especially its portability and ability to share with others. So essence, it's the good old Mario Kart that we all love, however it has been transferred onto the Switch that boasts 48 tracks, new racers, new power-ups and the ability to partake in battles which ups the mayhem. If you did play the game on the Wii U, this version includes all the DLC, including the awesome Animal Crossing track!
There are a variety of control mechanics behind Mario Kart 8 Deluxe which include the Joy-Con, a Joy-Con with a wheel, handheld mode, tablet mode plus a pro controller. All modes work well, however my favourite is definitely the pro controller as you get more ownership of your driver and the game is also compatible with amiibos. Like previous Mario Kart games, you have access to a plethora of power-ups (e.g. banana peels to force your opponents to spin-out or shells to knock your enemies off the track) in order to take out your rival(s) but you also need to be aware of the environment which will attempt to thwart your victory. So while you drive around, there is an element of skill in terms of controlling your karts which includes underwater and even flying areas, all while avoiding your enemies nefarious tactics.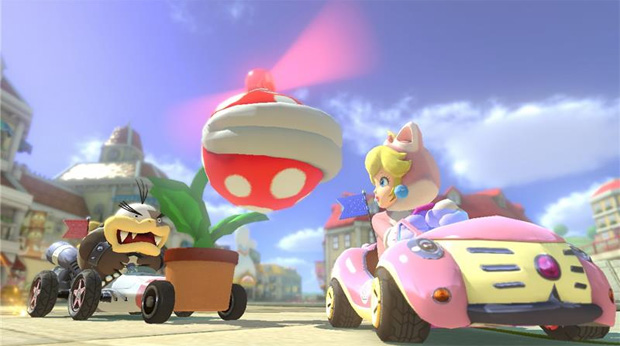 So before jumping into the game, players can choose one of the 42 colourful characters available from various Nintendo franchises or use their own Mii's for a sense of ownership. One new character is Golden Mario! However it's really hard going past either Mario or Link. You can even change and tweak which kart you will race and all these vehicles have their pros and cons when it comes to speed and handling. If you're a newcomer to the series, you can start off with the basic 50cc engines which are slower go-karts but if you're a keen racer, there's several other engine sizes to suit your racing prowess, especially the 200cc engines which are ridiculously fast. Newbies will also be pleased with the addition of smart steering which helps keep you on the track.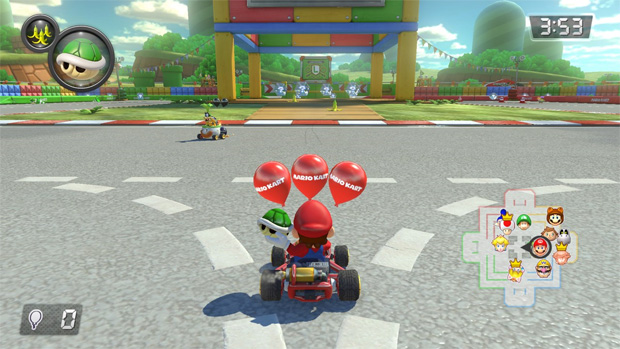 On that note, there's quite a few different modes of play that include;
Grand Prix (Go for Gold in a 4-race cup! 50cc to 200cc)
Time Trials (Race alone for new records!)
VS Race (Race using custom rules)
Battle (Balloon Battle, Renegade Roundup, Bob-omb Blast, Coin Runners, Shine Thief)
Although most modes are straight forward in terms of their explanations, Battle is a whole new ball game. Balloon Battle requires players to score points by popping their opponents balloons and the player with the highest points wins. Renegade Roundup is a re-imaging of cops and robbers as the 'authorities' use potted piranha plants imprison their opponents, the 'renegades', however they can be freed by driving over their 'keys'. If the authorities capture all the renegades, they win but if there are still renegades racing around before the time runs out, they win.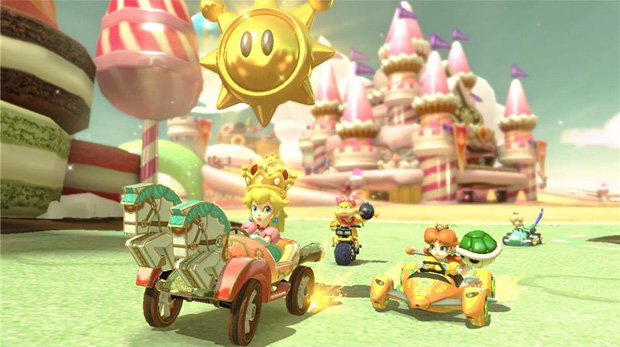 Bob-omb Blast has each racer carrying bombs as they use these items to score points and once again, the player with the most points wins. Coin Runners is one of my favourite battle modes as it's a fast paced race to score the most coins. Finally we have Shine Thief which is deviation of capture the flag as each player tries valiantly to hold onto the Shine Sprite as gamers use as many power-ups as possible to force the other racer to drop it. So whether you're playing single-player or multiplayer, each option works extremely well but for solo, the Grand Prix is where the excitement is found.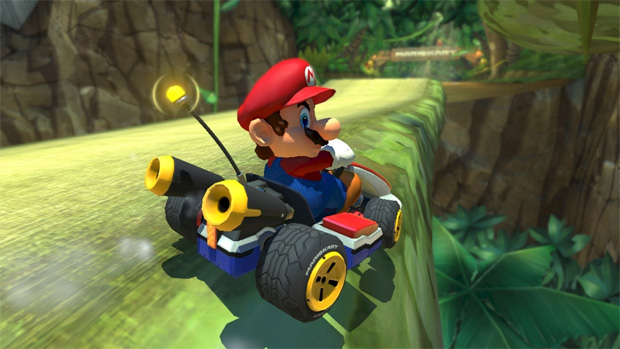 In terms of multiplayer, Mario Kart 8 Deluxe offers offers up to 12-players to enjoy these racing antics online and although not officially out in Australia, we still managed to find another people to challenge us online. However for local play and with the inclusion of the Joy-cons, it's easy to start playing this game with two people without the need of purchasing another controller. You can also challenge another friend on another Switch, provided they have the game thanks to its wireless play option. All in all, there's plenty to be found in both the single-player and multiplayer modes which definitely makes this title a go to game for all occasions!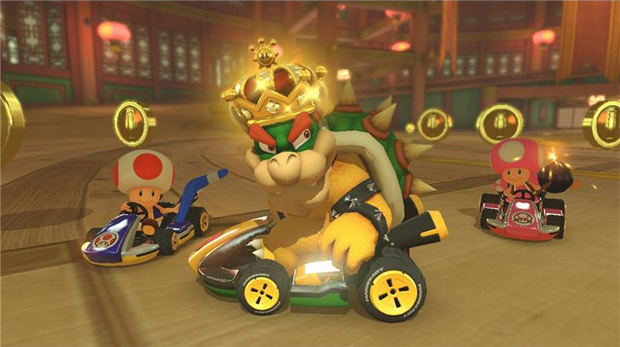 Graphics/Audio
Graphically Mario Kart 8 Deluxe looks fantastic, especially with its 1080p visuals. The environments are well designed with multi-levels and it looks like something out of a Saturday morning cartoon created with a Nintendo paint brush. Add in lots of colours, special effects and interactive backgrounds and overall, Mario Kart 8 Deluxe is a visually impressive game. A highlight of the game is course design which is pure ingenious with its sense of levels, underwater areas, flying areas and multiple ways to finish each course. Speaking of new courses, these include the 3DS Wuhu Town, Sweet Sweet Kingdom, Dragon Palace and Lunar Colony. Characters also channel their respectively franchises perfectly and there's a wide gamut of characters to choose from. Audio complements the game well with all the whacky sounds of racing plus a great Nintendo inspired soundtrack.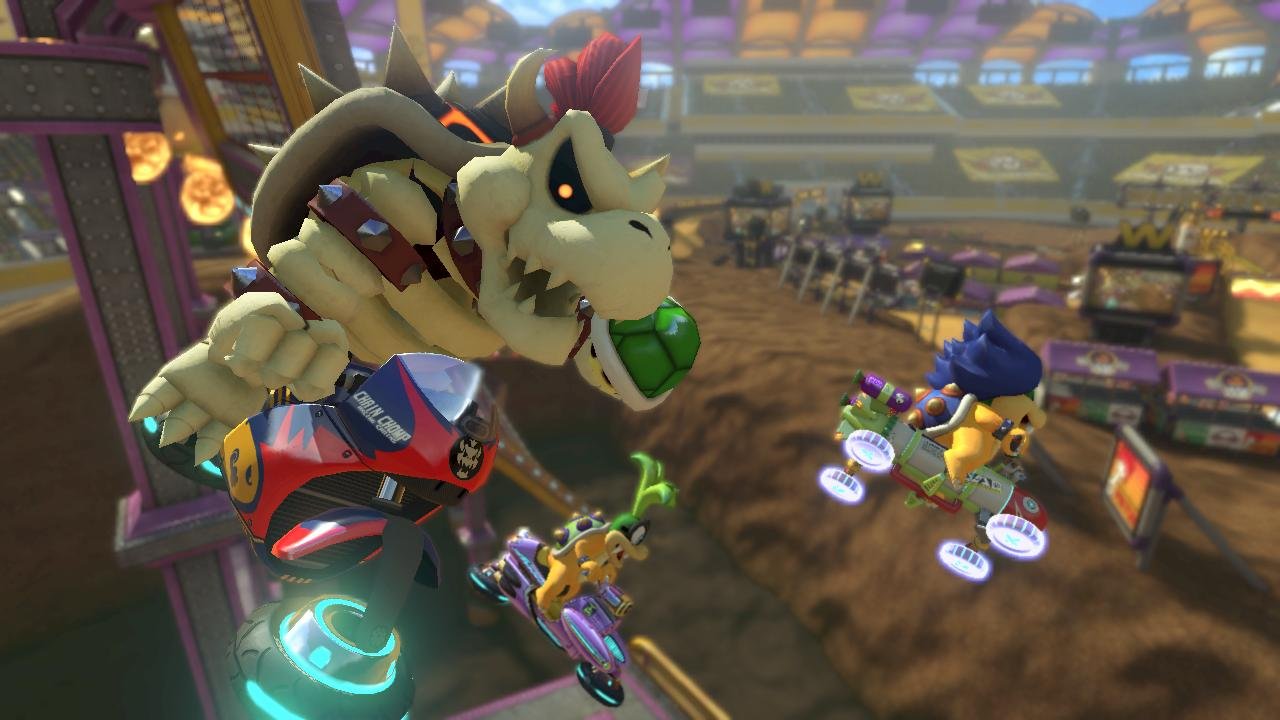 Final Thoughts?
Mario Kart 8 Deluxe is another must have title for the Nintendo Switch and is a racer that is accessible by everyone, whether a veteran gamer, casual gamer or even someone who has never played before. So if you're looking for some great racing fun on the Switch, Mario Kart 8 Deluxe on all levels… it's a me, Mario Kart!
Key Features
Race your friends in the definitive version of Mario Kart 8, only on Nintendo Switch!
Race as every character on every track from the Wii U version, including DLC characters and tracks.
Pop some balloons in the revamped Battle mode, complete with Balloon Battle and Bob-omb Blast.
Battle on new courses, like Urchin Underpass and Battle Stadium, or returning ones, such as GCN Luigi's Mansion and SNES Battle Course 1.
Inkling Girl & Inkling Boy from Splatoon, King Boo, Dry Bones, and Bowser Jr. join the roster!
Players can choose a new Smart Steering feature which makes driving and staying on the track easy for novice players and kids even at 200cc
Three new vehicles have been added, two are even inspired by Splatoon
Carry two items at the same time
Returning items include Boo, the item stealing ghost, and the Feather, which gives you a high jump in battle mode.
Play your friends in local wireless multiplayer with up to 8 players.
Drive through in 1080p HD quality in TV mode
Play on the go with handheld mode and play anytime, anywhere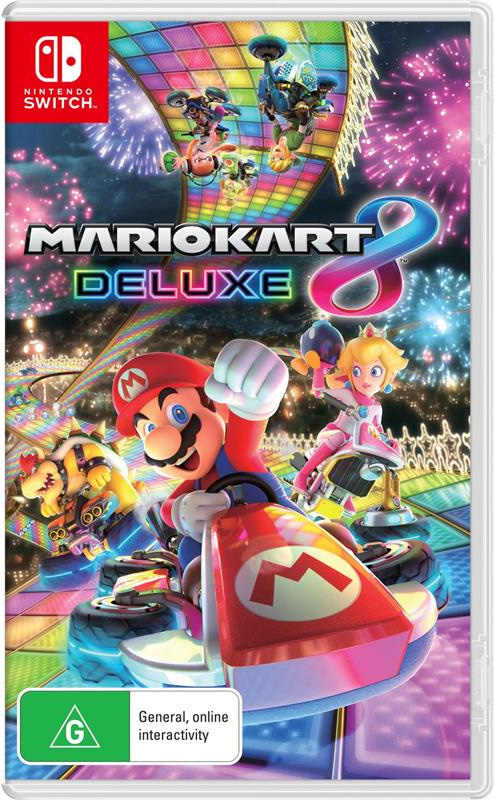 Game Details
Primary Format – Games – Nintendo Switch
Game Genre – Racing
Rating – G
Consumer Advice – General, online interactivity
Game Developer – Nintendo
Game Publisher – Nintendo