Comics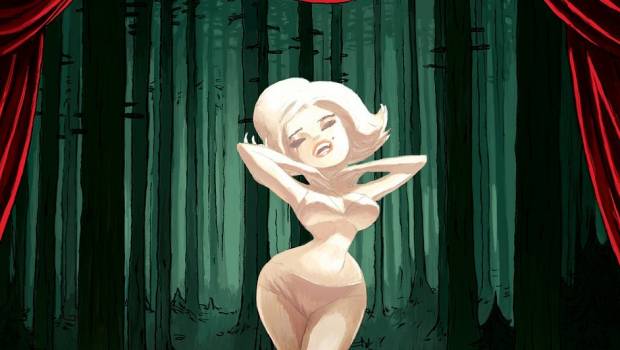 Published on September 13th, 2018 | by Dana Folkard
MARILYN'S MONSTERS REVIEW
Summary: An abstract and otherworldly tale that delves into the reinvention of Norma Jean Baker to the screen legend that took the world by storm.
Written and illustrated by Tommy Redolfi, Marilyn's Monsters explores the hauntingly dark tale of the rise and fall of iconic screen legend Marilyn Monroe. Immersive, haunting and downright creepy, this is one story that will linger with you long after you have closed the final pages.
The story follows a young and innocent Norman Jean Baker, as she pursues her dreams of becoming a famous film actress. Shy and nervous, Norma struggles to find her big break as she is plagued with self-doubt and a stutter. Her determination to succeed takes her deep into the Hollywood Hills to a strange trailer park that is home to a variety of retired stage freaks and circus performers. In this dark corner of the world, superstars are born as a mysterious old couple, who are referred to as "The Founders" seek out and mentor potential young stars. After they see her star potential, they decide to reinvent and transform her into the sultry starlet called Marilyn Monroe. A superstar is born and with it the fame and fortune that she had always dreamed of. As the years tick by, Marilyn's inner demons begin to consume her, revealing a tormented and broken woman who is on the verge of falling apart. Alone she must face these monsters that are slowly tearing her apart, unearthing traumatic memories that hurtle her towards the edge of mental collapse.
I applaud Tommy Redolfi for weaving such a highly immersive, unsettling and ultimately tragic tale. We all know the sad and heartbreaking story of Marilyn Monroe; a woman who was viewed as being pure perfection but was in fact imperfect, flawed and human. This is an abstract retelling of Marilyn's story, exploring her rise and downfall in a surreal and disturbing way. My brief description of Marilyn's Monsters above doesn't give this story any justice, as there are so many strange, ambiguous and deeply unsettling details that make this story truly wonderful and compelling. I find this kind of storytelling to be heady mix of Hollywood dystopia meets phantasmagoric dreamscape. There is a lot in here that will force you to question Marilyn's malevolent and warped reality.
I also like how we get to see iconic moments in Marilyn's like unfold like glossy snapshots frozen in time, acting as a veil hiding the trauma and tragedy of her internal anguish. Familiar names that have become synonymous with the life of Marilyn filter in and out, influencing, shaping and ultimately terminating her. These characters that played such an important role in her life and her rise to fame are painted as monsters, only seeking some sort of self-serving entitlement.
Tommy Redolfi not only pens but illustrates this comic, bringing his original and edgy talent to visualise this dark tale. Redolfi's art style is just as abstract as his storytelling, jumping from sweet and dreamy, to chaotic mess at the drop of a hat. I really loved this dramatic shifting of the visual narrative, finding that it brings an interesting sense of diversity to the story. The people mostly appear misshapen, malformed and quite scary, with the exception of Marilyn. I really loved this contrast, finding that it made Marilyn appear alienated and alone, like a beautiful rose surrounded by thorns. Heavy shading and detailed linework helps to create a sense of texture, whilst also bringing an element of detailed mess, which helps to reinforce her descent into madness. The colouring is varied and dynamic, changing as often as the art changes. Sepia tones, black and white, soft and warm to cool and dark, the palette perfectly mirrors the emotional toil and burden that Marilyn is experiencing. It all comes together to form a highly engaging and haunting visual experience.
Overall, I really enjoyed Marilyn's Monsters.  I thought that it was an abstract and otherworldly tale that delves into the reinvention of Norma Jean Baker to the screen legend that took the world by storm. I recommend this comic to everyone and anyone, especially lovers of horror and the macabre.
I'm giving Marilyn's Monsters 5 out of 5 stars!
---
COMIC DETAILS
CREATIVE TEAM: Tommy Redolfi
PUBLISHER: Humanoids
GENRE: Surreal/Horror/Supernatural
PUBLICATION DATE: September 16, 2018
REVIEWER: Dana Folkard