Events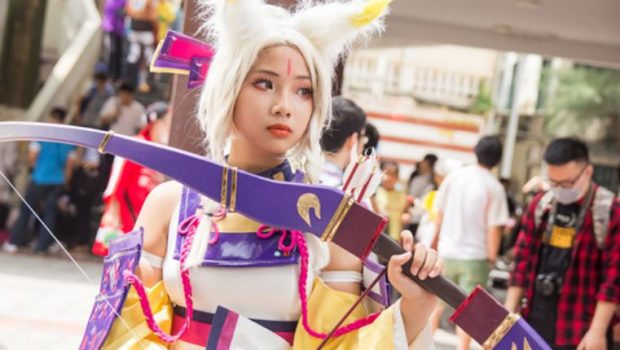 Published on August 26th, 2023 | by Adrian Gunning
Manga fans to unite for QBD Books Mini-Con event
National retailer QBD Books has announced the launch of its inaugural Mini-Con, which is set to take over 44 locations across Australia from Thursday 7 September to Sunday 10 September.
Centred on the increasingly popular 'manga' genre of books in Australia, Mini-Con is a free event that draws inspiration from the popular Oz Comic-Con and Supanova conventions, which showcase manga comics and graphic novels, as well as anime, cosplay, and video games.
The promotion forms part of QBD's Book Fest activation, which will run across Australia from Thursday 17 August until Sunday 10 September.
Mini-Con will cap off the event with four days of manga giveaways, gift vouchers, cosplay competitions, and manga/anime character standees.
While manga has an already-established fan base in Australia, QBD has seen an enormous amount of growth in the sector, says QBD Books CEO Nick Croydon.
"There has been a continuing surge in the popularity of manga in Australia since 2017, when publishers Simon & Schuster picked up the media imprint for the US-based Viz manga titles, making this genre more readily accessible to Aussie consumers," he explained.
"This growth exploded during the COVID-enforced lockdowns of 2020 and 2021, when people consumed a lot of anime via streaming services, and then wanted to read the corresponding source material in manga graphic novels.
"This makes our first ever Mini-Con a natural way to bring the feel of a convention to people who may not have access to city-based events such as Oz Comic-Con, so we can further meet the needs of our valued customers and their voracious appetite for these stories."
According to Sarah McConville, Fiction Buyer and Category Manager at QBD Books, Mini-Con will cater to the incredible Australian community of manga, anime, comics, and cosplay fans, as well as a new generation of readers.
"One of the things people love about manga is the community it generates – when you find someone who likes the same thing as you it's super exciting, and when you find a whole community, it's like coming home," she said.
"Manga appeals to a lot of different people because the stories are easy to read, and mostly consist of fun, action-packed adventures. As a genre, shonen manga has always been a gateway to reading for young adult male readers, but it is now reaching a broader audience, with adults snapping up these titles as well.
"Manga is an inclusive community that is also popular with males and females in the 18-38 age range, but we're now finding these demographics are being broken down as families and older readers begin to immerse themselves in manga."
During Mini-Con, Australian manga fans will have access to popular titles such as Chainsaw Man, Demon Slayer, My Hero Academia, Jujutsu Kaisen and Spy x Family, with a special 'buy one get one half price' offer available on Viz titles.
To find out more about the QBD Books Mini-Con, please visit: www.qbd.com.au.