Films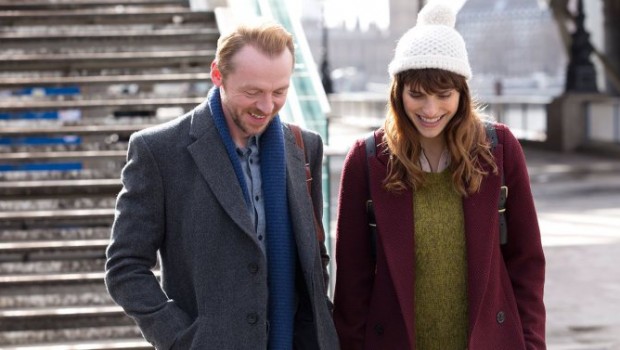 Published on November 8th, 2015 | by Damien Straker
Man Up – Film Review
Reviewed by Damien Straker on 8 November 2015
StudioCanal presents a film by Ben Palmer
Produced by James Biddle, Nira Park and Rachel Prior
Written by Tess Morris
Starring: Simon Pegg, Lake Bell, Rory Kinnear and Olivia Williams
Music by Dickon Hinchliffe
Cinematography Andrew Dunn
Edited by Paul Machliss
Rating: M
Running Time: 90 minutes
Release Date: 5 November 2015
In the British comedy Man Up, Lake Bell (In a World) stars as Nancy, a woman who is sitting in hotel room and reluctant to join a party and socialise. On a separate evening, she rides on a train with the intention of meeting her family because her sister wants her to give a speech at her parents' house since they're having their anniversary. On the train, she's advised by a strange woman named Jessica to read a self-help book. Jessica is meeting a man on a blind date, with the plan to use the book to recognise each other. To help Nancy to change her attitude, she leaves the book with her. Nancy races to return the book but at the train station Jack (Simon Pegg) sees her and thinks she's Jessica. Nancy plays along with this, not telling him her true identity. Throughout the chaotic evening of their date, they accidentally meet people from their past, including Nancy's stalker from school Sean (Rory Kinnear) and on Jack's side, his ex-wife (Olivia Williams) from whom and her new partner.
Man Up is rather surprisingly a hilarious and economical comedy about a chance encounter and the hidden agendas people forge when in relationships. The strength of the comedy and the volume of laughs are attributable to the strong foundations supplied by Tess Morris' script. The plot is a case of mistaken identity and it becomes funnier the more characters try to prevent this situation from unraveling in front of other people. There are two major setups that work extremely well with this comedic farce, which involve the stalker Sean and Jack's ex-wife. Both of these very funny sequences are also thematically consistent with people having to move on from their most hurtful relationships. Though the film also has some colourful words for what it thinks of the past. It's also admirable that the performances are bright and likable. Sporting a British accent, Lake Bell owns this role with her note-perfect comic timing. Her character Nancy is funny but also allowed to be wise too when she has to pull Jack back together. It's a more consistent feature for her than In a World. This is also a good comedic vehicle for Simon Pegg, who has in the past featured in some rather unappealing films. Along with Bell, he consistently made me laugh and most of the audience was laughing frequently too. Furthermore, it helps in the proceedings that the film's director Ben Palmer (The Inbetweeners) photographs the actors in locations populated with extras or the unsuspecting public, ensuring Nancy and Jack's conversations don't unfold in a visually underpopulated vacuum. The only aspect of Man Up that prevents it from soaring is its ending. It's not unreasonable, particularly when a film is this funny and clever, to ask for an ending that doesn't feel like it's recycled from dozens of lesser romantic-comedies. It's a staple of the romantic comedy genre but one that's grown tiresome all the same. Despite the weak finish, it's not enough to dampen the punchiness and hilarity of an otherwise delightful little comedy.
Summary: Despite the weak finish, it's not enough to dampen the punchiness and hilarity of an otherwise delightful little comedy.