Hardware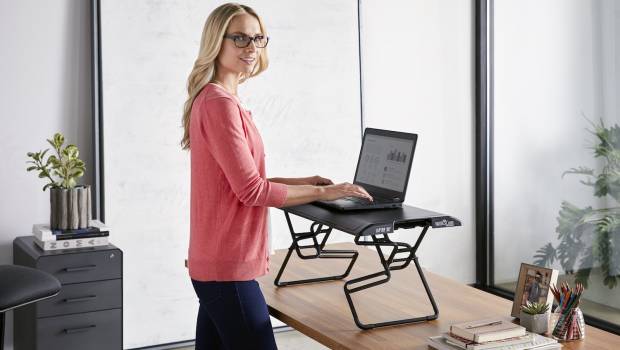 Published on January 22nd, 2020 | by Adrian Gunning
Make The Smallest Of Workspaces Work For You
Whether you're a university student, working directly from home or co working in a shared office space not everyone is blessed with an environment optimised in size. But here are our top tips to get the most from even the smallest of work spaces.
The Compact Series from Varidesk puts you in control to strike the correct balance between work and productivity, after all the benefits of a height-adjustable desk shouldn't be limited to those with the biggest of space. Designed for those who work exclusively on a laptop or tablet  (up to 6.8kg), mobile minimalists will appreciate how the series provides the same sturdy, height-adjustable desktop as the best-selling ProPlus36 model but in a single flat desk, slim, space-saving design which conveniently pops up and can be folded away in a matter of seconds. Meanwhile the 9 different height settings ensures you can establish the perfect height for you.
In some circumstances such as through university studies you may be restricted to your bedroom as your place of work which is challenging in itself, finding the motivation to work in a space you familiarise yourself with for comfort and relaxation. However the Varidesk Compact Series has been proven to help increase energy levels, alertness, mood boosting, increase productivity by 46% as well as a great way of burning calories simply just by standing at your desk.
For the smallest of workspaces ensure your desk is clutter free for the most functional and efficient use of the space, assess the frequency of use to allow only essential items used on a daily basis are kept out and any necessary paper work is filed away to ensure an effect work flow so there is no possibility of getting tasks mixed up, ensuring the job at hand is your main priority. With that is mind it is thanks to standing desk such as the Compact Series from Varidesk which can help to keep desk clutter at bay too as you are instantly provided with an additional platform for organisational purposes.
The Varidesk Soho/Laptop 30 (Black or White) is available to buy online for $250.00 from Varidesk, alternatively for larger work spaces we would recommend the Pro Plus Series, 30 (Black) $450 or 36 (Black, White or Dark Wood) $550 from Varidesk.