News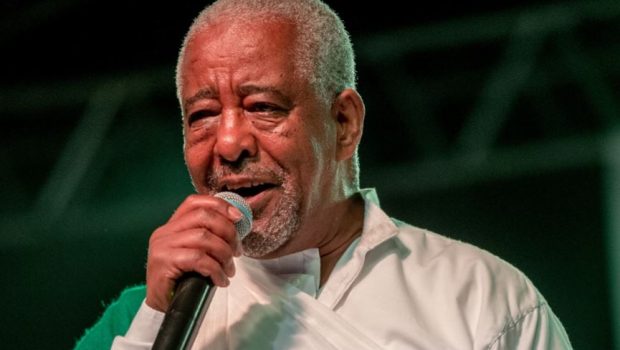 Published on March 20th, 2017 | by admin
Mahmoud Ahmed and Ali Birra at Arts Centre Melbourne
MELBOURNE, 20 MARCH 2017 —Legendary Ethiopian soul singer, Mahmoud Ahmed, and the king of Oromo music, Ali Birra, will join forces with Melbourne's own Ethio-jazz band The JAzmaris at Arts Centre Melbourne's Playhouse on 14 May 2017. The world-famous musicians will perform their respective classics as well as tributes to contemporaries from the bustling Ethiopian music scene.
Undeniably Ethiopia's most famous singer of its 1970s golden era, Mahmoud Ahmed rose to fame amid a turbulent political climate in which he did everything to keep singing. After the overthrow of Emperor Haile Selassie and the suspension of musical nightlife under the oppressive Derg regime, he continued to make hit records and cassettes with the musicians who remained in the country. Influenced by the swagger of Pat Boone, Elvis Presley and Sam Cooke, Mahmoud is celebrated for his free-wheeling vocals, quavering Amharic rhythm and mastery of the krar.
Since the late 1990s Mahmoud has enjoyed a resurgence in popularity after the Buda Musique, a French record label specialising in world music, reissued three of his albums as part of the Ethiopiques series of CDs. This did for Ethiopia's music scene what the Buena Vista Social Club did for Cuba's music scene.
Ali Birra has been described as a national icon, pioneer, legend, hero, and the undisputed king of Oromo music. A trail-blazer, Ali Birra self-produced the first known album in his mother tongue of Oromo. With the ability to sing in Amharic, Arabic, Harari and Somali languages, Ali rose to fame across Ethiopia in the 1970s before a storied career that took him to Sudan, Sweden and the United States. In 1995, Ali received the Toronto African Merits Award and in 2010, received an honorary doctorate from Jimma University.
When these two legends of Ethiopian jazz take to the stage, expect Horn of Africa-grooves, trumpets and lots of eskista – a dance that involves shaking and quivering from shoulders down to the legs and feet – from both the performers and the audience. Melbourne based Ethio-Jazz nine piece The JAzmaris will infuse the ancient music traditions of Ethiopia's scales and rhythms with jazz and contemporary composition.
"Ethiopia is so diverse; there are lots of different religions and tribes living together. Music helps pull them all together as one and it generates an economy,'' says Mahmoud Ahmed.

"It's the quaver that makes Mahmoud Ahmed's voice so arresting. That quaver is coupled with emphatic rhythm and grainy determination in a voice that Ethiopians in and out of the country have prized since the 1970s. " The New York Times
Arts Centre Melbourne presents
Mahmoud Ahmed and Ali Birra with The JAzmaris
Arts Centre Melbourne, Playhouse
Sunday 14 May, 3pm and 7pm
Tickets www.artscentremelbourne.com.au or phone 1300 182 183