Games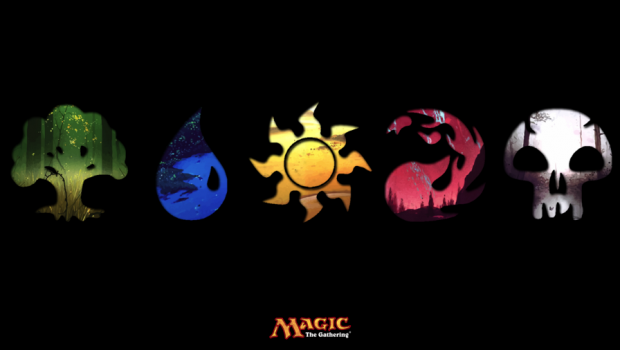 Published on December 14th, 2014 | by admin
Magic the Gathering Christmas Mega Review
Magic the Gathering
Genre: Card Game
Reviewer: Rebekah Palmier
Magic the Gathering is a fantasy trading card game taking a cue from fantasy roleplaying games such as Dungeons and Dragons but does not inherit the Dungeons and Dragons play style  which was the first ever produced in 1993 which was created by Richard Garfield and is now being published by Wizards of the Coast and comes in both paper form as well as online with two players using two 60+ card decks containing creatures, spells artefacts and allies known as "planeswalkers" with the aim of defeating their opponent.
There are many varieties of game types as well as levels of play from the casual level at home to events known as the Pro Tour that are held all over the world where professional players play for cash prize of about $40,000 (US) for the person (or team in other pro level events) as well as invitation to other future events as well as recognition in the hall of fame. This review will discuss a number of products that are currently available and discuss their price points based on specialty game stores it should be noted that some products are available in in larger department stores (which I will indicate) but if you want access to all of these products a specialised gaming store will be better suited.
(Note that the images shown are for the most current version of their product as most of these are released every three months in the case of booster packs and the intro decks however older version of these are still available and the commander decks and the holiday gift boxes are released on a yearly basis)
Booster Packs ($5 at specialised gaming store $7 large department stores)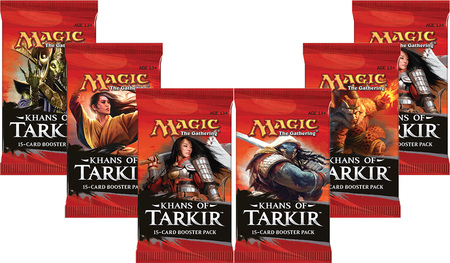 This is the primary way to expand your collection and is always fun to open regardless if you are a new player or a veteran of the game. Each pack contains fifteen random cards cards from the set you are purchasing comprising of eleven common cards marked with a black symbol, three uncommon which are marked with a silver symbol and a single rare which is marked with a gold/yellow symbol and sometimes the rare is replaced with a rarity called a mythic rare that has a red symbol in addition there is the chance of there being a premium card that has a foil-like treatment which can increase its value. Multiple booster packs can also be packaged in a product known as a fat pack which contains nine booster packs or a booster box which usually contain thirty six.
Intro Pack ($25 at both specialised gaming stores and large department stores)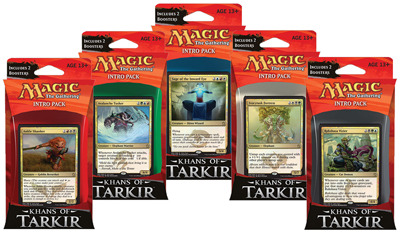 Intro packs are an excellent way to introduce someone who is new to Magic to the game and each set gets a new set of five intro packs which correspond to the five colours that are in the game (White, Blue, Black, Red and Green). They include a sixty card pre built deck of the colour or colour combination of the set as well as two booster packs that can be used to customise the prebuilt decks to improve them with new cards from the current set that the intro pack was from.
Commander 2014 ($60 for the red and white decks and $50 for the others at specialised gaming stores)

Commander is a more casual form of playing magic in a multiplayer settings that was originally created by the fans and have their own banlist and deck creation rules while holding most of the same rules as a regular game of Magic the Gathering with different life totals (twenty for a regular game and forty for commander) Players can also lose by taking twenty-one points from any single commander. Commander plays with a deck of a hundred card deck which is different to the sixty card deck limit in other standard formats and it's a singleton format so each card is unique except for basic land cards. Each deck has a legendary creature (or in these sets a planeswalker) known as a commander which remains separate from the main deck but in its own zone and it can be cast from there. The commander's colours can also dictate the colours of the cards in the deck itself it is then a free for all format usually with three other players playing to be the last player standing. These decks are a yearly released product but like the Intro packs they in five different and they are pre constructed decks but for this particular format.
Holiday Gift Box ($30 at specialised gaming stores)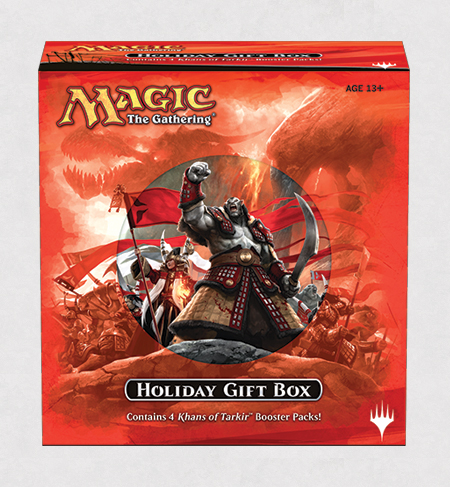 The Holiday Gift Box is a yearly product that coincides with the first set released in the expansion block which can hold over 2,000 cards each box comes with four booster packs of the first set in the block the box that features art from the set, twenty basic lands from the set, six plastic dividers to divide your collection, a sticker sheet to customise the dividers and an alternate art card that changes with each box. While I wish there was more stuff to the box itself for the money (more booster packs, higher quality box material/dividers) this is a really good way to store your collection at a decent cost