Games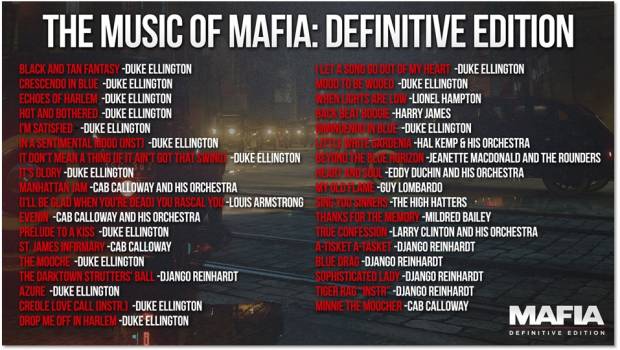 Published on September 17th, 2020 | by Adrian Gunning
Mafia: Definitive Edition's Full Licensed Soundtrack Revealed
2K and Hangar 13 have released details of Mafia: Definitive Edition's full licensed soundtrack, which includes 35 songs from jazz greats like Duke Ellington, Cab Calloway, Django Reinhardt, Lionel Hampton, and more. Ranging from lilting, mournful melodies to up-tempo, airy rhythms, the game's classic tracks will transport players to the unique time and place of Lost Heaven, a prohibition-era Midwestern city riddled with crime and corruption. Please click here for a look at the full track list.
Later this week, 2K and Hangar 13 plan to share the third of four planned videos highlighting various aspects of Mafia: Definitive Edition. The first video, "Welcome to the City of Lost Heaven," gave players a sneak peek at the game's rebuilt setting. The second, "Life of a Gangster," looked at the game's overhauled driving and shooting mechanics. Tomorrow's video, "Through the Ranks from Bootlegging to Bank Robbing," will provide insight into the campaign's missions. And on September 23, the final video will show how the game's soaring orchestral score came together in the midst of a global pandemic.
Mafia: Definitive Edition – a comprehensive, built-from-the-ground-up remake of the original Mafia – launches September 25. The remake features an updated script filled with rich new dialogue, expanded backstories, and additional cutscenes. Players will also find all-new gameplay sequences and features, best-in-class cinematics, a re-recorded orchestral score, and other enhancements. It's the Mafia players remember, only much more.
Mafia: Definitive Edition is part of the Mafia: Trilogy, which includes:
Mafia: Definitive Edition – The built-from-the-ground-up remakeof the beloved classic;
Mafia II: Definitive Edition – The ultra HD remasterof the fan favourite;
Mafia III: Definitive Edition – There-introduction of the award-winning narrative masterpiece.
Players who purchase Mafia: Trilogy digitally will be able to access Mafia II: Definitive Edition and Mafia III: Definitive Edition immediately. They'll also be able to download Mafia: Definitive Edition as soon as it becomes available on September 25. Mafia: Definitive Edition, Mafia II: Definitive Edition, and Mafia III: Definition Edition are available for purchase individually as well. All three games, plus the full Trilogy, will be available on PlayStation® 4, Xbox One, Steam, and the Epic Games Store starting September 25.
For more information about Mafia: Definitive Edition's features and content, as well as additional details regarding Mafia: Trilogy as a whole, please visit MafiaGame.com. To download screenshots, art, and other Mafia: Trilogy assets, please click here. For additional information and assets covering the entire 2K catalogue, please visit newsroom.2k.com.