Comics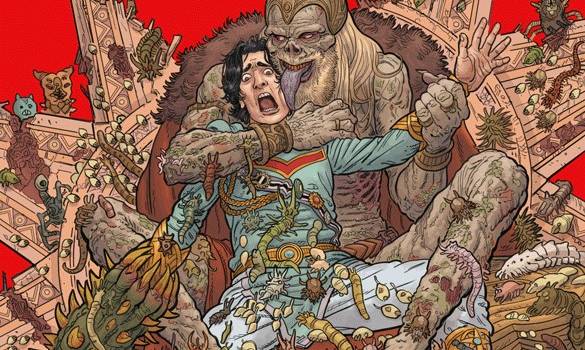 Published on December 13th, 2017 | by Dana Folkard
MAESTROS #3 REVIEW
Summary: The Book of Remaking has been stolen.
The Book of Remaking, which contains the most powerful spell of creation has been stolen. With the book missing, Willy must set forth and face the chaos, death and destruction that has been unleashed upon the city, courtesy of Rygol and the ever-decomposing Mardok.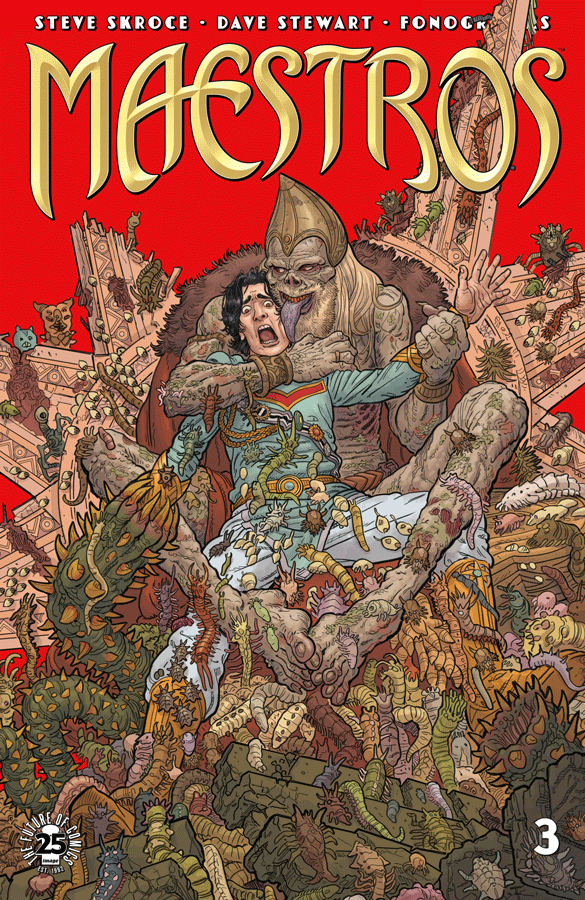 Maestros #3 begins with Wren, Willy's lover and betrayer, holding The Book of Remaking. Unfortunately for her, she doesn't make it far with the book, as Rygol uses a powerful enchantment that has fatal results. With Wren dead, Rygol takes possession of the stolen book, and after disposing of her body, escapes the city so that he may perform the "opening ritual". We then jump to Willy, who is waking up from being knocked out by Wren. He is heartbroken as he is told the news that she betrayed him, however, what hurts most is the news that Wren was killed by Rygol. Upon seeing her remains, Willy orders that the resurrection cradle is to be used to bring her back, regardless of the cost or the risk that it brings. Whilst all this is unfolding, ol' "lembas-gobbling-muthafucking-Rygol" is desperately trying to open the book with the help of a group of  powerful wizards, however, the ritual fails as the book will open for no one but the Maestro. Meanwhile, Wren has been resurrected, but this comes at a high cost as an energy surge has caused the spell grid, which acts as the city's defence, to become offline, allowing Mardok to enter the city. It's now up to Willy to come face-to-face with Mardok and Rygol, to put an end to their attack on the city and reclaim The Book of Remaking.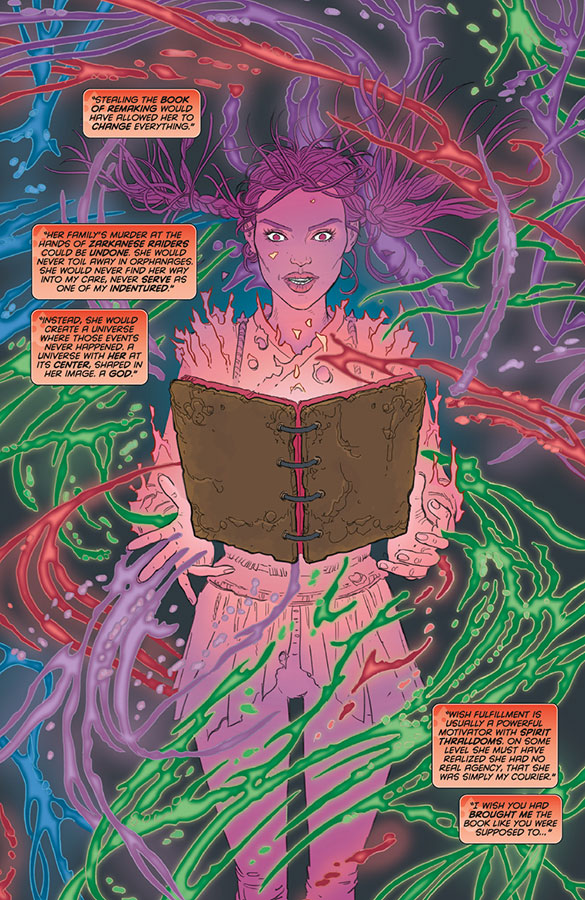 This is a fast-paced and action-packed issue, filled with all sorts of interesting developments. There is no time for dilly-dallying for Willy, as death and destruction begin to wipe out his city and its inhabitants. Zainon is under attack, partially brought on from him because he used the resurrection cradle on Wren. Doing this caused a massive power surge, allowing Mardok to enter the city, bringing with him his lovely flesh gobbling parasites. Having Mardok and Rygol together makes for some excellent banter, as they endlessly bicker and demean one another. I had a good laugh whenever Mardok's would rant about eternal emptiness, as this would undoubtedly cue a scathing and funny response from Rygol. These two clearly despise one another, but Mardok is forced to submit to Rygol and work for him. I'm curious to see what happens when their partnership ends, as I'm sure it'll be nothing short of fantastic. With these two working together, it seems like Willy has his work cut out for him, as this duo is one hell of formidable force. I rather liked the fleeting sense of hope that Steve Skroce creates when Willy formulates his plan of attack. However, the shit hits the fan and things take a dark and bleak turn, leaving him, his mother and Wren in a vulnerable and helpless position as they watch their city burn. I'm looking forward to where things will go from here.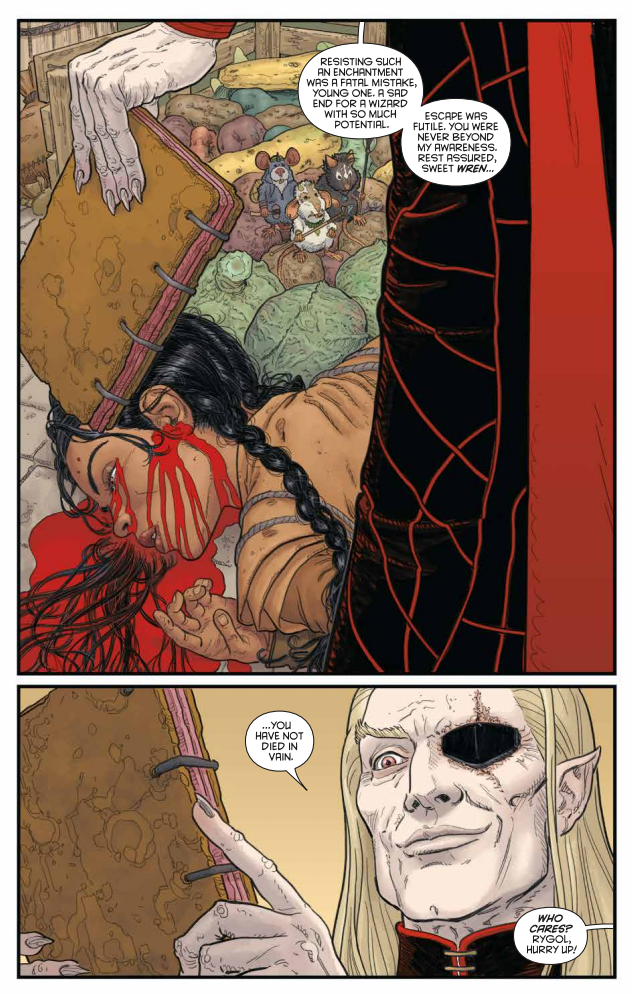 The intense story is perfectly captured by Skroce's detailed art. This really is an orgy of death and destruction, and seeing Mardok and his flesh-eating parasites enter the city is an excellent moment. I really enjoyed poring over these pages, taking in all the gross, gory and graphic details. It's wonderfully disgusting and makes for an entertaining visual experience. Skroce also does an great job at capturing each of the characters intense emotions through their highly detailed faces and expressions. Mardok's rotten smirking face as he speaks of his vision of emptiness is great, easily sending a shiver down my spine. The colouring by Dave Stewart works alongside the art in heightening the overall tone of the story, and I find the vibrant pops of colour that is used to for magic spells to be effective. I also found the opening page to be an eye-catching way to open this issue, with it's bright and vivid colour palette.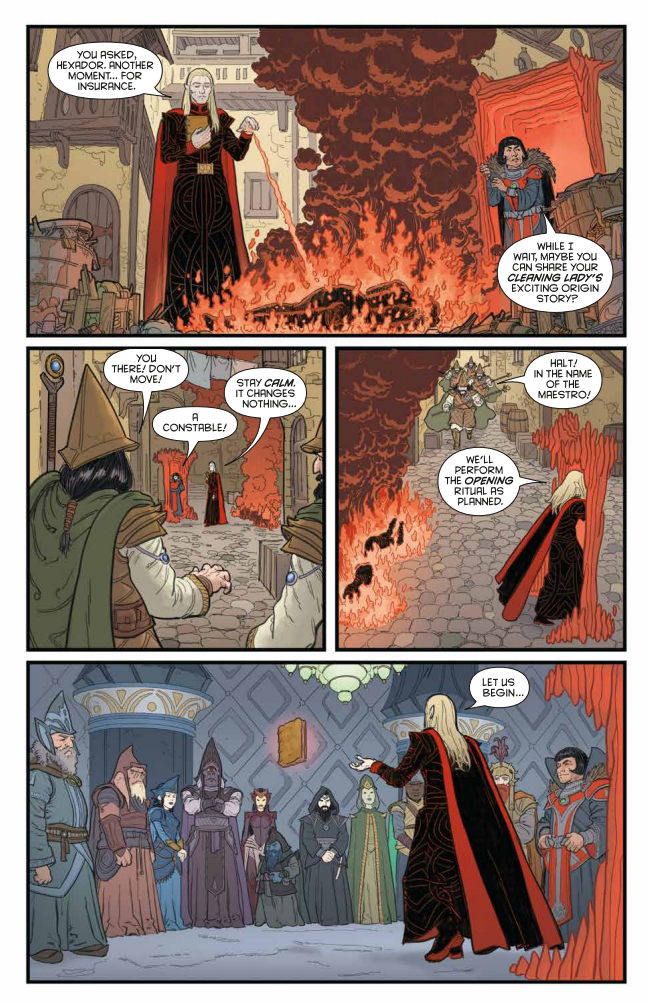 Overall, I'm loving this story and find it to be a truly original and engaging concept. It's well written, filled with likeable characters – yes even the baddies are likeable – and the art speaks for itself. I was sad to reach the end of this issue, as I didn't want the mayhem to end.
I'm giving this issue 5 out of 5 stars!
---
COMIC DETAILS
CREATIVE TEAM: Steve Skroce and Dave Stewart
PUBLISHER: Image Comics
PUBLICATION DATE: December 13, 2017
REVIEWER: Dana Folkard